Hockey Canada is working with Chevrolet again this year after a hugely successful first season with the Chevrolet Power of Play Hockey Program! After distributing over 2,600 coach kits to Peewee teams across the country, Hockey Canada announced that the program is returning for the 2016-17 hockey season.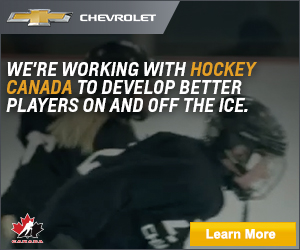 Chevrolet and Hockey Canada know that coaches play a big role in teaching the positive values of hockey to the next generation of players. So together, they've come up with this free coach kit for Peewee teams to help you out.
Each kit is a premium hockey bag for coaches with 20 rolls of hockey tape and 20 sets of skate laces with inspirational words from Team Canada gold medallists. There are also 20 'Most Inspirational Player' awards for coaches to give out after games and practices to the players who best display these values. We've included 20 free pucks in each kit as well.
To learn more about the program and to register, please visit chevrolethockey.com
Quantities are limited so make sure to sign up as soon as you can.  Please click here for FAQ.