Hockey Manitoba is proud to recognize Regional Award Winners annually for Most Promising, Most Deserving and Most Improved Officials. Without our on-ice officials, quite simply, we do not have a game. Officials at all ages and levels of hockey work tirelessly to ensure our game is safe, fair and played within the rules.
Hockey Manitoba's regional award winners are proudly sponsored by the Manitoba Hockey Hall of Fame.

Award Biographies
The following are biographies of the actual people whom the awards are named.
MOST PROMISING – DICK DAVIS
Richard "Dick" Davis – Inducted into the Manitoba Hockey Hall of Fame on March 28, 1992 as a referee. Born October 26, 1902 in Lachine, Quebec. After a fine amateur hockey career, Dick began his officiating career in Winnipeg in the 1930's with local leagues. He rapidly advanced to the junior, senior, and intermediate leagues both locally and to their national championships. His career also included refereeing in the United States Hockey League, the Pacific Coast Hockey League and the Western Hockey League. He refereed more Memorial and Allan Cup play-down games than all but a select few other referees did. He retired in 1962 for health reasons. Dick Davis died March 20, 1970.
MOST IMPROVED – WINDY LYNDON
Lorne "Windy" Lyndon – Inducted into the Manitoba Hockey Hall of Fame on May 6, 1989 as a referee. Born March 7, 1907 in Dunrae, Manitoba. Lorne was one of Canada's most renowned officials for 20 years, 1933-1953. He officiated Allan Cup finals in 1936, 1937, 1946, 1947, 1949, 1953; Memorial Cup finals 1950-1952 and the Alexander Cup in 1951. As a player he was a member of Winnipeg's 1932 World champions and Allan Cup winner in 1931. Lorne was an all around athlete and was on an all star soccer team chosen to play against England touring side in 1931. Only the famous Winnipeg toilers bested his Westbrook basketball team three years running. Lorne Lyndon died May 9, 1965.
MOST DESERVING – VICTOR LINDQUIST
Victor "Vic" Lindquist – Inducted into the Manitoba Hockey Hall of Fame in 1997 as a player. Vic Lindquist was born on March 22, 1908 in Gold Rock, Ontario, Canada. He played his minor and junior ice hockey career in Kenora, Ontario and later joined senior the Winnipeg team that won the Allan Cup in 1931. His team represented Canada at the Olympic Winter Games in 1931 in Lake Placid and won the Olympic Gold by winning five games and tying only one. The goals scored for and against for Canada were 32-4. He then later joined the Winnipeg Monarchs representing Canada at the IIHF World Championship in 1935 in Davos. He was crowned as World Champion after Canada won all its games with total goals of 44-7. Vic Lindquist was a respected for over 30 years after his retirement as a player at national and international levels. In 1960 at Squaw Valley, Lindquist participated in his second Olympic Winter Games, this time as a referee, an accomplishment he was particularly proud of and was also referee at the IIFF World Championship in 1963 in Stockholm. He once surprised a visiting Swedish player with his ability to understand Swedish due to the fact that he had coached a Swedish National Team in 1935 before turning to officiating. Vic Lindquist passed away in November 30, 1983.
2020 – 2021 Regional Officiating Award Winners
Brandon
Most Promising

Carter Loewen
Hockey Brandon
Years Officiating: 5
Leagues: U15, U18, High School
Most Improved

Justin Galatiuk
Hockey Brandon
Years Officiating: 5
Leagues: U11, U13 AA, U15 AA, U15 AAA
Most Deserving

Kirk Graham
Hockey Brandon
Years Officiating: 10
Leagues: Provincial U18, High School, KJHL, THHL, NCHL, MJHL
Eastman
Most Promising

Thunder Penner
Steinbach Minor Hockey Association
Years Officiating: 5
Leagues: Male U13 AAA, Male U14 AAA, Male U15 AAA, Female U15 AAA, Female U18 AAA
Most Improved

Alex Joyal
Île-des-Chênes Minor Hockey Association
Years Officiating: 4
Leagues: U13 AA, U14 AAA, U15 AAA, U17 AAA, MFHL, U18 AAA
Most Deserving

Cynthia Cote
La Broquerie Minor Hockey
Years Officiating: 7
Leagues: Male U15 AA, Male U15 AAA, Female U18 AAA, MWJHL
Interlake
Most Promising

Owen Tataryn
Warren Minor Hockey Association
Years Officiating: 7
Leagues: Male U18 AAA, Male U15 AAA
Most Improved
Josh Finnbogason
Gimli Minor Hockey Association
Most Deserving

Dave Harrisko
Stonewall Minor Hockey Association
Years Officiating: 23
Leagues: Various levels of minor hockey
Norman
Most Promising

Matthew Baker
The Pas Minor Hockey Association
Years Officiating: 2
Leagues: U9, U11
Most Improved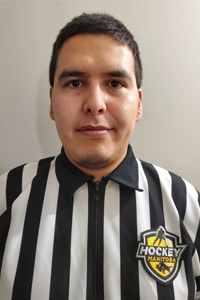 Preston Sinclair
Opaskwayak Cree Nation Minor Hockey Association
Years Officiating: 5
Leagues: KJHL, Senior Hockey
Most Deserving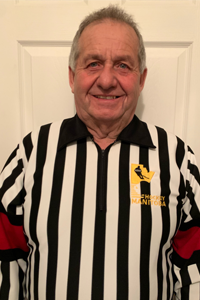 Ernie Foster
The Pas Minor Hockey Association
Years Officiating: 43
Leagues: Various levels of minor hockey
Pembina Valley
Most Promising

Dayne Bruce
Macdonald Minor Hockey
Years Officiating: 5
Leagues: U11, U13, U15
Most Improved

Bob Reimer
Winkler Minor Hockey Association
Years Officiating: 3
Leagues: U15 AAA, High School
Most Deserving

Eugene Fillion
Red River Wild Minor Hockey Association
Years Officiating: 39
Leagues: Junior A, B and C, Southeastern Hockey League, Carillon Senior Hockey League
Winnipeg
Most Promising (Co-winners)

Josh Miko
St. James Assiniboia Minor Hockey Association
Years Officiating: 5
Leagues: Male U18 AAA, Male U15 AAA, CSSHL, MWJHL, Female U18 AAA

Jacob Cramer
St. James Assiniboia Minor Hockey Association
Years Officiating: 3
Leagues: Male U15 AAA, Male U18 AAA, MWJHL, Female U18 AAA
Most Improved

Camille Forbes
St. Boniface Minor Hockey Association, St. James Assiniboia Minor Hockey Association
Years Officiating: 6
Leagues: MWJHL, Female U18 AAA, Female U15 AAA
Most Deserving
Bob Vanstone
North Kildonan / River East Minor Hockey Association
Years Officiating: 45 + (Timekeeping)
Leagues: MJHL, MMJHL, AAA, Various levels of minor hockey
Westman South
Most Promising
Dayson Geddes
Souris Minor Hockey
Years Officiating: 10
Leagues: Male U15 AAA, Male U18 AAA, Female U18 AAA, THHL, High School
Most Improved

Emily Planetta
Shilo Minor Hockey Association
Years Officiating: 2
Leagues: U7, U15
Most Deserving

Mike Hole
Boissevain Minor Hockey Association
Years Officiating: 10 (Manitoba), 6 (British Columbia)
Leagues: THHL, U18 Male AAA, U16 Male AAA, U18 Female AAA
Yellowhead
Most Promising

Kyle McDonald
Neepawa Minor Hockey Association
Years Officiating: 12
Leagues: U15 AAA, U18 AAA, High School
Most Improved

Rudy Pedersen
Strathclair/Shoal Lake Minor Hockey Association
Years Officiating: 11
Leagues: Male U15 AAA, Female U18 AAA, Male U18 AAA
Most Deserving

Mike Foulliard
Tri-Valley Minor Hockey Association
Years Officiating: 5
Leagues: Male U15 AAA, Female U18 AAA, Male U18 AAA, WHSHL, Parkissimo Hockey League, NCHL