|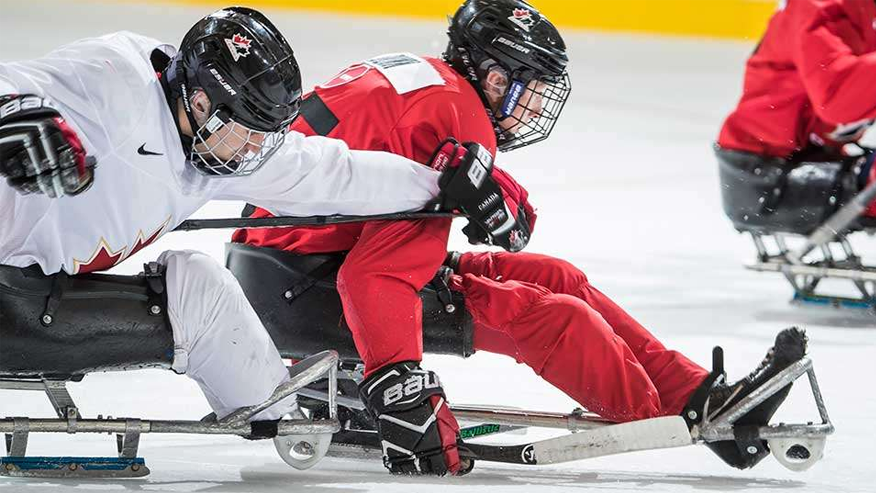 CALGARY, Alta. – Twenty-three para hockey athletes will attend the third-annual NextGen Prospects Camp, held April 26- May 1, as part of the Défi sportif AlterGo in Montreal.
The players will be evaluated through the week for the chance to be one of the 17 who will wear the Maple Leaf as part of Canada's National Para Hockey Development Team for a three-game series against the United States from May 3-5.
Manitobans invited to NextGen Prospects Camp:
| | | | | |
| --- | --- | --- | --- | --- |
| Pos | Frist Name | Last Name | Hometown | Current Team |
| D | Spencer | Lambert | Winnipeg | WPG Jets Para Ice Hockey Team |
| G | Logan | Bilodeau | Winnipeg | WPG Jets Para Ice Hockey Team |
"This is an exciting time for the sport," said head coach Brandon Reid. "We want to continue to grow the game, and having the chance to display the talent we have at the development level is a great way to spread knowledge of the sport."
Among the invitees, 11 participated in Canada's National Para Hockey Team selection camp last fall (Auclair, Close, Culmone, Dolan, Jacobs-Webb, Kingsmill, Kovacevich, Lacombe, Lambert, LeBlanc, Sison), four of whom were named to the national team roster (Auclair, Dolan, Jacobs-Webb, Kovacevich).
In addition, for the first time in program history, four women have been invited to camp – Alanna Mah, Christina Picton, Nandini Sharma and Raphaëlle Tousignant.
"It's all about moving the game forward and recognizing the work these women have put in," said Shawn Bullock, director of men's national teams. "We're excited to have them with us for the week, and we look forward to seeing them compete."
For more information on the Hockey Canada, Canada's National Para Hockey Team and Canada's para hockey programs, visit HockeyCanada.ca and follow along via social media at Facebook and Twitter.
Share