|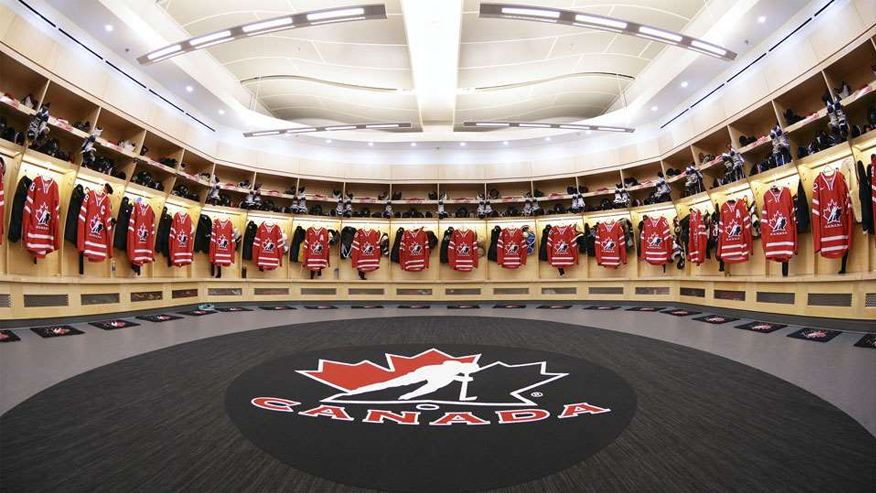 CALGARY, Alta. – Hockey Canada announced the 22 players, including gold-medallists from previous IIHF events, to Canada's National Men's Team for the 2019 IIHF Championship taking place May 10-26 in Košice and Bratislava, Slovakia.
The roster was confirmed following the close of the NHL's regular season and first-round playoff series and includes:
Seven players who have previously represented Canada at the IIHF World Championship, including three gold medallists (Couturier – 2015; Reinhart – 2016; Stone – 2016) and three returnees from 2018 (Chabot, Nurse, Turris);
16 players who represented Canada at the IIHF World Junior Championship, including seven gold medallists (Fabbro – 2018; Hart – 2018; Nurse – 2015; Reinhart – 2015; Tavares – 2008, 2009; Theodore – 2015; Turris – 2008);
Four players who have never represented Canada in IIHF competition (Bertuzzi, Marchessault, Montour, Stecher).
The player selections were made by Canada's management group – Jason Botterill (Winnipeg/Buffalo, NHL), Ron Francis (Sault Ste. Marie, Ont.) and Ron Hextall (Brandon, Man.) – along with Tom Renney (Cranbrook, B.C.), chief executive officer with Hockey Canada, Scott Smith (Bathurst, N.B.), president and chief operating officer with Hockey Canada, in consultation with the coaching staff that includes head coach Alain Vigneault (Quebec City, Philadelphia, NHL) and assistant coaches Dave Hakstol (Warburg, Alta.), Kirk Muller (Kingston, Ont./Montreal, NHL) and Lindy Ruff (Warburg, Alta./New York Rangers, NHL).
"It's always a special opportunity when you get the call to represent your country on the international stage," said Botterill. "This roster is a mix of youth and veterans who will help lead the way in this short-term competition. Our coaching staff is excited to work with these players as we get set for a competitive tournament in Slovakia starting May 10."
Team Canada will stage in Vienna for training camp, which includes a pre-tournament game May 7 against Austria.
Canada looks for its first gold medal since 2016 when it opens the 2019 IIHF World Championship on May 10 against Finland. It will also face Denmark, Great Britain, France, Germany, the host Slovakians and the United States in the preliminary round. The bronze and gold medal games will be played May 26.
TSN and RDS, Hockey Canada's official broadcast partners, will carry 64 and 57 games, respectively; check local listings for details.
Since 1931, Canada has won the world championship 20 times – not counting the years when Olympic Winter Games gold medallist was also considered world champion. The country has also collected 12 silver medals and seven bronze.
For more information on Canada's National Men's Team, please visit HockeyCanada.ca or follow along on Facebook, Twitter and Twitter.com/HC_Men.
Share