|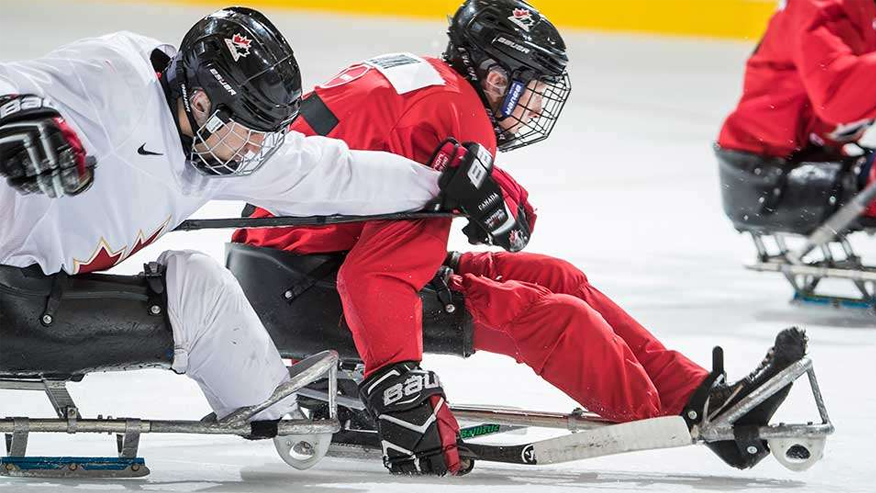 MONTREAL, Que. – Hockey Canada has taken the next step in the growth of para hockey by naming 18 players to its development team for the 2018 Défi sportif AlterGo.
The team was chosen following its five-day NextGen Prospects Camp, where 30 players were put through a series of practices, off-ice workouts and training sessions as well as intrasquad games, all focused on identifying players who will represent Canada internationally in the future.
"We had a really competitive camp with a lot of strong candidates and prospects," said head coach Mike Foligno. "We had some difficult decisions in getting down to the 18 players, but we looked at every facet of our evaluations from skill, strength and if they're prepared physically for the competition. We feel we took the best players and prospects available."
The roster was selected by Foligno in consultation with assistant coach Luke Pierce (Cranbrook, B.C.), goaltending consultant Zac Bierk (Peterborough, Ont.) and Hockey Canada's management team.
Among the players named to the roster, nine participated in Canada's National Para Hockey Team selection camp last fall (Auclair, Dolan, Jacobs-Webb, Kovacevich, Lavin, Lehoux, Martin, Sison, Sorley) with three being named to the national team for the 2017-18 season (Lavin, Lehoux, Sorley).
Canada's National Para Hockey Development Team will face the United States in a three-game series starting Friday at 7 p.m. ET at the Aréna Howie-Morenz in Montreal. Full game stats and story can be found at HockeyCanada.ca.
Cody Dolan was named to the team, but will not be able to participate in the series due to injury.
"We're going into these games making sure we're offensive, but also being very responsible in the way we play with respect to our defensive part of our game," said Foligno. "We're just focused on making our team better."
For more information on Hockey Canada and Canada's National Para Hockey Team, please visit HockeyCanada.ca or follow along via social media on Facebook, Twitter and Twitter.com/HC_Sledge.
Share