December 12, 2022 2:00 pm

|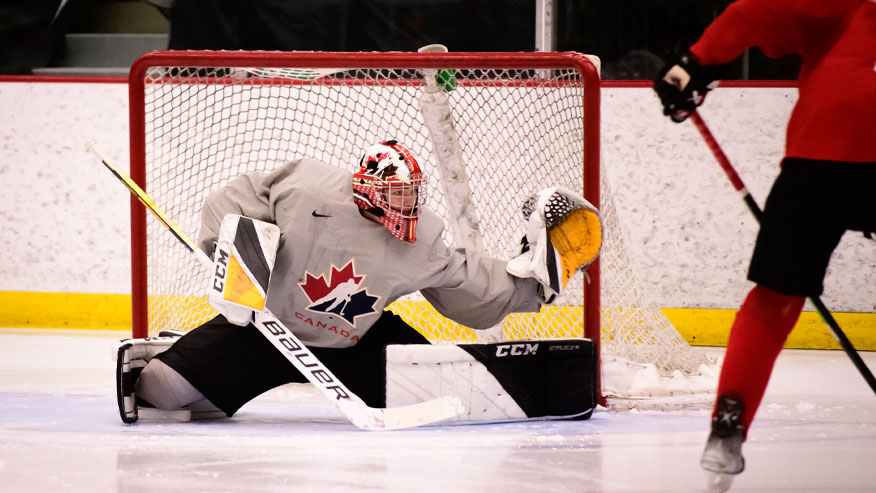 Goaltender Carson Bjarnason (WHL's Brandon Wheat Kings) has been invited to compete in the 2023 Kubota CHL/NHL Top Prospects Game.
The 17-year-old from Carberry, Manitoba is only one of two goaltenders who received an "A" rating by NHL Central Scouting earlier this year. Bjarnason has a record of 11-10-2 this season and is currently running a 2.98 goals against average with a .911 save percentage. Bjarnason also has one shutout this season.
Slated for January 25 at the Langley Events Centre, the 2023 Kubota CHL/NHL Top Prospects Game showcases the top-40 CHL players eligible for the 2023 NHL Draft from across the Western Hockey League, Ontario Hockey League, and Quebec Major Junior Hockey League. The 40 players were identified via a survey conducted with the NHL's 32 teams.
In all, the 40 players count 19 from the WHL – headlined by 2023 NHL Draft favourite and North Vancouver, B.C., native Connor Bedard of the Regina Pats – as well as 15 players from the OHL and six from the QMJHL. Additionally, 32 CHL clubs are represented by at least one player, led by the Seattle Thunderbirds with three, plus six other clubs with multiple representatives including the host Vancouver Giants counting left-wing Samuel Honzek and centre Jaden Lipinski.
Team rosters and leadership groups for the 2023 Kubota CHL/NHL Top Prospects Game will be announced at a later date.
With a majority of tickets already sold, fans are encouraged to act quickly to secure their seat to the 2023 Kubota CHL/NHL Top Prospects Game. Tickets begin at $29.95 plus applicable taxes and fees and are available online, by telephone at 604-882-8800, and in person at the Langley Events Centre ticket office (Mon.-Fri., 9 a.m. – 5 p.m., Sat.-Sun., 9 a.m. – 3 p.m., and until the end of the first period on Giants game days).
The Kubota CHL/NHL Top Prospects Game was last held in Kitchener in March 2022 where Team White defeated Team Red 3-1. Jagger Firkus (Team White/Moose Jaw) and Shane Wright (Team Red/Kingston) were named Players of the Game and were both later selected by the Seattle Kraken in the 2022 NHL Draft. In all, 38 players who competed in the 2022 Kubota CHL/NHL Top Prospects Game were chosen in the 2022 NHL Draft headlined by Wright at fourth overall.
Since its reintroduction as the CHL/NHL Top Prospects Game in 1996, the event has featured 15 players who were later selected first overall in the NHL Draft including Alexis Lafreniere (2020), Nico Hischier (2017), Connor McDavid (2015), Aaron Ekblad (2014), Nathan MacKinnon (2013), Ryan Nugent-Hopkins (2011), Taylor Hall (2010), John Tavares (2009), Steven Stamkos (2008), Patrick Kane (2007), Marc-Andre Fleury (2003), Rick Nash (2002), Vincent Lecavalier (1998), Joe Thornton (1997), and Chris Phillips (1996).
With more than 1,300 players competing for 60 teams across Canada and the United States, the CHL is home to the NHL stars of tomorrow with live game action available on CHL TV, accessible via the CHL App, Apple TV, Roku, Amazon Fire, and online. The 2023 Kubota CHL/NHL Top Prospects Game airs live from the Langley Events Centre on TSN, TSN.ca, the TSN App, and RDS on Wednesday, Jan. 25, 2023 at 7 p.m. Pacific.
About the Western Hockey League
Regarded as the world's finest development league for junior hockey players, the Western Hockey League (WHL) head office is based in Calgary, Alberta. The WHL consists of 22 member Clubs with 17 located in Western Canada and five in the U.S. Pacific Northwest. A member of the Canadian Hockey League, the WHL has been a leading supplier of talent for the National Hockey League for over 50 years. The WHL is also the leading provider of hockey scholarships with over 375 graduates each year receiving WHL Scholarships to pursue a post-secondary education of their choice. Each season, WHL players also form the nucleus of Canada's National Junior Hockey Team.
About the Canadian Hockey League
The Canadian Hockey League is the world's largest development hockey league with 52 Canadian and eight American teams participating in the Ontario Hockey League, Quebec Major Junior Hockey League, and Western Hockey League. The CHL supplies more players to the National Hockey League and U SPORTS than any other league.
About Kubota Canada Ltd.
Kubota Canada Ltd. (KCL) is an affiliate of Kubota Corporation, a tractor and heavy equipment manufacturer based in Osaka, Japan. KCL markets and distributes Kubota engineered and manufactured equipment, including a complete line of tractors of up to 210HP, performance-matched implements, compact and utility tractors, compact construction, landscaping and public work equipment, residential lawn and garden equipment, commercial turf products and utility vehicles. For product literature or dealer locations, contact Kubota Canada Ltd. at 1155 Kubota Drive, Pickering, Ontario Canada L1X 0H4, by telephone, at 905-294-6535, by visiting KCL's website kubota.ca.
Share