October 10, 2018 12:26 pm

|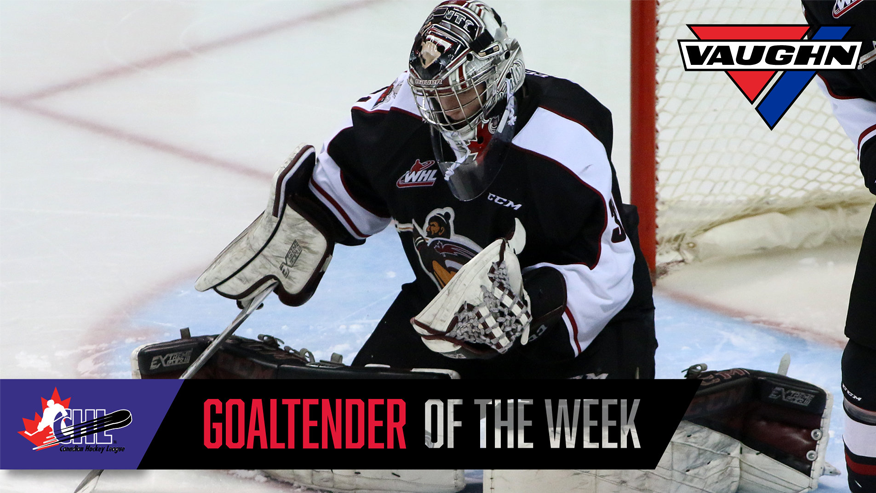 Toronto, Ont. – The Canadian Hockey League today announced that rookie Trent Miner of the Vancouver Giants in the Western Hockey League is the Vaughn CHL Goaltender of the Week for the regular season week ending October 7 after posting a 2-0-0-0 record including a shutout victory with a goals-against-average of 1.00 and save percentage of .964.
Miner turned aside 54 shots across his first two starts of the 2018-19 WHL season helping the Giants extend their winning-streak to four games putting them in a first place tie atop the Western Conference standings with a 6-1-0-0 record. On Wednesday night he earned his first career shutout with a 21-save performance and third star honours blanking the Kelowna Rockets by a 5-0 score on the road. He followed that effort with 33 saves on Saturday night in Prince George including 14 stops in the third period alone to preserve a 3-2 victory over the Cougars.
A 17-year-old from Brandon, Man., Miner was chosen 20th overall by the Giants in the 2016 WHL Bantam Draft. His two games this season follow his WHL debut of a year ago where he appeared in nine regular season games and carried a 3-4-0-0 record with a goals-against-average of 4.20 and save percentage of .885. He also appeared in three playoff contests and earned a victory in Game 1 of the 2018 WHL Playoffs against the Victoria Royals in March 2018.  Miner is eligible for the 2019 NHL Draft. The 6-foot-1, 179-pound puck stopper is eligible for the 2019 NHL Draft.
Miner has also appeared in three games during the 2018 WHL Playoffs, sporting a 1-2 record, 3.41 GAA and a 0.901 SV%. His WHL playoff debut, which came against the Victoria Royals on March 23, 2018, saw Miner stop 40 of 41 shots to earn the victory.
Also considered for the award this week was Buffalo Sabres prospect Ukko-Pekka Luukkonen who made 99 saves for a goals-against-average of 1.66 and save percentage of .952 winning all three games of a Sudbury Wolves road trip.  In the QMJHL, Alexis Shank of the Chicoutimi Sagueneens went 1-0-0-1 with a shutout victory stopping 40 shots in total for a goals-against-average of 0.96 and save percentage of .952.
2018-19 Vaughn CHL Goaltender of the Week
Oct. 1 – Oct. 7: Trent Miner (Vancouver Giants)
Sept. 24 – Sept. 30: Luke Richardson (Kitchener Rangers)
Sept. 19 – Sept. 23: Hunter Jones (Peterborough Petes)
About the Western Hockey League
Regarded as the world's finest development league for junior hockey players, the Western Hockey League (WHL) head office is based in Calgary, Alberta. The WHL consists of 22 member Clubs with 17 located in Western Canada and five in the U.S. Pacific Northwest. A member of the Canadian Hockey League, the WHL has been a leading supplier of talent for the National Hockey League for over 50 years. The WHL is also the leading provider of hockey scholarships with over 350 graduates each year receiving WHL Scholarships to pursue a post-secondary education of their choice. Each season, WHL players also form the nucleus of Canada's National Junior Hockey Team.
Share