|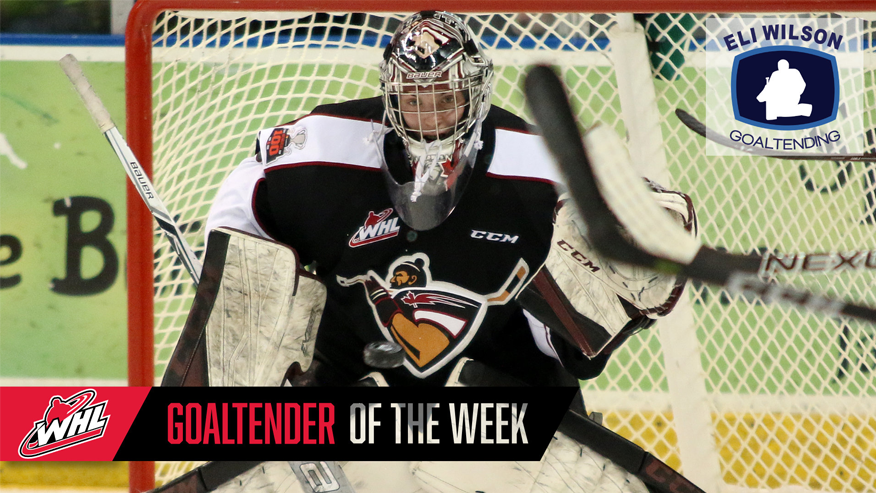 Calgary, Alta. – The Western Hockey League announced today that Vancouver Giants goaltender Trent Miner has been named the Eli Wilson Goaltending WHL Goaltender of the Week and league nominee for the Vaughn CHL Goaltender of the Week for the week ending October 7, 2018.
Miner sported a 2-0-0-0 record, 1.00 goals-against-average, stopped 54 of 56 shots for a 0.964 save percentage and earned his first career WHL shutout to keep the Giants undefeated on the road in the 2018-19 WHL Regular Season and at the top of the B.C. Division.
In his first start of the season Wednesday against the Kelowna Rockets, Miner stopped all 21 shots sent his way for the shutout in a 5-0 victory. The first clean sheet of his WHL career, Miner stopped seven shots in the first, nine in the second, and five more in the third. Miner earned third star of the game honours for his efforts.
Saturday against the Prince George Cougars, Miner stopped 33 of 35 shots for another dominant performance. He stopped eight shots in the first, 11 in the second, and 14 in the third, securing the 3-2 victory.
The 6-foot-1, 179-pound product of Brandon, Man. is eligible for the 2019 NHL Draft. Originally selected by the Giants in first round, 20th overall, of the 2016 WHL Bantam Draft, Miner has appeared in 11 games with the Giants, sporting a 5-4-0-0 record, 3.53 GAA, 0.898 SV% and one shutout.
Miner has also appeared in three games during the 2018 WHL Playoffs, sporting a 1-2 record, 3.41 GAA and a 0.901 SV%. His WHL playoff debut, which came against the Victoria Royals on March 23, 2018, saw Miner stop 40 of 41 shots to earn the victory.
Miner and the Giants will return to the friendly confines of the Langley Events Centre on Friday, October 12 (7:30 p.m. PT) when they play host to the Kamloops Blazers.
WHL Eli Wilson Goaltending Goaltender of the Week/Vaughn CHL Goaltender of the Week nominee
Oct. 1 – Oct. 7: Trent Miner, Vancouver Giants
Sept. 24 – Sept. 30: Ian Scott, Prince Albert Raiders
Sept. 21 – Sept. 23: Dylan Ferguson, Kamloops Blazers
About the Western Hockey League
Regarded as the world's finest development league for junior hockey players, the Western Hockey League (WHL) head office is based in Calgary, Alberta. The WHL consists of 22 member Clubs with 17 located in Western Canada and five in the U.S. Pacific Northwest. A member of the Canadian Hockey League, the WHL has been a leading supplier of talent for the National Hockey League for over 50 years. The WHL is also the leading provider of hockey scholarships with over 350 graduates each year receiving WHL Scholarships to pursue a post-secondary education of their choice. Each season, WHL players also form the nucleus of Canada's National Junior Hockey Team.
Share