|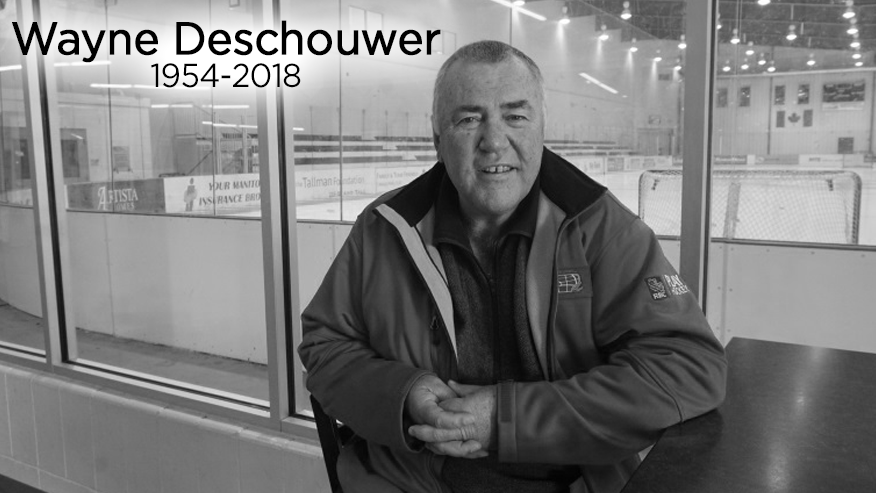 WINNIPEG, MB – It is with great sadness that Hockey Manitoba must announce the sudden passing of a long serving Hockey Manitoba volunteer, Wayne Deschouwer.
Wayne was born in Mariapolis, Manitoba but resided in Winnipeg. His involvement in hockey spans nearly 6 decades as a player, coach, manager and administrator.
Wayne began playing senior hockey at the age of 16 with the Somerset Flyers and eventually the Holland Rockets. At the age of 21 he moved to the town of Gladstone and was instrumental in the establishment of the Gladstone Senior Lakers as their player/manager and actively participated with the team until the age of 38. In addition to his role with the senior club as well as President of the Gladstone Arena, Wayne coached the local midget AA club to a Provincial Championship.
From the time he moved to Winnipeg, Wayne was associated with the Charleswood Hawks of the Manitoba Major Junior Hockey League (MMJHL) as their General Manager and eventually their President. He was able to assemble a core base of strong volunteers whose primary focus is for the overall development of the team which resulted in an unprecedented level of championship success. He is a humble and reserved individual, however his meticulous organizational skills and commitment to structure has provided a strong foundational blueprint to build the Hawks program. During his time with the Hawks they captured numerous MMJHL championships. Wayne's leadership has certainly contributed to the team's overall success and is considered by many as one of the premier executive's in the MMJHL.
In addition to his involvement with the MMJHL Hawks, Wayne was the President of the Tiger Hills Senior Hockey League holding this post for the past 23 years. During his tenure the league has blossomed from 5 teams to the current membership of 13 and the league has thrived under his tutelage.
Wayne was the 2011-2012 Hockey Manitoba Volunteer of the Year which is reserved for special individuals that have made extraordinary contributions to the game or sport. His accomplishments and unselfish commitment stretching nearly 60 years is extremely impressive.
Wayne's sporting background is not limited to hockey as he was the Umpire in Chief for Softball Manitoba. He was also the President of the Smitty's Softball Association and was inducted into the Manitoba Softball Hall of Fame in 2010 in the All Around Category.
Wayne is survived by his wife Clemence whom he was married to for 41 years and their 3 children, Marc, Lisa and Eric.
Wayne Deschouwer was 63 years old.
Share