|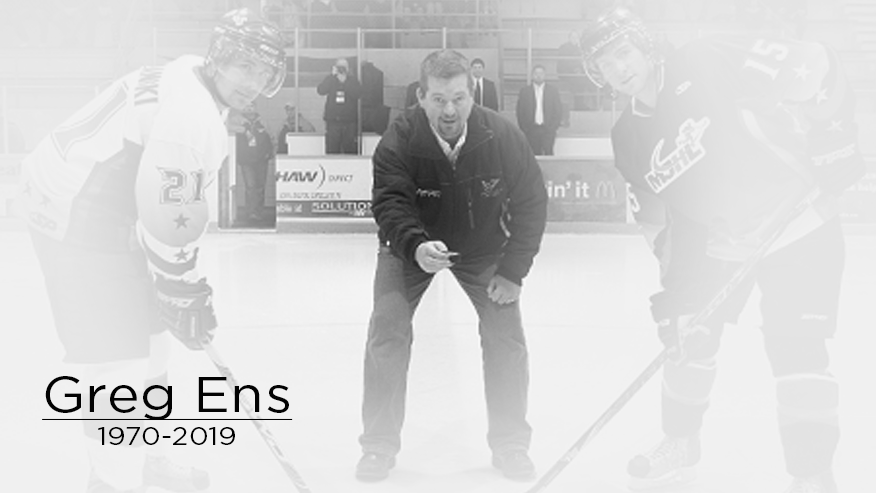 WINNIPEG, MB – It is with extreme sadness that Hockey Manitoba announces the passing of Greg Ens, an outstanding volunteer and quality person.  Greg, from Winkler, MB, lost a courageous battle with cancer at the young age of 48.
Like most kids, Greg started his hockey career with his local minor Winkler Minor Hockey Association at the age of six (6).  It was a successful first year as he began to learn the game, and was awarded the "Most Improved" player.  Greg was introduced to wonderful coaches and incredible teammates from those early years going forward.
After his playing years passed through high school, college and senior hockey, it was time to give back.  Greg spent ten (10) years working with the Winkler Flyers Junior Hockey Club, this included two (2)  years as Vice President, four (4) years as President and Convener on the MJHL Board of Directors, and two (2) years as Past President.  These were indeed great years for Greg as he witnessed many talented players committed to taking their skills to highest level possible.
During that decade, the Ens family also billeted players for the Club.  Many relationships were formed during those years and continued with players becoming part of the extended Ens family.
During these same years, Greg's children started playing minor hockey and he coached for many seasons.  One of his coaching highlights included taking on the "Breakfast Club" for five (5) seasons in Winkler where any local player could join the group at 7:00 am for skill development, with breakfast provided after.  Another great memory for Greg was coaching the Winkler Junior Flyers 2003 Extended Season hockey team for a number years where great relationships and memories were created.
It was also during these years that Greg joined the Pembina Valley Minor Hockey Association; initially as the Novice Convener.  Despite a steep learning curve, with the help of fellow board members Bert Dow and Jim Mutcheson, all went well.  Greg went on to spend ten (10) years on the Pembina Valley Board, four (4) of these as Director of the region.  He also spent five (5) years as a Council Representative with Hockey Manitoba, and always brought a fair, sensible and passionate approach to the branch.
Greg was acknowledged as a Hockey Manitoba Volunteer Recognition Award recipient in 2017 – 2018 for his commitment and dedication to the game.  He provided outstanding leadership while always nurturing development of other volunteers, coaches, officials and players.
When asked recently what was the best part of his 20+ years of volunteering Greg was quick to note, "I have met so many great people from my community, from the neighboring towns, and from the Province that I might never have met otherwise.  Hockey people are such generous people and I am thankful to have made so many great friends from every town!"
Greg will be greatly missed by the entire hockey community, and Hockey Manitoba would like to extend its deepest sympathies to the Ens family during this difficult time.
Share