|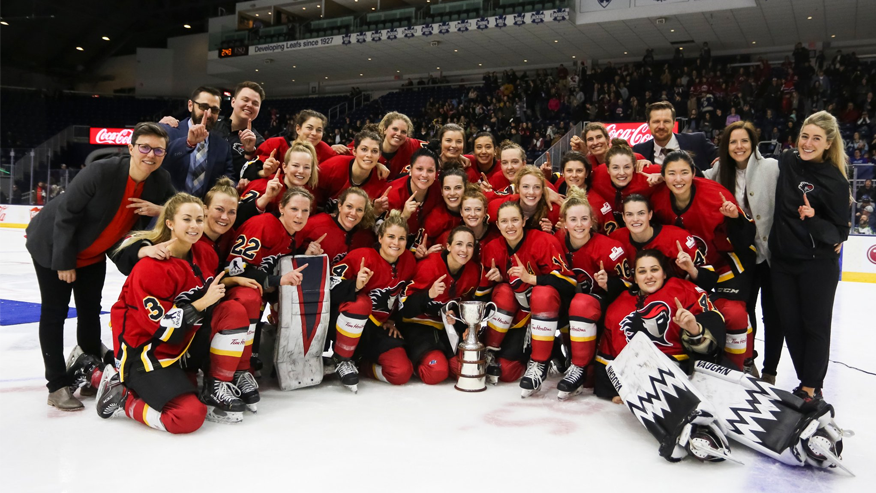 TORONTO – March 25, 2019 – For the second time in franchise history, the Calgary Inferno won the Clarkson Cup on Sunday afternoon (Mar. 24) defeating Les Canadiennes de Montreal by a final score of 5-2 at Coca-Cola Coliseum.
Inferno forward Brianna Decker was named the playoff  MVP, presented by Gongshow. The three stars of the game were third star, Inferno defence Kacey Bellamy (2 assists), second star, Montreal goal scorer Anne-Sophie Bettez (2 goals), and first star, with 2 of the 5 Inferno goals, was given to Zoe Hickel.
The Inferno earned their place in the championship game after a three-game series against a determined Toronto Furies squad. Les Canadiennes, however, defeated the defending Clarkson Cup Champions, the Markham Thunder winning 2 out of 3 games.
Both teams were anxious to get the 2019 Clarkson Cup final underway after a weekend of Clarkson Cup activities. The Inferno came out ready to fight for the cup against a tough Les Canadiennes squad. Zoe Hickel and Halli Krzyzaniak opened up the scoring in the first period, scoring 2 against Montreal netminder Emerance Maschmeyer.
Down by 2 in the second, a renewed Montreal team and Anne-Sophie Bettez came back to get two against CWHL Goaltender of the Year, Alex Rigsby but not before MVP Brianna Decker made it 3-2 for Calgary.
After 40 minutes of play, the Inferno were unstoppable with Zoe Hickel getting another for Calgary and Captain Rebecca Johnston scoring late in the third on an empty net making it 5-2 for Calgary, securing their Clarkson Cup Victory.
Game Summary: Calgary Inferno 5, Les Canadiennes 2
The 2019 Clarkson Cup was presented by Scotiabank, an official sponsor of the Canadian Women's Hockey League.
For the latest news and updates from the CWHL make sure to follow @thecwhl on Facebook, Twitter, and Instagram.
Share