September 5, 2018 8:51 am

|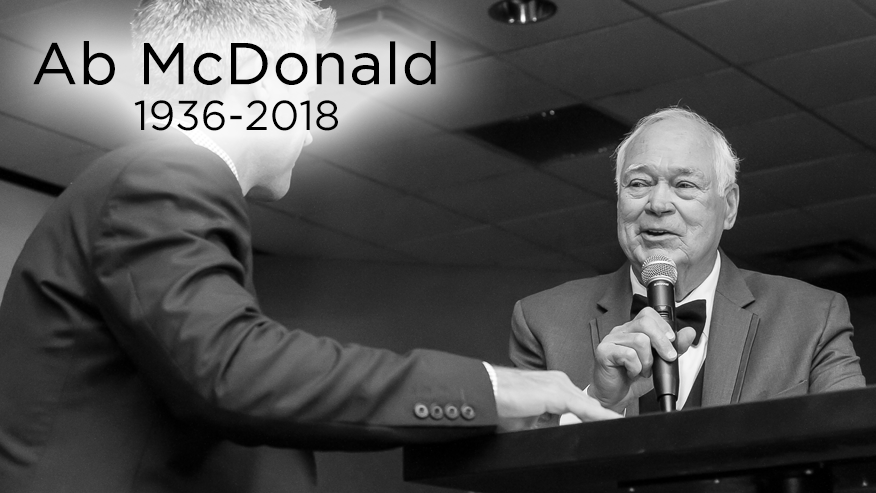 WINNIPEG, MB – It is with great sadness that Hockey Manitoba must announce the passing of a Manitoba hockey legend, Ab McDonald. 
Ab was born on February 18, 1936 in Winnipeg, MB, McDonald excelled in the MJHL with the St. Boniface Canadians where he played for three seasons from 1951-54. In 1953 the Canadiens went to the Memorial Cup where they lost to Barrie Flyers 4-games-to-1. However they had better luck at the Western Memorial Cup finals where they crushed Lethbridge Native Sons, 12-1, winning the Western Canada Junior Hockey Championship and the Abbott Cup. McDonald had a strong season and was named to the second All-Star team. That same year the St. Boniface Canadiens won the Turnbull Cup as Manitoba Junior Champions. Ab was awarded the league scoring champion trophy. The 1953 St. Boniface Canadiens were inducted in to the Manitoba Hockey Hall of Fame.
McDonald went on to play with the OHA's St. Catharines Teepees where redemption was made as the Teepees went on to win the 1954 Memorial Cup. After scoring a combined 82 goals during his two years with St. Kitts, McDonald enjoyed two solid years in the AHL with the Rochester Americans. Ab began his NHL career with the Montreal Canadiens in 1958. He spent fourteen seasons in the NHL playing  in 702 games while notching 182 goals & 248 assists. Ab also played for the Chicago Black Hawks, Detroit Red Wings, Boston Bruins, Pittsburgh Penguins and the St. Louis Blues, winning three Stanley Cups with the Montreal Canadiens and one with the Chicago Blackhawks. He also played in five All-Star games (1958, 1959, 1961, 1969, & 1970).
Winnipeg was always home and he drove his teammates nuts with his bragging about his hometown. He joined the Winnipeg Jets in 1972 and had a lot of firsts. He was credited with notching the first regular season goal for the Winnipeg Jets in franchise history, he was also the team's first captain and helped the Jets win their first game in the World Hockey Association. McDonald was an integral part of the club's drive to the league championship series. He retired after scoring 12 goals for the Jets in 1973-74.
He was inducted into the Manitoba Hockey Hall of Fame in 1985.
Ab McDonald was 82 years old.
Share