|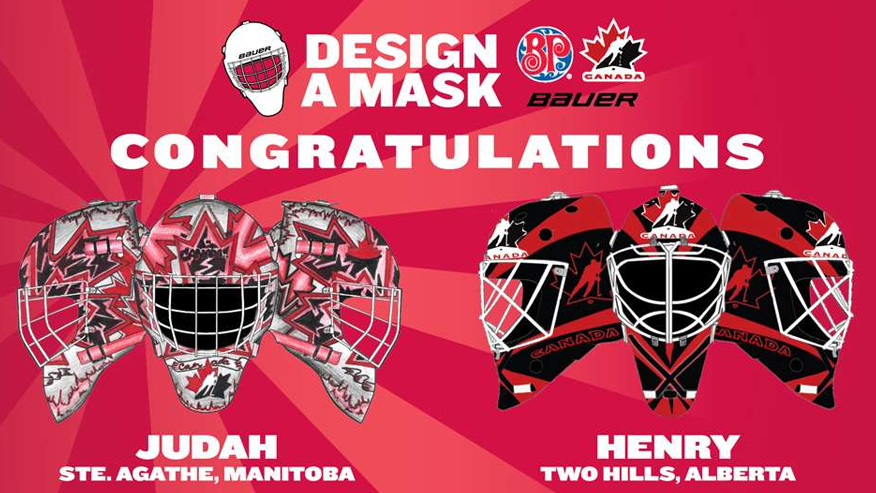 CALGARY, Alta. – The creative minds and artwork of two Canadian hockey fans will be front and centre at the 2019 IIHF World Junior Championship in Vancouver and Victoria, with their winning sketches having been selected as the fan favourites in the Design-A-Mask contest, hosted by Hockey Canada partners Boston Pizza and Bauer.
Canada's National Junior Team goaltenders will wear the masks illustrated by 18-year-old Judah Kleinsasser of Ste. Agathe, Man., who won in the 13-18 category, and 10-year-old Henry Goertzen, of Two Hills, Alta., who took top honours in the under-13 category. Both designs were chosen from among four finalists through online voting that garnered more than 3,500 votes per category.
"I'm so excited to be going to my first-ever IIHF World Junior Championship," said Goertzen. "It'll also be the first time in my life going to Vancouver. Thank you to everyone who voted for me!" 
Canada's quest for back-to-back gold medals begins on Boxing Day against Denmark at 8 p.m. ET/5 p.m. PT in Vancouver. The Canadians will also face the Czech Republic, Switzerland and Russia in preliminary-round play at Rogers Arena.
Canadian kids were invited to submit their designs by picking up contest forms at Boston Pizza locations across the country. Design-A-Mask is a once-in-a-lifetime opportunity that gives budding artists and fans a chance to be part of the IIHF World Junior Championship in a unique way by giving Canada's goaltenders Canadian artwork to wear on the ice.
"BP is thrilled to have run another successful Design-A-Mask contest alongside our partner Hockey Canada. Together we are excited to reward our talented young illustrators with an unforgettable World Juniors experience," said Jenna Bull, marketing manager for Boston Pizza International. "We are very proud of our winners this year and very pleased that their designs are going to be showcased at a global level."
For their winning designs, Kleinsasser and Goertzen will receive their own replica masks, a Team Canada jersey and a trip for two to a Team Canada game at the 2019 IIHF World Junior Championship, as part of their Boston Pizza prize pack.
For more information on Hockey Canada, Canada's National Junior Team, and the 2019 IIHF World Junior Championship, visit HockeyCanada.ca or follow along via social media on Facebook and Twitter.
About Boston Pizza
Boston Pizza International Inc. is Canada's No. 1 casual dining brand with more than 390 restaurants in Canada and more than $1 billion in sales. Annually, Boston Pizza serves more than 50 million guests. The company has been recognized as a Platinum Member of Canada's 50 Best Managed Companies. Boston Pizza believes that strong role models inspire kids to be great, and in 2014, the Boston Pizza Foundation created Future Prospects to help support organizations that mentor kids to reach their full potential. Boston Pizza International Inc. is located in Richmond, B.C., and has regional offices in Mississauga, Ont., and Laval, Que. For more information, visit BostonPizza.com.
Share