|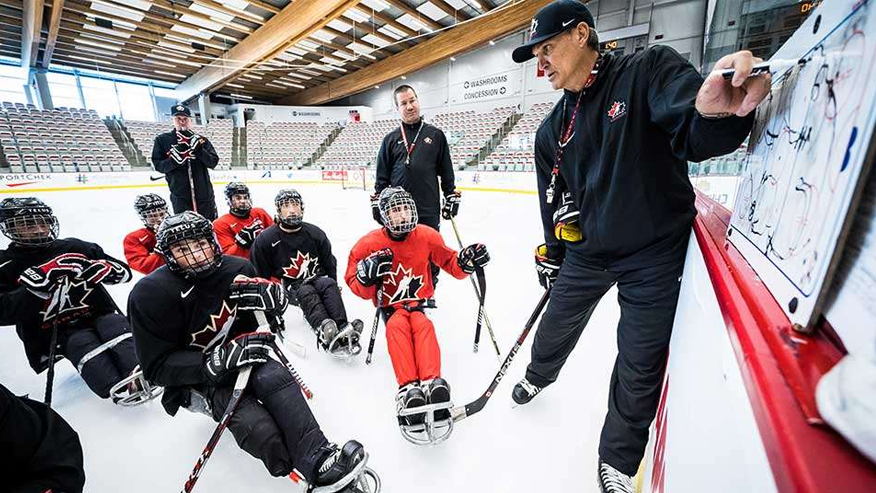 CALGARY, Alta. – Hockey Canada announced Mike Foligno (Sudbury, Ont.) will coach Canada's National Para Hockey Development Team for the remainder of the 2017-18 season, including the NextGen Prospects Camp and the 2018 Défi Sportif AlterGo.
Foligno first joined Hockey Canada in September 2017 as the national team began its preparations for the 2018 Paralympic Winter Games. He served as a guest coach for the 30 players invited to selection camp, joining head coach Ken Babey and his staff in mentoring and evaluating the players on and off the ice, and preparing them for international competition. As an assistant coach, he travelled with the national team for a training camp and three-game series against Korea last November. In February, Foligno returned as a guest coach at Canada's National Para Hockey Team's final training camp and pre-Paralympic series against the United States.
"I'm very proud to be a part of the program," said Foligno. "As a coach and player mentor, it has been a very humbling experience meeting the players, hearing their stories and how they appreciate the ability to play a sport at the highest level they have an incredible passion for."
As a player, Foligno spent 15 seasons in the National Hockey League (NHL) with stops in Buffalo, Detroit, Florida, and Toronto. In 1,018 career NHL games, he tallied 727 points and 355 goals. He registered career-highs while playing for the Buffalo Sabres in the 1985-86 season, scoring 41 goals and 80 points. Foligno's resume includes stints behind the bench as an assistant coach with Anaheim, Colorado, New Jersey, and Toronto. He also spent time as head coach of the American Hockey League's Hershey Bears and head coach and general manager of the Ontario Hockey League's Sudbury Wolves.
30 players invited to identification camp
A month after skating to a silver medal for their best finish in 12 years at the 2018 Paralympic Winter Games in PyeongChang, South Korea, Hockey Canada has an eye on the future at the 2018 NextGen Para Hockey Prospects Camp starting April 20 in Montreal.
The 30 players invited to the five-day identification camp will go through a series of practices, off-ice workouts and training sessions as well as intra-squad games, all focused on identifying players who will represent Canada on the international stage in the future.
"We want to continue to grow our sport and we're seeing it in the number of teams and tournaments taking place right across the country," said national team head coach Ken Babey. "With more interest in para hockey, and our success at the world championship and at the Paralympics, it gives us the opportunity to continue to grow the sport and introduce it to those who may be seeing it for the first time."
Among the invitees, 10 participated in Canada's National Para Hockey Team selection camp last fall (Auclair, Dolan, Jacobs-Webb, Kovacevich, Lavin, Lehoux, Martin, Savage, Sison, Sorley) with three being named to the national team for the 2017-18 season (Lavin, Lehoux, Sorley).
Following the camp, 17 players will be named to Canada's National Para Hockey Development Team which will face its U.S. rivals in a three-game series at the Aréna Howie-Morenz in Montreal as part of the Défi sportif AlterGo, April 25-29.
For more information on Hockey Canada and Canada's National Para Hockey Team, please visit HockeyCanada.ca or follow along via social media on Facebook, Twitter and Twitter.com/HC_Sledge.
Share