|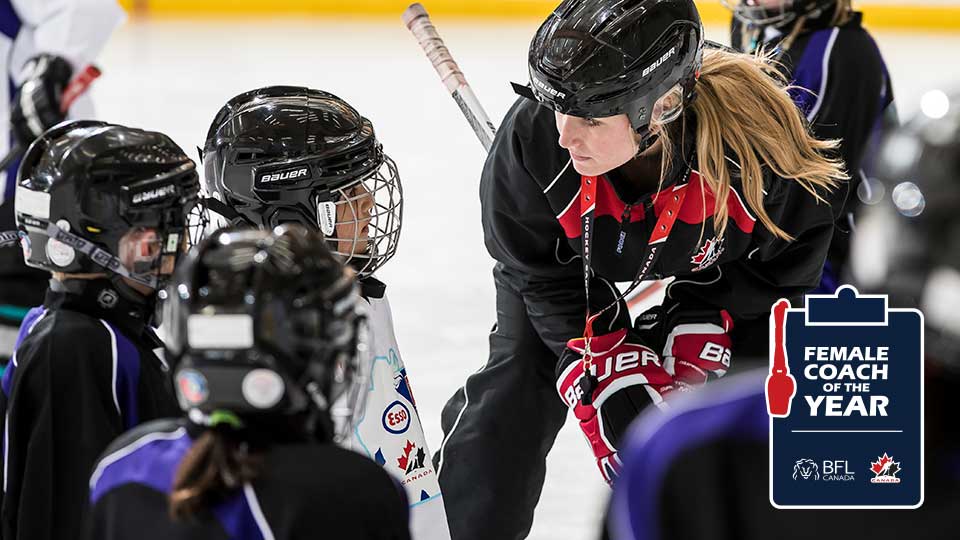 BFL CANADA and Hockey Canada announced today that Tess Houston has been named Manitoba's 2022 BFL Female Competitive Coach of the Year Award winner and Amy Doerksen has been named Manitoba's 2022 BFL Canada Female Community Coach of the Year Award winner.
It was also announced that Amy Doerksen has been named the National winner of the BFL Canada Female Community Coach of the Year Award.
Amy will receive a $2,500 bursary, a customized Team Canada jersey, a five-year subscription to the Hockey Canada Network, a Hockey Canada merchandise package and a tablet. Tess will receive a $1,000 bursary.
Tess Houston just completed her first year as an Assistant Coach with the Winnipeg Avros in the Manitoba Female U18 AAA Hockey League. Prior to that, Tess coached the U15 AA Female Twins for two seasons. During her playing career, Tess played two years with the Balmoral Hall Blazers prep team and represented Team Manitoba at the 2011 Canada Winter Games. She went on to play five seasons for the University of Alberta Pandas, including winning the Canada West Championship in 2015.  She received a number of individual accolades during her career including being named team Rookie of the Year, team MVP, assistant captain, and a CIS West All Star in 2015. Over the past few seasons, Tess juggled many commitments with her work, coach development and coaching at the U18 level. Tess is an ICU nurse and spends her free time outside of work coaching and developing herself as a coach. This past summer she enrolled in HP1 and committed to being an assistant coach with the Winnipeg Avros a team with a busy schedule including travel to multiple tournaments within Canada this season. She is proud to develop the next generation of female players and the female game.
Amy Doerksen has been involved in hockey for close to three decades. She is an administrator, a coach, an advocate, a mentor, as well as a player (when she finds time to put the gear on herself). She is the only woman on Hockey Brandon's Board of Directors and is the U7 Director. Amy is responsible for making teams, assigning coaching units, providing weekly practice plans to coaching units and offering additional support and guidance as needed.  To ensure everyone has a positive experience, Amy goes above and beyond to create engaging environments. In addition to running the U7 Division, Amy is also the Head Coach for her daughter's U7 Team. This is her fifth season coaching U7. As a coach, Amy works hard to create a fun and engaging atmosphere for all the players. Her coaching philosophy is very much built upon the foundations of fair play and fun. Every player gets individual attention and direction from the coaching unit to support their development and growth. Amy is currently a member of the U15 AAA Female Brandon Wheat Kings in the role of Program Support. Unable to coach full time due to her other hockey commitments and family responsibilities (Amy has three kids – ages 2.5, 6 and 8), Amy is a practice coach who provides on/off-ice support to the full-time coaching unit and instruction to players as needed. When required, Amy also acts as an additional bench coach during games. Amy's passion for developing athletes and individuals is second to none. Her relentless pursuit for equal opportunity is impossible to overlook and extremely admirable. She has been a leader in making space for female leadership and players to find the role they love in the game of hockey.
Again, Hockey Manitoba would like to thank Tess and Amy for their hard work, determination and for having such a positive impact on female hockey in the province.
Who chose the winners?
The selection committee included a trio of Canadian women's hockey leaders – Olympic gold medallists Cassie Campbell-Pascall, Gina Kingsbury and Caroline Ouellette. They were joined by Steve Lacoste, vice-president of sports and leisure with BFL, and Teal Gove, manager of hockey development with Hockey Canada.
About BFL Canada
Founded in 1987 by Barry F. Lorenzetti, BFL Canada is one of the largest employee-owned and operated risk management, insurance brokerage and employee benefits consulting services firms in Canada. The firm has a team of over 700 professionals located in 18 offices across the country. BFL is a founding partner of Lockton Global LLP, a partnership of independent insurance brokers who provide risk management, insurance and benefits consulting services in over 130 countries around the world. For more information, visit bflcanada.ca or follow on LinkedIn, Twitter and Facebook.
Share