|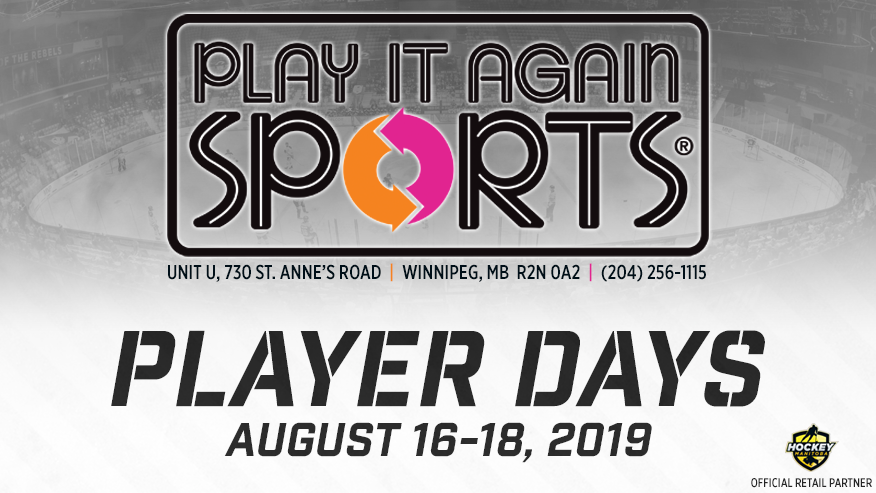 WINNIPEG, MB – With hockey season right around the corner, Hockey Manitoba's official partner and retailer Play It Again Sports (Winnipeg South) is pleased to announce the return of Player Days this weekend, Friday August 16 to Sunday August 18. Player Days is Play it Again Sports' annual fall kick-off event featuring exclusive sales, door crashers and prize giveaways.  Play It Again Sports will have a wide selection of the top name brands in both new and used hockey equipment including CCM.
Play It Again Sports is also pleased to announce that they will be paying the tax on all new and used hockey, goalie and ringette gear.  Skate sharpening cards will be available for sale during Player Days which will include 10 sharpenings for $30.00.
Other details about Player Days:
Massive stick sale, up to 70% off select models
Trade in your used gear
Earn 5 Star Reward Points
Come meet University of Manitoba Bisons hockey players on Saturday afternoon
Many more in-store deals
Be sure to check out Player Days this coming weekend starting Friday, August 16th at Play it Again Sports – Winnipeg South located at 730 St. Anne's Road.
About Play It Again Sports
Play it Again Sports is a locally owned sporting goods franchise store, founded in Minneapolis, MN in 1983. It specializes in buying and selling of new and used sports equipment. There are over 250 stores across North America.
Play it Again Sports Winnipeg South first opened on Meadowood Drive in St. Vital in 1991. They have since expanded twice, to the current location at 730 St. Anne's Road. They carry a wide variety of sports gear, including hockey, baseball, soccer, golf, ringette, football and inline skates. They focus primarily on hockey, and are proud to be able to offer every price point in new and used gear, helping to keep the game affordable for everyone. Visit www.playitagainsports.com/locations/winnipeg-mb-south for more information.
Share