|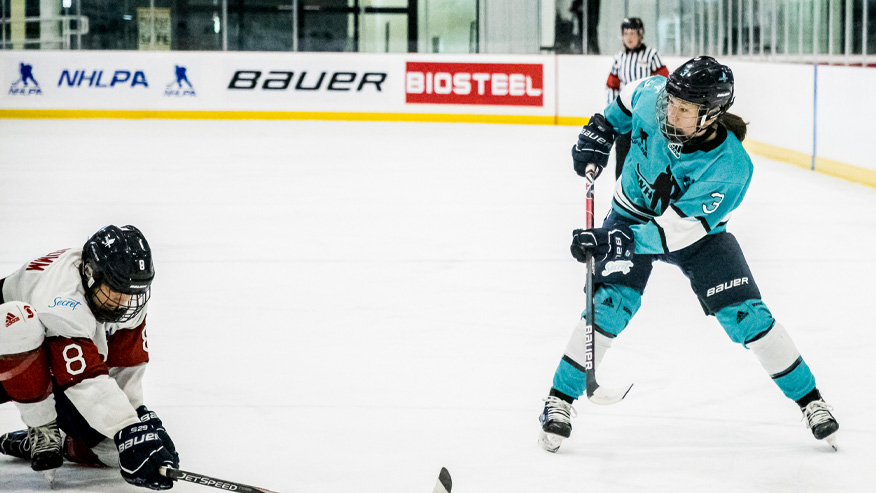 On May 12, 2021, Ste. Anne's Jocelyne Larocque (along with fellow Manitobans Ashton Bell and Kristen Campbell) was chosen to centralize in Calgary with Canada's National Women's Team for the 2021 – 2022 season, leading up to the 2022 Olympic Winter Games, February 4-20 in Beijing, China.
Larocque is a two-time Olympian who won a gold medal with Team Canada at the 2014 Winter Olympics in Sochi, Russia and a silver medal with Team Canada at the 2018 Winter Olympics in PyeongChang, South Korea. She has represented Canada at six IIHF Women's World Championships (one gold medal, five silver medals) and will represent Canada at the upcoming 2021 Women's World Championship in Calgary, Alberta (August 20 – 30, 2021).
Hockey Manitoba's Ezra Ginsburg recently spoke with Larocque about the Professional Women's Hockey Players Association (PWHPA) Dream Gap Tour, the upcoming 2021 IIHF Women's World Championship, the 2022 Winter Olympics in China, training during a pandemic, and National Indigenous History Month.
Hockey Manitoba: You recently played in the PWHPA Dream Gap Tour (May 24-May 30) for Team Sonnet (Toronto). How was that experience for you and why was that event important for the women's pro game?
Jocelyne Larocque: The Dream Gap Tour was a lot of fun. Unfortunately this season due to COVID we haven't played any games. We've played a couple of intersquad games at National Team camps but other than that it's just been practising so the fact that we actually got to play games, highly competitive games, it was just a blast. We were in quarantine for four days so those four days went by pretty slow and then after that, I felt like I blinked and it was already the last game. It was so much fun, it was competitive. They ran it really well. It was super professional, well organized. It was just great to be a part of. I'm really happy that we got to host a PWHPA event in Canada this year because I think the timing with the CWHL folding two seasons and then last season we had a Dream Gap Tour, we got to go to Toronto, Philadelphia, Chicago, all these different places so I think we are doing a really good job of the awareness of women's hockey and just putting our message out there that we are fighting for a viable professional league and there was so much progress. With COVID, there are so many horrible things and not to be a pity party towards women's hockey but it definitely halted us. I think it would have been tough to just not have a Canadian event so I'm really happy that they took all the precautions necessary. The event was super safe. We were tested every day, we had to quarantine before we got there, we quarantined when we got there so they made sure that it was really safe. So it was great to be able to host that and I know a lot of young girls were able to watch on Sportsnet so it was just good to get that visibility of women's hockey and just for people to know what we are fighting for. We are fighting for the future of women's hockey and to have that professional league where little girls can dream to one day play in that league.
Hockey Manitoba: Considering the 2020 IIHF Women's World Championship was cancelled and the 2021 Women's World Hockey Championship in Halifax was cancelled, how important is it that this year's Women's Worlds in Calgary will take place (August 20 – 30, 2021)?
Jocelyne Larocque: It's been a really long time that people have watched Team Canada and Team USA play so I think it's going to be huge. I know I'm really looking forward to it and I know my teammates are really looking forward to it and especially the fact that last year's got cancelled and this year's got postponed. I think we've done a great job of being very patient. With the pandemic, I'm all about safety and I think people's health is above sports so I am just happy that it got postponed and not cancelled. I'm really looking forward to it and I know my teammates are too so I think it's going to be exciting and I know every team is just going to be ready to go so it's going to be fun.
Hockey Manitoba: What has training been like for you over the last 15 months with the uncertainty surrounding the COVID-19 pandemic?
Jocelyne Larocque: You can even push that to our last CWHL season in 2018-19. It's been a really long time for myself and my teammates. It's definitely not just me. It's been a really long time. You definitely have to love the sport because I have practiced and done more practices in the last two years because of the lack of games. I would say in these last two seasons including the COVID season, but even the season before, I have maybe played in max 15 games so you definitely have to be patient. You also have to understand that we're fighting for something way bigger than just myself. What I'm hoping for is that one day when I'm 60, 70 I can walk on a stage and maybe drop a puck for a professional women's game and it's like I'm one of the people that helped pushed this. I'm thinking of the future and I'm thinking of the young girls. I always think of myself when I was kid. My dream was to play in the NHL and I remember my teammates who were boys at the time would laugh at me. They're like girls don't play in the NHL. Then it was confusing because I was like I want to be a hockey player. Then I saw the 1998 Olympics when women's hockey started in the Olympics and that was my first exposure of women's hockey. I didn't even know there was a Team Canada for women's hockey at all. Knowing now there was a World Championships in 1990 when I was two years old. I didn't know that until I was 10. So has it grown? Yes of course. A lot of young girls now they have dreams of playing on Team Canada which is fabulous and I had the same dream but I also think they should be able to dream to play in a professional league. You have to understand that you are fighting for something bigger than yourself but you definitely have to love the sport. If I didn't love hockey, there is no way I would be practising like this. You have to stay motivated. I am motivated by this upcoming Worlds, I'm motivated to hopefully make the 2022 Olympic team and then I am motivated to do my best to help Canada win gold so those are the things that push me every day. There are days when maybe you are on a low and you feel sorry for yourself that you haven't played a game in so long and you're watching NHL playoffs and you're jealous of them but you know your turn is going to eventually come. I'm pretty optimistic that it's all going to be worth it.
Hockey Manitoba: In your opinion, how close do you think we are to having a viable professional women's league?
Jocelyne Larocque: I would be surprised if there wasn't a professional league the season after the Olympics. So that would be the 2022-23 season. Again I would be shocked if it didn't happen. With Jayna Hefford leading us, there are a lot of people that are very optimistic that it will happen and there's a lot of pieces that are set for that start date. Do we know all the details? No but I am very confident that there will be a professional league. How many teams? I'm not sure but women can  play, they can get paid, they can be on tv and then the ball will just keep rolling from there. I would say the Fall of 2022 would be a very educated guess.
Hockey Manitoba: In May, you were named to Team Canada's centralization roster for the 2022 Winter Olympics in Beijing. You have already represented Canada at two previous Olympic Winter Games, winning gold in 2014 and silver in 2018. How has your approach and preparation changed going into your third Olympic Games?
Jocelyne Larocque: You get a new motivation. I am so proud of that silver medal. It was honestly the best team I've ever been on. We just got along and that year was honestly the most fun. And that is no disrespect to my old teams. I have loved every team that I have been on but that team was really special. That silver medal I hold very dear to my heart and I am very proud of that year but you do get an extra motivation when you lose. It makes you want the gold even more than you thought you ever did. Because it's something that you don't know until you've experienced it. Fortunately for Canadians that have played at the Olympics other than the players on the 1998 team they've never had that feeling before so all of us 2018 Olympians, we have that losing in a Final at the Olympics so that definitely gives you an extra motivation.
Hockey Manitoba: In February 2021, you were named the Manitoba Aboriginal Sports and Recreation Council (MASRC) Female Indigenous Athlete of the Decade. How did you find out and what is the significance of the honour to you?
Jocelyne Larocque: So I found out I was nominated from my dad. I don't even know how he found out. I mean he's got his little ins everywhere. I just remember being insanely proud that I was nominated. I felt very honoured. To be honest I didn't think I would win. I got a phone call and she told me and I literally had no words and then I started to laugh and then I just said I am so sorry I am speechless. I didn't even know what to say. I'm like thank you. I feel extremely proud and I feel extremely just privileged that I can be a role model to really anybody that just has a dream and that can see that working hard can lead to you achieving your dreams. If I can just help one young kid believe in themselves then yeah it's pretty neat.
Hockey Manitoba: What does National Indigenous History Month mean to you personally and in the context of hockey?
Jocelyne Larocque: It's great to see people like Brigette, people like Zach and I think it's important that young Indigenous youth can see people similar to them achieving their dreams. It's great that I was the first Indigenous player and Brigette was the first First Nations player to play in the Olympics. Hopefully all the firsts can happen so that if you can see it, you can do it. I think it's important for young kids to be able to see role models and see people that are similar to them. I think it's very powerful. I think when I was a kid, unfortunately it was a lot of boys that I looked up to. Men, male hockey players. Because I didn't see women. I think in any context, it's important for people to see what they want to be and that doesn't even have to mean hockey, it could mean anything. To be able to see people similar to them pursuing what they love and achieving their goals so I think it's great to see that visibility. It's great that it's celebrated because it should be. Fortunately I've never been a victim of racism but I am well aware that people like Brigette have and I know personally that Brigette has. The stories that she's shared with me are heartbreaking. I am so proud of her to be able to share her story because it's important and it's important on both ends. If you are a victim of racism, you are not alone and that you should be proud of whatever your background is because we're all special and we are all unique and the flip side is that's unacceptable. Unfortunately when we were younger, it wasn't talked about that much. I mean I'm 33 years old, it's not like I'm 70 and I'm saying that oh when I was younger it wasn't talked about. Even in the last 10 years, it wasn't really talked about that much so the fact that people like her are sharing their stories is very powerful. It takes a lot of courage because you also have to revisit traumatic times in your life. I commend anyone that speaks their truth to help others because usually if you've gone through something really traumatic or really hard, you're probably not the only one who has gone through that. There is a lot of strength that can come from people sharing their truths. I'll take Brigette for example because I know her very well. Look at what she's done right. It's pretty amazing. I know there's lots of kids that look up to her and that can see strength in that. Everyone should celebrate their heritage and their background and be proud of it.
Share