|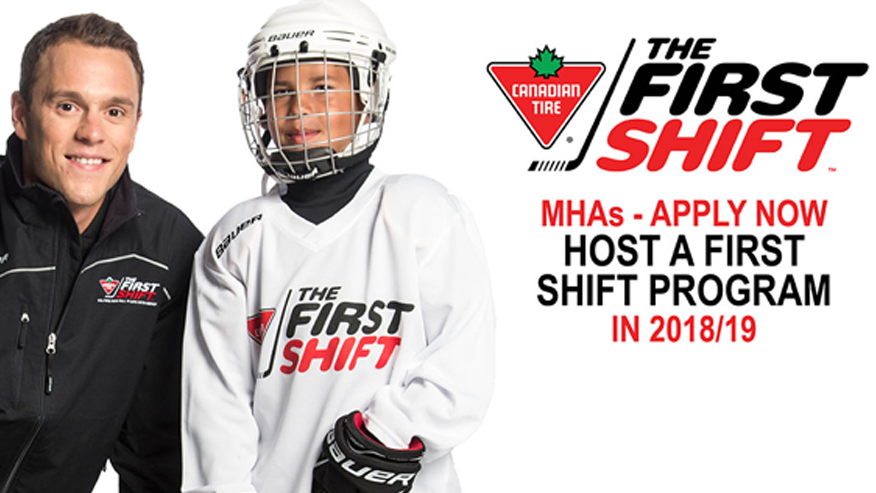 CALGARY, Alta. – Canada's most popular introductory hockey program continues to expand its reach, as the Canadian Tire First Shift will be available in Inuvik, N.W.T., for the very first time.
First introduced in 2014 as a pilot project, the Canadian Tire First Shift is a learn-to-play hockey program designed for kids aged 6-10 who are new to the game. Registration for the often sold-out program begins June 1 for the 2018-19 season in communities across all 13 Hockey Canada regional members.
To-date, more than 15,500 Canadian boys and girls have been introduced to Canada's game through the Canadian Tire First Shift, with many programs filling up on the first day of registration.
"The tremendous growth and even greater demand by kids and parents across the country has allowed Hockey Canada, and our partners Canadian Tire and Bauer, to introduce tens of thousands of Canadians to the game," said Scott Smith, president and chief operating officer of Hockey Canada. "Many of those players move on to play within our minor hockey associations, but all of those families come away from the program with a positive experience and a new appreciation for the sport – and for Hockey Canada, that is the definition of success for this program."
More than 190 programs have been confirmed for the 2018-19 season in provinces and territories right across the country. The response from Canadian families is no surprise to program organizers, which include Bauer Hockey, Canadian Tire, and Hockey Canada.
"As we gear up for the fifth season of the Canadian Tire First Shift, we are delighted by the overwhelming response from minor hockey associations across the country wanting to host the program, as well as a new generation of hockey players beginning their journey into our sport," said Ludovic Lord, manager of recruitment initiatives for Hockey Canada. "Once again, the efforts and hard work of minor hockey associations and their volunteers will result in more than 6,000 children trying hockey this upcoming season as part of the Canadian Tire First Shift."
With an emphasis on fun, the Canadian Tire First Shift allows kids ages 6-10 to easily try hockey for $199, which includes enrollment for a six-week, on-ice curriculum and head-to-toe Bauer Hockey equipment that each child can keep.
Though the program has always been open to both boys and girls, the popularity of all-female Canadian Tire First Shift programs over the last two seasons has seen more all-girl programs carved out for 2018-19 — 22, to be exact. The 2018-19 season will see 136 programs delivered as part of the Fall session, and another 56 targeted for the Winter session.
The initiative began in 2014 with four pilot programs in Ontario and Nova Scotia, expanded the following year to 35 programs, and doubled to 81 programs delivered in the 2015-16 hockey season. In each of the last two seasons, an all-time high of 150 Canadian Tire First Shift programs were delivered in communities across the country, and two-time Olympic gold-medalists Marie-Philip Poulin and Jonathan Toews joined Mark Messier as Canadian Tire First Shift ambassadors.
To learn more about the Canadian Tire First Shift in your community and how to register, please visit www.firstshift.ca. Parent information resources on hockey in Canada can be found at Hockey Canada's Pathway to Minor Hockey.
Share