|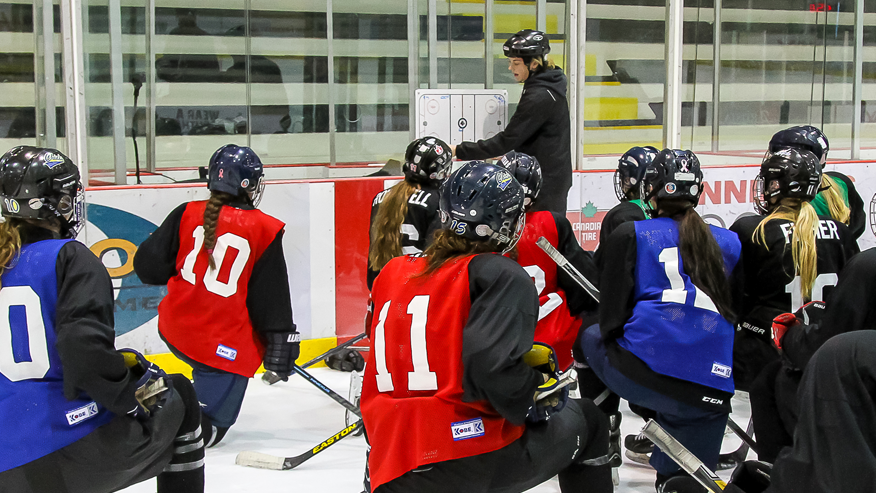 Hockey Manitoba is excited to present the We Are Coaches Clinic for prospective female coaches on Saturday, February 8, 2020 at Seven Oaks Arena.
The We Are Coaches clinic will include a four hour in-class session followed by a one hour on-ice session and will be led by Sarah Zacharias, Head Coach of the Balmoral Hall Blazers Varsity Prep Hockey team.
We Are Coaches Clinic attendees will receive their Coach 2 – Coach Level which is a requirement for any coaches to coach at the ATOM-MIDGET level up to and including AA. This level of training is also accepted at the NOVICE level.
Details:
– Time: 3:15 p.m. – 8:30 p.m.
– Location: Seven Oaks Arena, 745 Kingsbury Avenue
– Cost: Free
– A meal will be provided
– This clinic is for females only
The We Are Coaches program was designed to increase the number of trained female coaches in Canada in order to provide mentors and role models for young participants.
The goal of We Are Coaches is to:
Help build infrastructure to support and sustain the participation of girls and women in hockey in Canada.
Develop female role models and leaders within the hockey community.
Remove barriers to coaching education for women.
The program will dramatically increase the number of active female coaches in minor hockey across Canada, which will positively influence the recruitment and retention of girls in the game.
Only a limited number of spots are available, so REGISTER NOW on Hockey Canada's eHockey website.
To register online:
Click here to REGISTER NOW
Scroll down to "Selections" and select "NA"
Choose to Log In or Create New Account
 If you have any questions, please contact Erikson Solnes, Coordinator, Coach Development at esolnes@hockeymanitoba.ca
Share