September 25, 2020 11:15 am

|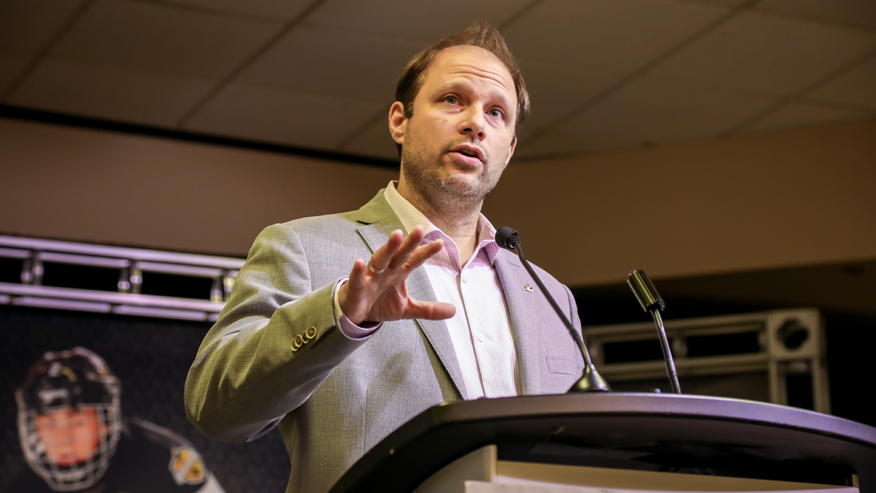 Former Hockey Manitoba Director of Operations Scott Furman has won the 2020 Hockey Canada Hal Lewis Award, which recognizes a Hockey Canada staff person who best exemplifies the commitment to the values and objectives of Hockey Canada, exhibits pride and respect for the organization and its participants and demonstrates team spirit both in the office and in one's life.
Scott was a staff member of Hockey Manitoba for over 17 years before accepting the West Regional Director position with Hockey Canada in August 2019.
Scott's commitment to Hockey Manitoba spanned almost 20 years and he has been associated with all levels of administration and operations from minor through to senior hockey within our branch. He has made a significant contribution to the growth, delivery and administration of hockey in Manitoba and has been a leader and role model for countless volunteers and staff. Highlighted by his commitment to finance, minor hockey and program operations, Scott has played an instrumental force in establishing the delivery of numerous Hockey Manitoba and associated projects.
Scott's professional training and educational background provides him with a level of confidence, belief and commitment. His work ethic and pledge to excellence are unchallenged. He is meticulous in his preparation and has played an important role in shaping and directing volunteers by providing them with the essential tools necessary to advance individual and team personal growth. Scott is a visionary and possesses the ability and skill set to galvanize a group in order to assist them to exceed their own personal expectations. He is also selfless, determined and extremely resolute in ensuring fair and effective outcomes.
Scott lead numerous Hockey Manitoba projects highlighted by the successful launch of the Novice half-ice program and manual development, which occurred several years in advance of the program being mandated by Hockey Canada. Even though the half-ice concept was not universally accepted Scott made sure that members were provided with the appropriate rationale and reasons behind the adoption of a new on-ice delivery format. He lead the team in the production of a simple but detailed manual outlining the long-term benefits and merits of the Novice program including inserting a development zone area that increased on-ice contact time by over 30% per player. Scott's passion for development was essential in the successful launch and the seamless delivery of the Novice program throughout Manitoba.
When Hockey Manitoba celebrated our centennial anniversary in 2015 Scott took the lead on several major projects including organizing all significant aspects of the celebrity golf tournament for over 140 participants; the distribution of hockey sticks made available to every first-year U7 player in Manitoba; oversaw the outdoor Winter classic at over 50 different locations throughout Manitoba; managed a significant portion of the Hockey Manitoba Centennial Gala Dinner by selling a large portion of the 600 plus tickets and the organization of all special events.
During his time with Hockey Manitoba Scott welcomed the opportunity to serve as the volunteer Finance Chair for the World Under-17 Hockey Championships in Winnipeg. Scott also enjoyed serving as the volunteer Event Accountant for the 2007 IIHF World Women's Hockey Championships and embraced both events by providing a beacon of knowledge, enthusiasm and passion as a key member of the events team.
Scott continues to serve as a mentor, confidante, and conscience of our organization and is always supportive of the goals of Hockey Manitoba by understanding and reminding us of the balance between the rights of the individuals and program protection.
Scott has played a significant and valuable role in the development of hockey in the Province of Manitoba. He has provided essential leadership and is well respected by his peers, colleagues and volunteers and demonstrates his considerable contribution to his own community in coaching both of his sons in a variety of different sports.
Scott is very proud of his service to the game of hockey and his accomplishments whereby his record of success in every task he undertakes is indeed impressive. He is a well-respected community member and is consistent and committed to every project.
National Awards are reserved for special individuals that have made extraordinary contributions to the game or sport and Scott's accomplishments and unselfish commitment stretching over almost two decades is extremely impressive, notable and clearly worthy of consideration.
Scott is a long time resident of Winnipeg, is happily married to his wife Pat and they are extremely proud parents of their three children Andrew, Patrick and daughter Abby.
Hockey Manitoba is very proud and honoured that Scott Furman has won the 2020 Hal Lewis Award.
Share