February 5, 2019 11:08 am

|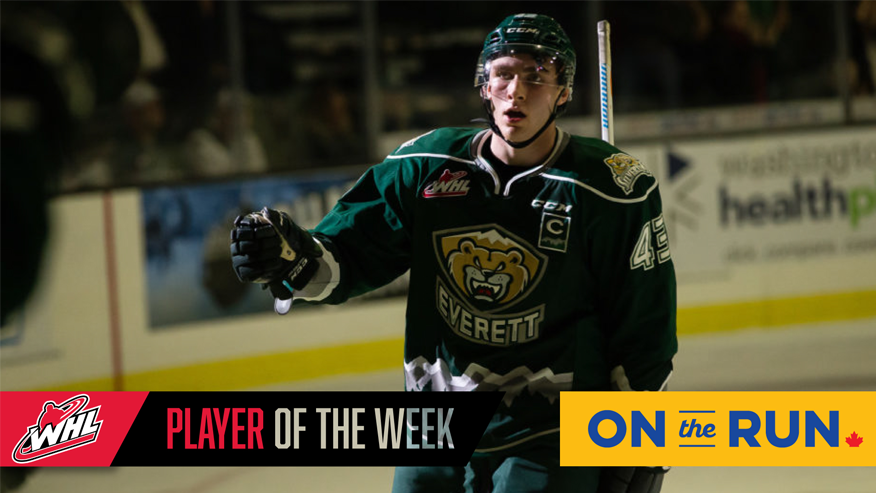 Calgary, Alta. – The Western Hockey League announced today that Minnesota Wild prospect and Everett Silvertips captain Connor Dewar has been named the WHL On the Run Player of the Week for the week ending February 3, 2019.
Dewar recorded eight points (4G-4A) and a plus-two rating in two games this week as the Silvertips went a perfect 2-0-0-0 to wrap up a home-and-home series against the Seattle Thunderbirds, continuing to secure the Silvertips' first-place position in the U.S. Division and Western Conference with 76 points.
In Everett's Friday night game against Seattle, Dewar assisted on the Silvertips' second and third power-play goals, which supported a 5-2 win in Everett's favour. On Saturday night at home, Dewar aided the Silvertips in a 7-2 victory over the Thunderbirds with four goals and two assists. Scoring three even-strength goals, one power-play goal and assisting on two power-play goals, Dewar was awarded first star of the game as well as first star of the night in the WHL. Dewar's career-high six points finished one point shy of the Silvertips' franchise record for points in a single game.
Dewar's performance on Saturday marked his 19th-multi-point game of the 2018-19 Regular Season. Recording a new WHL career points total of 70 points (35G-35A) in 47 games, Dewar has outdone his previous season's record of 68 points (38G-30A) in 68 games. This also marks Dewar's second-straight 35-goal campaign of his WHL career.
The eight-point weekend propelled The Pas, Man., native into a tie for fifth place in WHL scoring this season. Through 47 games, Dewar has totalled 70 points (35G-35A), including 12 power-play goals, one short-handed goal, and eight game-winning goals.
The Minnesota Wild selected Dewar in the third round, 92nd overall, at the 2018 National Hockey League Draft. In 258 career WHL regular season games, Dewar has tallied 186 points (98G-88A), including 31 power-play goals, four short-handed goals, and 19 game-winning goals. Originally, the Silvertips selected the 5-foot-10, 176-pound Dewar in the fifth round, 107th overall, at the 2014 WHL Bantam Draft.
WHL On the Run Player of the Week
Jan. 28 – Feb. 3: Connor Dewar, Everett Silvertips
Jan. 21 – Jan. 27: Justin Almeida, Moose Jaw Warriors
Jan. 14 – Jan. 20: Justin Almeida, Moose Jaw Warriors
Jan. 7 – Jan. 13: Bowen Byram, Vancouver Giants
Dec. 31 – Jan. 6: Noah Philp, Seattle Thunderbirds
Dec. 27 – Dec. 30: Noah Gregor, Prince Albert Raiders
Dec. 10 – Dec. 16: Dante Hannoun, Victoria Royals
Dec. 3 – Dec. 9: Jett Woo, Moose Jaw Warriors
Nov. 26 – Dec. 2: Cody Glass, Portland Winterhawks
Nov. 19 – Nov. 25: Brett Leason, Prince Albert Raiders
Nov. 12 – Nov. 18: Tristin Langan, Moose Jaw Warriors
Nov. 5 – Nov. 11: Riley Woods, Spokane Chiefs
Oct. 29 – Nov. 4: Joachim Blichfeld, Portland Winterhawks
Oct. 22 – Oct. 28: Alexander Alexeyev, Red Deer Rebels
Oct. 15 – Oct. 21: Mark Kastelic, Calgary Hitmen
Oct. 8 – Oct. 14: Brett Leason, Prince Albert Raiders
Oct. 1 – Oct. 7: Dawson Davidson, Saskatoon Blades
Sept. 24 – Sept. 30: Luka Burzan, Brandon Wheat Kings
Sept. 21 – Sept. 23: Kirby Dach, Saskatoon Blades
Share