|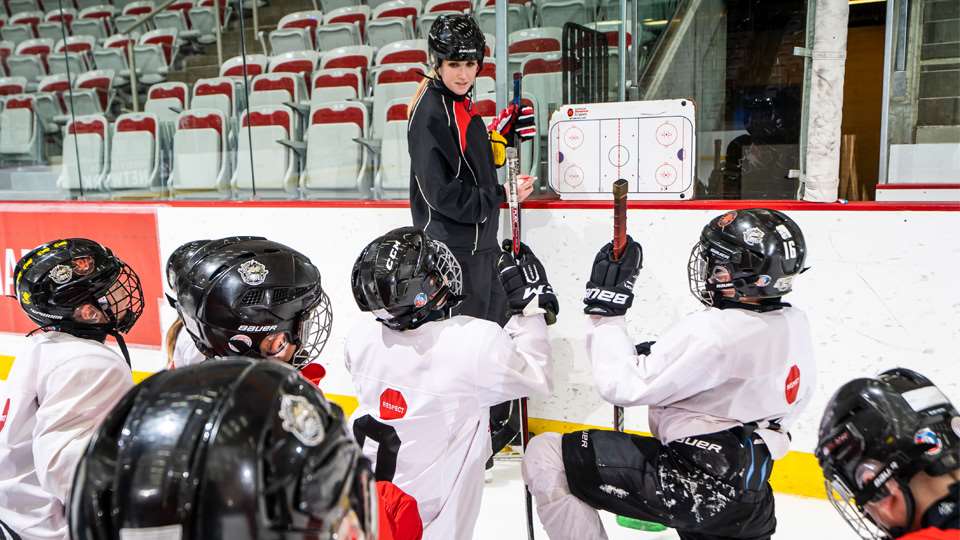 WINNIPEG, Man. –  Hockey Manitoba coaches Sarah Zacharias, Ashley van Aggelen and Regan Boulton are close to completing Hockey Canada's Women Master Coach Developer program (WMCD) which focuses on developing more women in coaching.
The initiative began last fall with 30 coaching leaders across the country taking part in online webinars/modules on subjects ranging from how to evaluate other coaches to keeping girls in sport to making ethical decisions as a coach.
"I think females mentoring females is a big start," Ashley van Aggelen, Head Coach of the Winnipeg Avros Female U18 AAA team said. "The female game has grown astronomically in all of our provinces, especially in Manitoba and the talent level and IQ is getting better and better so females coaching females is a great start and the young generation being coached by females hopefully entices some young players to give back when their playing careers are done."
Van Aggelen, Zacharias and Boulton have completed all of their content-specific training (shooting, stick-handling, edge control, passing, etc.) and now all that's left for them to complete is their CORE training for coach evaluators, which they were scheduled to complete back in April in Hamilton, Ontario but were unable to do so because of the COVID-19 pandemic.
Despite still having to complete the CORE training, all three coaches are now certified by Hockey Canada as evaluators which means they can now evaluate and mentor aspiring high performance female coaches in Manitoba.
As part of the program, coaching leaders are required to deliver a We Are Coaches women-in-coaching training program to receive WCMD certification. Sarah Zacharias, Head Coach of the Balmoral Hall Blazers Varsity Prep Hockey team, led a We Are Coaches clinic on February 8, 2020 at Seven Oaks Arena while van Aggelen and Boulton will each lead their own We Are Coaches clinic at some point during the 2020 – 2021 hockey season.
The We Are Coaches clinic in February led by Zacharias included a four hour in-class session followed by a one hour on-ice session. Attendees of the clinic received their Coach 2 – Coach Level certification which is a requirement for any coaches to coach at the Under-11 to Under-18 level up to and including AA. This level of training is also accepted at the Under-9 level.
"I received so much positive feedback from the women involved in the clinic, who felt comfortable asking questions, working together and ultimately growing the game," Zacharias said. "The majority of the clinics I run are all male (95%-100% male participants) so I think by offering all-female clinics run by a female instructors will absolutely result in more qualified and capable female coaches out there."
A key part of the WMCD program will be for coaching leaders such as Zacharias, van Aggelen and Boulton to stay connected with attendees of the We Are Coaches clinic throughout the season.
"We want our coaches to know that if they have questions we are here to mentor them. If they need us to come to a practice we are here for them and maybe eventually they move on to get their Development 1 certification and maybe we end up being their evaluators. The idea is we start with the We Are Coaches clinic but after that they can bounce ideas off of us and we are here for them every step of the way. " van Aggelen said.
Learn more about Hockey Canada's coaching programs here.
Share