|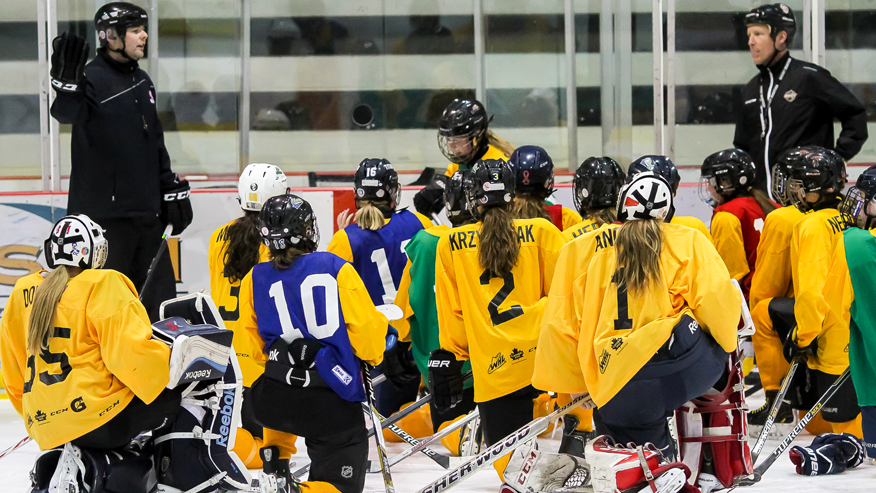 WINNIPEG, MB – Hockey Manitoba is pleased to announce the rosters for the 2018 Male U16, Female U18 and Female U16 Program of Excellence. The Male U16 Top-40 camp will run from May 10-13 along side the Female U16 Top-40 camp from May 11-13. The Female U18 Top-40 camp will take place from May 13-15 with all three operating out of Stride Place in Portage la Prairie.
This camp is the second phase of the Hockey Manitoba U16 Male, U16 Female & U18 Female Program of Excellence (POE) which is the provincial high performance development and selection program that leads to the formation of Male U16 Team Manitoba, Female U16 Team Manitoba and Female U18 Team Manitoba. The final Male U16 Team Manitoba and Female U18 Team Manitoba rosters will compete at the 2019 Canada Winter Games from February 15 – March 3, 2019 in Red Deer, AB.
The Male U16 POE Top-40 will see a total of forty-four (44) players invited, comprised of twenty-five (25) forwards, sixteen (16) defensemen and four (4) goalies. The invite list also includes two under-age players born in 2004 who are invited for an exclusive development opportunity and as potentials to challenge for a final roster spot later this fall. A special exemption application process will be required to be filed by Hockey Manitoba to gain an under-age exemption status.
The Female POE Top-40 camp is designed to mirror the selection camps used by Hockey Canada at the U18, Development and National Team levels. This camp combines a busy schedule of on-ice practice/skills, team building and inter-squad games. Players are taught about the importance of preparation and recovery in a short term competition environment.
This year's U18 Top-40 roster includes 7 returning players from the 2017 U18 Team Manitoba (Camille Enns, Kate Gregoire, Makenzie McCallum, Olivia Cvar, Paige McArthur, Sarah Dennehy & Taylor Coward). They will be joined by 17 players from the inaugural 2017 Female U16 Team Manitoba and 24 other Manitobans hoping to earn a spot moving forward.
After a successful first year for the Female U16 Program of Excellence the Top-40 camp sees fifteen players coming from the Rural AAA leagues and twenty players coming from the Winnipeg AA League. The roster also includes 5 players who spent their past season playing for either a Prep School in Winnipeg or in the Midget AAA League (MFMHL).
The Female Program of Excellence is designed to provide high performance female players with the opportunity to develop advanced skills as well as an introduction to the concepts needed to play at an elite level. Players from the Program of Excellence go on to play at the CIS, NCAA and International level.
Hockey Manitoba is pleased to recognize Canad Inns, CCM Hockey, and the Western Hockey League as Official Partners of the Program of Excellence, along with Gatorade as the Official Sport Drink of Hockey Manitoba.
For more information about the Hockey Manitoba Program of Excellence please visit hockeymanitoba.ca/poe.
Share