|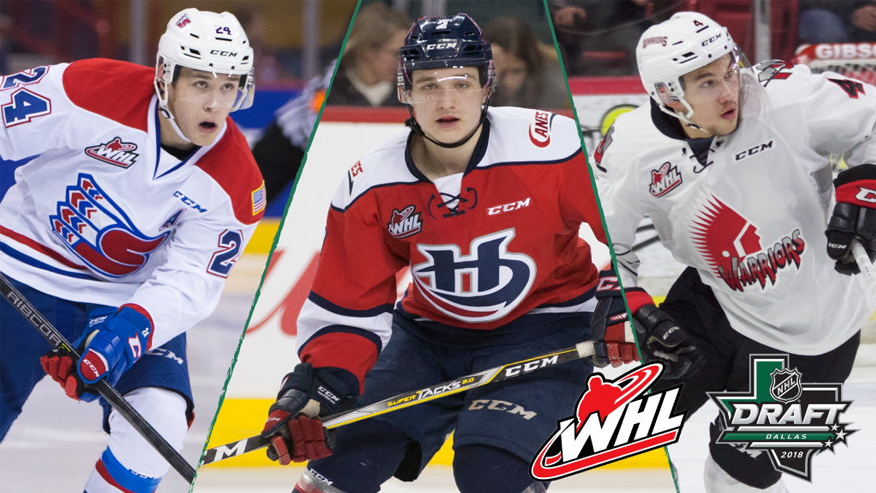 The league that brought you physical blue line specimens in Dion Phaneuf, Brent Seabrook and Barret Jackman continues to churn out quality defensive talent, but a few of the top names eligible for the upcoming 2018 NHL Draft boast other dominant skills, ones suited perfectly to the ever-increasing pace and tempo of NHL hockey.
Following in the footsteps of a similarly-statured Chicago Blackhawks first round pick in Henri Jokiharju of the Portland Winterhawks last year, Ty Smith of the Spokane Chiefs, Calen Addison of the Lethbridge Hurricanes and Jett Woo of the Moose Jaw Warriors all come in at or below the 6-foot mark. Though their wingspans will never rival those of past WHL back end products in Zdeno Chara, Jay Bouwmeester or Dustin Byfuglien, Smith, Addison and Woo are seen as prospects who will fill another demand increasingly being sought out by big league clubs.
"Rule changes are usually geared to letting skilled players be skilled players," Karl Stewart of NHL Central Scouting told NHL.com's Tim Campbell. "It helps the smaller defensemen, and many of the skilled guys under 6-feet tall. Maybe five years ago, those players might not have gotten the respect. But you're starting to see these smaller guys contribute in all three zones. Smaller defensemen have to be respected a little more now."
The WHL of course produced one of the NHL's most dynamic and skilled defencemen in recent memory in 2013 Hockey Hall of Fame inductee Scott Niedermayer whose modest 6-foot-1, 200Ib. frame battled through over 1,400 NHL games and filled a trophy case that includes four Stanley Cup titles.
Though his 5-foot-10, 170Ib. measurements don't strike fear into opposing forwards, Ty Smith comes with a big-time pedigree and is among the best at dissecting an opposing forecheck. The 18-year-old recorded career highs in goals (14), assists (59) points (73) and plus-minus (+44) in 69 games with the Spokane Chiefs. The Lloydminster, Alta. native was the first overall pick of the 2015 WHL Bantam Draft and has represented Canada a number of times, wearing the 'C' at the World Under-17 Hockey Challenge and World Under-18 Hockey Championship while also competing at the Ivan Hlinka Memorial Tournament.
Following Smith at second overall in 2015, 5-foot-11, 178Ib. Lethbridge Hurricanes defenceman Calen Addison brings a right-hand shot and dynamic offensive game to the draft table. The product of Brandon, Man. recorded 11 goals, 54 assists and 65 points in 68 games with the Canes. Like Smith, Addison has also had success on the international stage, playing a key role in Canada's gold medal finish at the 2017 Ivan Hlinka Memorial Tournament with six points (2-4–6) in five games.
The 28th-ranked prospect on NHL Central Scouting's North American list, Moose Jaw Warriors defender Jett Woo has a unique opportunity, looking to become the first player of Chinese descent to ever be selected in the first round of the NHL Draft.
Woo, whose grandparents were born in Canton, China and owned a small restaurant chain in Winnipeg called Marigolds, is the son of former WHL forward Larry Woo (1989-91). He is set to become the second player of Chinese descent ever drafted to the NHL after the New York Islanders picked Lawrenceville School defenceman Andong Song in the sixth round of the 2015 NHL Draft.
"The way that hockey is shaping up, really anyone, anywhere, can play right now if you stick with it and work hard enough," Woo told NHL.com's Mike Morreale. "It's something that's really cool and I'm really proud to be playing hockey, proud to be of Chinese descent. Having those two things so close to me is something I really cherish and am thankful for."
Bigger than Smith and Addison, Woo comes in at roughly 6-foot, 200Ib. He battled through injury this past season, appearing in 44 games while recording nine goals, 16 assists and 25 points. He's represented Canada three times during his WHL tenure, winning gold at the Ivan Hlinka Tournament last summer while also suiting up in the World Under-17 Hockey Challenge and the World Under-18 Hockey Championship.
While Smith, Woo and Addison are all Canadian products, the rest of the world is also offering a wide array of talent coming out of the WHL.
A big body at 6-foot-3, 200Ib. Red Deer Rebels defenceman Alexander Alexeyev is also prominent on the radar of NHL clubs. The Russian product had seven goals, 30 assists and 37 points over 45 games and represented his country in the 2017 CIBC Canada Russia Series. Other highly touted European defencemen coming out of the WHL in this draft class include Filip Kral of the Spokane Chiefs as well as the Russian Calgary Hitmen duo of Egor Zamula and Vladislav Yeryomenko.
While the WHL's biggest strength in this draft comes from the back end, there's lots of other players to learn more about. Here's a full look at WHL players included on NHL Central Scouting's Final Draft Rankings List.
NHL CENTRAL SCOUTING FINAL DRAFT RANKINGS – WHL:
| | | | | | |
| --- | --- | --- | --- | --- | --- |
| 14 | SMITH | TY | 24-Mar-00 | SPOKANE | D |
| 22 | ALEXEYEV | ALEXANDER | 15-Nov-99 | RED DEER | D |
| 28 | WOO | JETT | 27-Jul-00 | MOOSE JAW | D |
| 30 | ADDISON | CALEN | 11-Apr-00 | LETHBRIDGE | D |
| 41 | ROMAN | MILOS | 6-Nov-99 | VANCOUVER | C |
| 51 | STOTTS | RILEY | 5-Jan-00 | CALGARY | C |
| 53 | REICHEL | KRISTIAN | 11-Jun-98 | RED DEER | C |
| 54 | KRAL | FILIP | 20-Oct-99 | SPOKANE | D |
| 59 | TOPPING | KYLE | 18-Nov-99 | KELOWNA | C |
| 64 | ZAMULA | EGOR | 30-Mar-00 | CALGARY | D |
| 65 | FONSTAD | COLE | 24-Apr-00 | PRINCE ALBERT | C |
| 71 | WYLIE | WYATTE | 2-Nov-99 | EVERETT | D |
| 73 | YERYOMENKO | VLADISLAV | 23-Apr-99 | CALGARY | D |
| 80 | SUTTER | RILEY | 25-Oct-99 | EVERETT | RW |
| 88 | ALMEIDA | JUSTIN | 6-Feb-99 | MOOSE JAW | C |
| 91 | BURZAN | LUKA | 7-Jan-00 | BRANDON | C |
| 92 | WOUTERS | CHASE | 8-Feb-00 | SASKATOON | C |
| 95 | CHYZOWSKI | RYAN | 14-May-00 | MEDICINE HAT | LW |
| 110 | FLORCHUK | ERIC | 10-Jan-00 | SASKATOON | C |
| 115 | ZABRANSKY | LIBOR | 26-May-00 | KELOWNA | D |
| 117 | DEWAR | CONNOR | 26-Jun-99 | EVERETT | C |
| 121 | REINHARDT | COLE | 1-Feb-00 | BRANDON | LW |
| 122 | LEPPARD | JACKSON | 18-Jan-00 | PRINCE GEORGE | LW |
| 128 | KEMP | BRETT | 23-Mar-00 | EDMONTON | C |
| 129 | STUART | BRODI | 10-Mar-00 | KAMLOOPS | LW |
| 133 | BARTEAUX | DAWSON | 12-Jan-00 | RED DEER | D |
| 137 | LUDVIG | JOHN | 2-Aug-00 | PORTLAND | D |
| 140 | JOHNSON | ISAAC | 24-Jan-99 | TRI-CITY | LW |
| 155 | FOCHT | CARSON | 4-Feb-00 | CALGARY | C |
| 157 | MATTSON | LEIF | 23-Jul-99 | KELOWNA | RW |
| 160 | LOEWEN | JERMAINE | 18-Jan-98 | KAMLOOPS | LW |
| 163 | PATERSON | JOSH | 21-Jan-99 | SASKATOON | RW |
| 168 | DOUGLAS | CHRISTOPHER | 6-Jul-00 | RED DEER | RW |
| 172 | BODAK | MARTIN | 28-Nov-98 | KOOTENAY | D |
| 178 | MCDONALD | KODY | 7-Apr-98 | PRINCE ALBERT | RW |
| 184 | ZUMMACK | ELI | 22-Mar-00 | SPOKANE | C |
| 185 | PLOUFFE | DYLAN | 27-Apr-99 | VANCOUVER | D |
| 186 | MINULIN | ARTYOM | 1-Oct-98 | SWIFT CURRENT | D |
| 188 | HERAUF | JACOB | 16-May-00 | RED DEER | D |
| 200 | PACHAL | BRAYDEN | 23-Aug-99 | PRINCE ALBERT | D |
| 202 | HARTJE | CHASE | 17-Dec-99 | BRANDON | D |
NHL CENTRAL SCOUTING FINAL DRAFT RANKINGS – WHL GOALTENDERS:
| | | | | | |
| --- | --- | --- | --- | --- | --- |
| 7 | HOFER | JOEL | 30-Jul-00 | SWIFT CURRENT | G |
| 8 | TENDECK | DAVID | 25-Nov-99 | VANCOUVER | G |
| 22 | PADDOCK | MAX | 15-Jun-00 | REGINA | G |
| 24 | MCGOVERN | DUNCAN | 7-Jun-00 | KOOTENAY | G |
Share