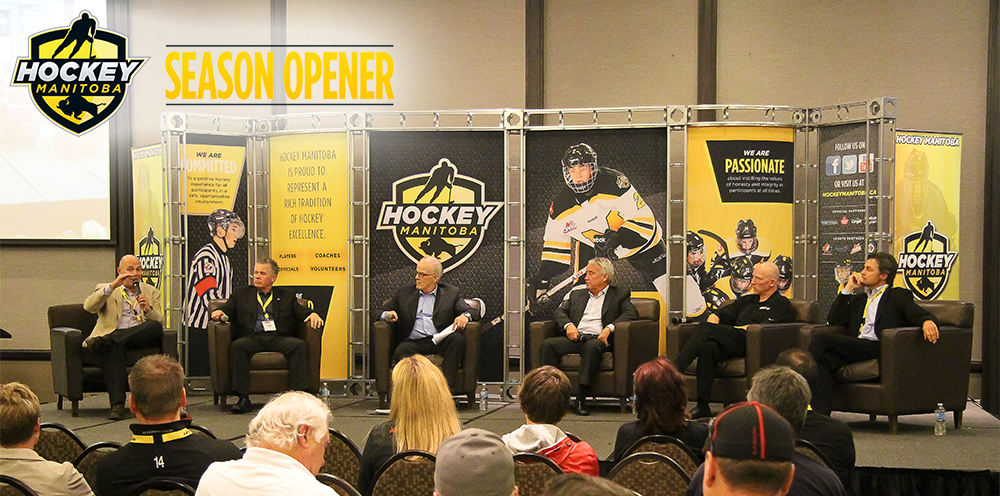 The goal of Hockey Manitoba's annual Season Opener conference is to provide information, resources and specific takeaways for minor hockey associations and volunteers that can be utilized to grow and develop our game.  We encourage stakeholders at all levels to take an active role in continuing to build a model for optimum hockey development.  Participants can expect informative presentations and engagement through discussions and workshops, while also receiving details on what's new for the upcoming season and enjoying hospitality with friends and colleagues.  Hockey Manitoba has consistently brought in some of the most knowledgeable and interesting presenters to the Season Opener over the years.
2018 SEASON OPENER
September 28-29, 2018
Canad Inns Polo Park, Winnipeg
REGISTRATION
Season Opener registration includes:
Access to all presentations
Hospitality on Friday evening
Lunch on Saturday
INDIVIDUAL FULL ACCESS PASS
$40 + GST
MULTIPLE FULL ACCESS PASS
Register up to 5 individuals
$100 + GST
CHANGING THE GAME
This year's conference will continue to focus on how we can collectively work together to change the game for the benefit of all participants.  The following presenters are confirmed:
Reed Maltbie, Lead Presenter
Changing the Game Project
Stephane Gregoire, Education & Communication Coordinator
Sport Dispute Resolution Centre of Canada
Corey McNabb, Director of Player Development
Hockey Canada
Bob Caldwell, Master Mentor
Hockey Manitoba/Hockey Canada
Hockey Manitoba staff will also be on hand to deliver information pertinent to what's new in 2018 – 2019 and take part in discussions and workshops throughout the weekend.
ACCOMMODATIONS
Individuals requiring accommodations at Canad Inns Polo Park are asked to make reservations by September 14th to guarantee their rooms, and receive our special Hockey Manitoba rate:
Contact:            1-888-332-2623
Block:               "Hockey Manitoba Season Opener"