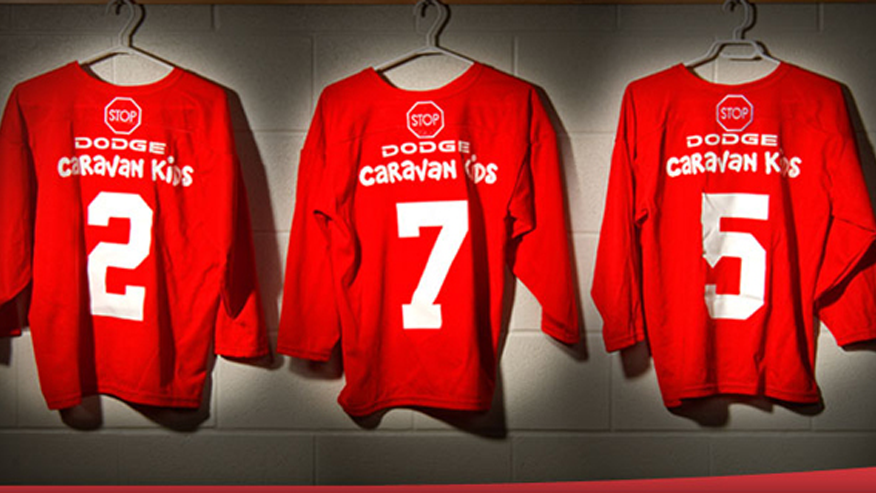 Thank you for joining us once again as Dodge Caravan Kids launches its 14th season supporting Minor League Hockey in Canada! The first thirteen seasons were a success because of you, and we can't wait to create another season together filled with great hockey memories! To-date Dodge Caravan Kids has provided over $9.6 million in funding to over 21,000 teams, helping over 315,000 kids across Canada to enjoy the game of hockey. Game on!
Novice (AGES 7-8) hockey teams and associations located within 150 kilometers of a Chrysler, Jeep, Dodge, Ram and FIAT retailer. Visit www.dodge.ca to locate your closest retailer.  Canadian associations may use this sponsorship for all Novice hockey teams (ie. House League, Local League, Select, MD, Representative). It is not limited to just one team per Association.  Teams and associations are eligible to participate regardless of other corporate sponsorship's they may have unless those partnerships are with a competing automaker or their associated retailer.
Each team/association enrolled in the Dodge Caravan Kids program will receive:
$500 in funding which can be used to offset the cost of team expenses.
The opportunity to enter the Dodge Caravan Kids Photo Contest to win up to $500 in extra funding.
The opportunity to win $5,000 for your local minor hockey association and an All-New 2020 Ram 1500.
The Dodge Caravan Kids registration process is completely done online.  To participate in Manitoba, teams are accepted on a first come, first serve basis, with the option of a waitlist once the program is full.  Registration will be accessible between October 1, 2019 to January 31, 2020.