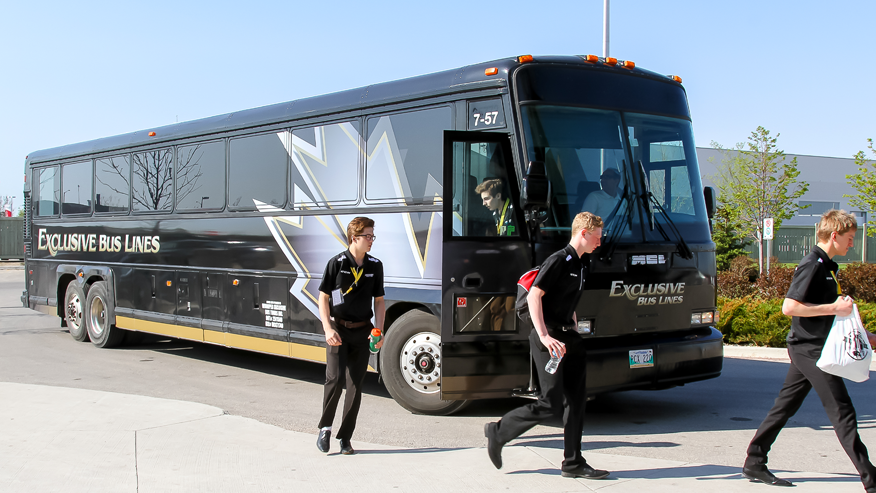 Hockey Canada only sanctions events in which all participants are registered members of Hockey Canada or USA Hockey. When traveling to a tournament or exhibition game outside of Manitoba you may need to verify your registration with the branch and a travel permit serves as the verification that your team and its members are registered with Hockey Manitoba and is proof of the insurance provided to you as a member team.
Why you need a Travel Permit
All individuals properly registered with Hockey Manitoba are covered by the Hockey Canada Insurance Program. Hockey Canada Insurance is secondary in nature and therefore primary coverage needs to be exhausted before you can apply. If you are playing in Canada without primary coverage you can apply directly to Hockey Canada. When playing outside the country you are required to have primary coverage in order to qualify for the Hockey Canada coverage. Please ensure all individuals traveling with your team have some sort of travel health insurance if you are leaving the country.
When you need a Travel Permit
Hockey Manitoba requires that you obtain a travel permit any time you travel outside the province for exhibition games or tournaments. If you are traveling within Manitoba you do not require a Hockey Manitoba travel permit however the Winnipeg and Norman regions require their teams to have approval any time they travel outside of their region.
If your team engages in league play against a team from another branch (ie: Saskatchewan) then you do not require a permit to attend regularly scheduled league games. However if you are attending a tournament hosted by one of those teams you do require one.
If your team will be traveling overseas please contact Peter Woods
How to Obtain a Travel Permit
Hockey Manitoba Travel Permit requests are now available for application on-line at the link below. This will require a credit card payment of $20 in order to complete the application.
Please be advised that the new Travel Permit system is not currently ready for use. In the meantime, please take the following steps to apply:
1 - Click the Travel Permit Application button above
2 - On the next page click the red "Register Now" button
3 - A "Register Participant" box will pop up. You must be a rostered Team Official (coach, manager, etc.) to apply. Choose "Register an existing participant" and click "Start Registration"
4 - Select yourself from the list of participants and click "Next"
5 - Select "Travel Permits" from the Available Registrations and click "Next"
6 - Complete the questionnaire with all required travel permit information and click "Next"
7 - Click "Proceed to check out" and then follow the steps to make a payment.
8 - Once the application has been reviewed and approved, a PDF copy will be sent to the contact email provided on the questionnaire.
Please be sure to have a copy of the permit with you when you travel. Tournament organizers may ask that you submit a copy of the permit before you attend.
To avoid any obstacles please be sure to submit your travel permit request in a timely fashion. You will recieve your permit by email approximately one week prior to your travel date. Permits generally take 1-2 weeks for processing.
Hockey Winnipeg & Norman Teams
Teams from Winnipeg or Norman must first obtain regional approval.
Winnipeg teams should apply for their approval through Hockey Winnipeg and Norman teams must contact Ron Larocque.
Hockey Winnipeg and Norman teams will be unable to apply for a Hockey Manitoba permit without first obtaining their regional approval.
For more information on Travel Permits please contact Gena Cook.