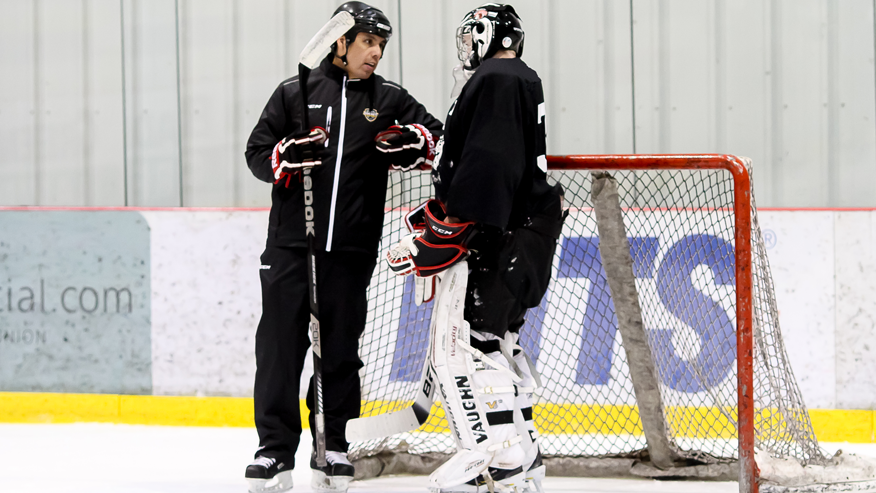 2020 EVENT CANCELLED, for more information please click here.
The CCM Spring Break Goalie Camp consists of 90 minute ice sessions for Under-13 and Under-15 aged goaltenders focused on the skills and concepts identified by Hockey Canada and Hockey Manitoba as being vital to success for young goaltenders.
Hockey Manitoba is excited to be partnered with The Ice Lab, located at the Bell MTS Iceplex, who will be providing all of the on-ice instruction throughout the camp. The curriculum for this year's camp has been developed by goaltending skills coaches from both Hockey Canada and Hockey Manitoba.
Eligibility:
Registration is open for both our Under-15 (2005 and 2006 birth year) and Under-13 (2007 and 2008 birth year) groups. Both groups will be run co-ed and are open to both male and female goaltenders in these age categories. Goaltenders registering for this camp should have multiple years of experience playing goal and have a solid skill base as the skills and concepts being taught are not of an introductory level.
Under-15 Group Schedule:
March 30 – 7:15 pm
March 31 – 6:30 pm
April 1 – 7:15 pm
April 2 – 6:30 pm
Under-13 Group Schedule:
March 30 – 6:30 pm
March 31 – 7:15 pm
April 1 – 6:30 pm
April 2 – 7:15 pm
Program Supported By