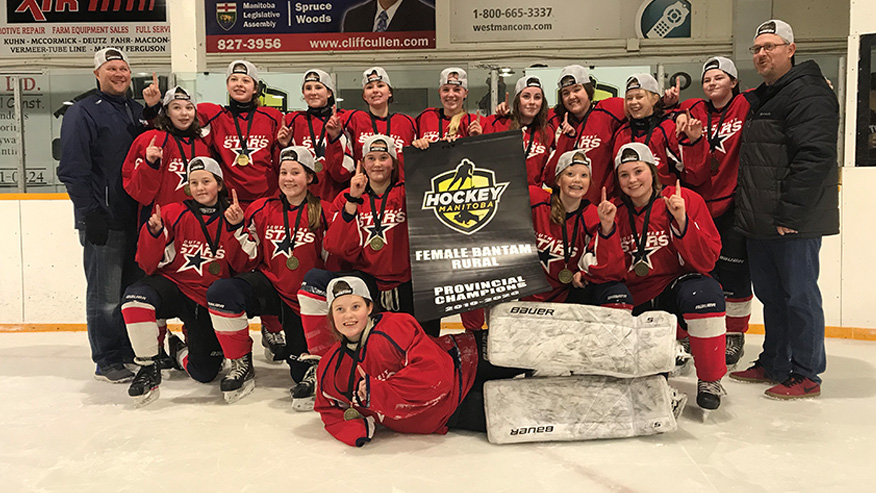 Each season, we are proud to host the Hockey Manitoba Provincials presented by Cargill Ltd. Approximately 25 communities across the province host provincial tournaments as approx. 250 teams and 4,000 players compete for a chance to win a provincial championship!
Various provincial categories are held in both male and female hockey in the Under-11, Under-13, Under-15 and Under-18 age divisions.   Host sites in all categories are determined each year and teams enter their appropriate category to compete in February and March.  Hockey Manitoba keeps fans up to date on all the action with draws, scores and stats available online!
Hockey Manitoba would like to advise all rural Minor Hockey Associations that they must submit their Provincial Team Registrations by the upcoming deadline of Thursday December 1, 2022 at 11:59pm.  All teams entering Provincial competition must be included in the online form submitted by your Minor Hockey Association.
Please also note the following: Rosters must be submitted and entered in the Hockey Canada Registry (HCR) to be eligible for Provincial competition by Thursday December 1st, 2022.
A Minor Hockey Association representative (President or Registrar) MUST be the one to register their respective teams for Provincials, individual teams registering will not be accepted. The team name on the application MUST match the team name in the Hockey Canada Registry.
Please note: If your Minor Hockey Association has been chosen as a host, you still need to fill out an application for the team that is considered your "host" team.
Prior to submitting your Team Provincial Registration Forms, please ensure you have determined, to the best of your ability, what category your Association teams should be entering (applicable to male provincials).  The method for determining Co-ed categorization for teams can be found HERE.
Associations with one (1) team in Co-ed Under-11, Under-13 or Under-15 will register in the "B or C" provincial category.  Regions will determine which category (B or C) each team is assigned during the team placement process.
The categories entered in the application for teams are subject to confirmation by Hockey Manitoba.  Final team placements are confirmed by Minor Council or Female Council in December/January and will be available from your respective regional representatives.  Therefore, your Association's teams may not necessarily be placed into Provincials in the category as applied; this will be determined by Hockey Manitoba.  Please be sure to clarify this with your teams.
Program Contacts