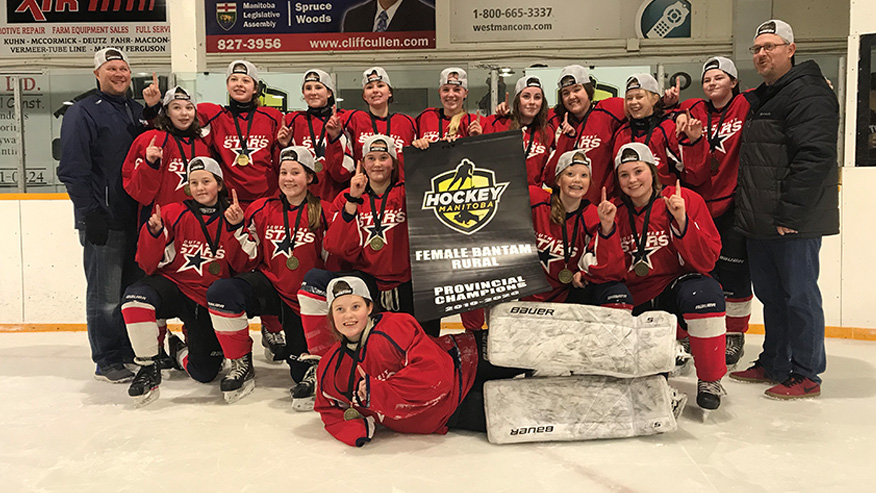 Each season, we are proud to host the Hockey Manitoba Provincials presented by Cargill Ltd. Approximately 25 communities across the province host provincial tournaments as approximately 200 teams and 3,000 players compete for a chance to win a provincial championship!
Various provincial categories are held in both co-ed and female hockey in the Under-11, Under-13, Under-15 and Under-18 age divisions.   Host sites in all categories are determined each year and teams enter their appropriate category to compete in February and March.  Hockey Manitoba keeps fans up to date on all the action with draws, scores and stats available online!
Provincials Apparel and Merchandise
You can now order your CCM 2023 Hockey Manitoba Provincials Apparel so players and coaches can show their pride in taking part in the 2023 Hockey Manitoba Provincials presented by Cargill Ltd.!  We have a fresh new look and design on many items!
Please click here for the 2023 Provincials Apparel Flyer.
Ordering your items is EASY!!
Follow the simple steps below to complete your order now!
Step 1   Click HERE or the link below to begin
Step 2   Enter your name and email address at the bottom of the page
Step 3   Select your Provincial Tournament and enter your team name
Step 4   Select item(s) you wish to purchase
Step 5   Review item summary, check off "I agree" in box
Step 6   Complete the payment online
That's it, you're done!  All of your items will be labeled and shipped directly to your Provincial Tournament for pick up!
Please find your particular Provincials weekend below (i.e. the weekend you are attending Provincials) and the corresponding deadlines to order your Provincials items:
February 24 – 26, 2023  (DEADLINE IS FEBRUARY 9, 2023 at 11:59 pm)
March 3 – 5, 2023  (DEADLINE IS FEBRUARY 15, 2023 at 11:59 pm)
March 10 – 12, 2023  (DEADLINE IS FEBRUARY 22, 2023 at 11:59 pm)
Program Contacts