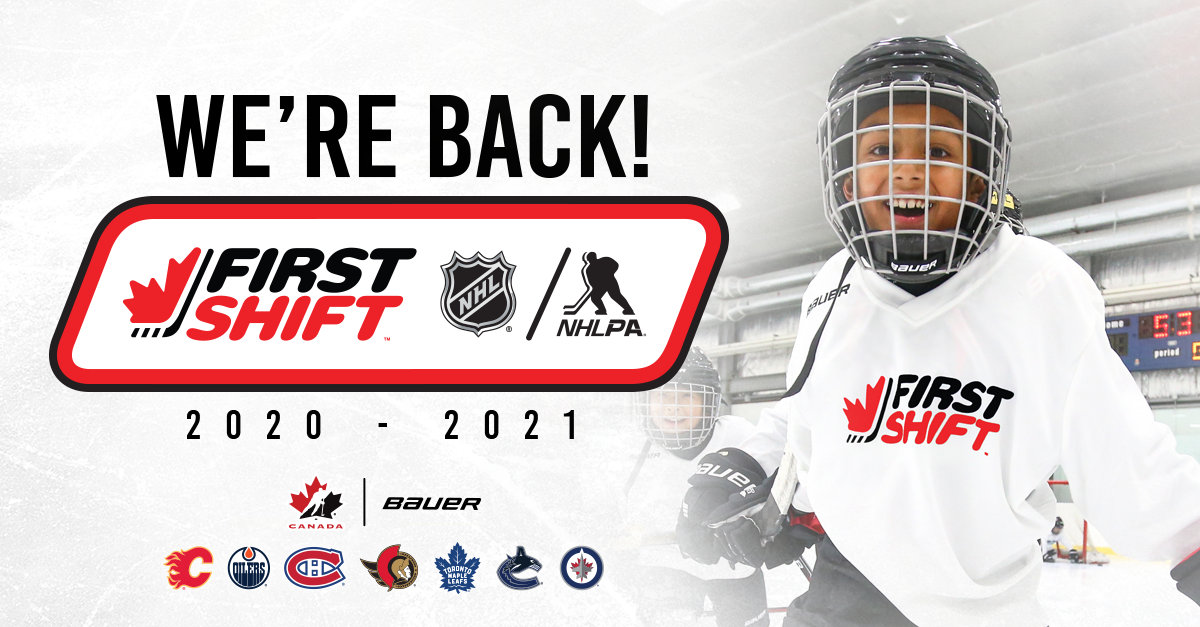 Do you have a child aged 6 to 10 years old who is ready to fall in love with hockey? Registration is now open for the 2020 – 2021 NHL/NHLPA First Shift Program.
The NHL/NHLPA First Shift program is designed to ensure a positive, low-cost experience for new-to-hockey families. We want families to experience the game at its best — to understand why so many Canadians feel an inherent love for the sport, and to stimulate a desire for continued participation.
Hockey Manitoba is proud to be hosting three programs this season which are currently available for registration:
The NHL/NHLPA First Shift program makes the game:
Affordable
Manageable (Time commitment)
Safe
Fun
Participant Registration Fee of $199.00 includes:
BAUER equipment (head to toe)
Welcome event
Equipment fitting demonstration
Expert fit session and equipment distribution
On-ice experience including:
6 weeks, 1 session/week, 1 hour on a consistent day and time
Focus on Fun and Learn to Play
Insurance for participants
Hockey Canada has created a fun curriculum that focuses on:
Small areas games and skills stations active
Wide variety of skating skills, puck handling, passing and shooting exercises
Discovering the sport through a variety of basic motor movement patterns
Fun games to ensure participants enjoy a full range of hockey experiences
Praise and encouragement will serve as the foundation of the instructor's approach to working with all participants.
For more information on the NHL/NHLPA First Shift Program please visit firstshift.ca.