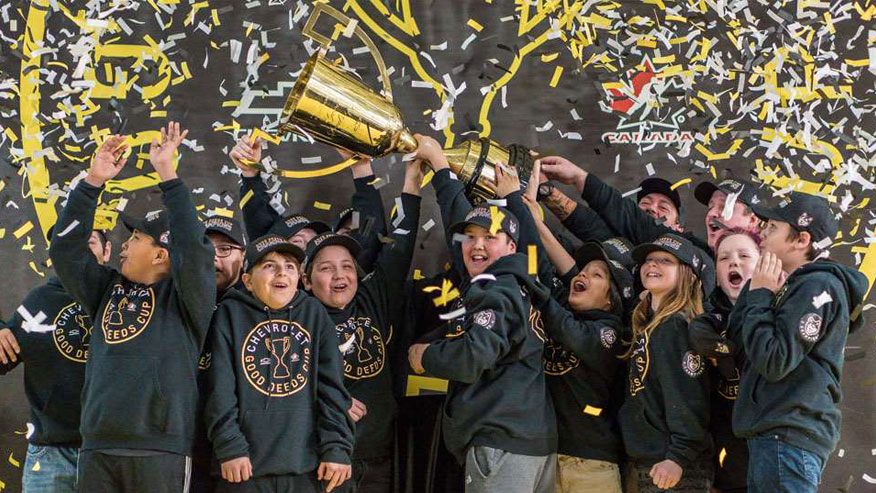 On behalf of Hockey Canada and Chevrolet Canada, we are happy to announce the return of the Chevrolet Good Deeds Cup program for its 7th season
The Chevrolet Good Deeds Cup seeks to inspire young Canadians to do good by transforming the positive values learned through hockey into Good Deeds within their communities. Along with our partners at Hockey Canada, Chevrolet's goal is to help develop hockey players off the ice.
To date, the Chevrolet Good Deeds Cup program has made incredible impact in communities coast to coast to coast amounting more than 1,000 Good Deeds and over $600,000 to charities across Canada.
This season, the Chevrolet Good Deeds Cup is all about doing as many good deeds as possible, no matter the size and scope of the good deed. For the first time ever, smaller and more frequent good deeds are encouraged. In the past, teams were asked to do one big, good deed! This year, its all about quantity!
Given that smaller good deeds are accepted, and the purpose is to do as much good as possible as opposed to one big deed, Chevrolet is looking for around hundred good deeds completed in each province!
The program opens on January 20th and runs until March 4th. Winner announcement will be on March 11th.
KEY NOTES
Open to U11, U13 and U15 teams registered with Hockey Canada
Champion receives $100,000 donation to the registered Canadian charity of their choice
The Member that has the winning team will be awarded $10,000
Asking Minor Hockey Teams to submit as MANY good deeds as they can – no matter how big or small the good deed is
Players on teams can complete deeds individually which would add to their team total
Live leaderboard will be available on the Chevrolet Good Deeds Cup website
Chevrolet Good Deeds Cup day is February 24th, 2023