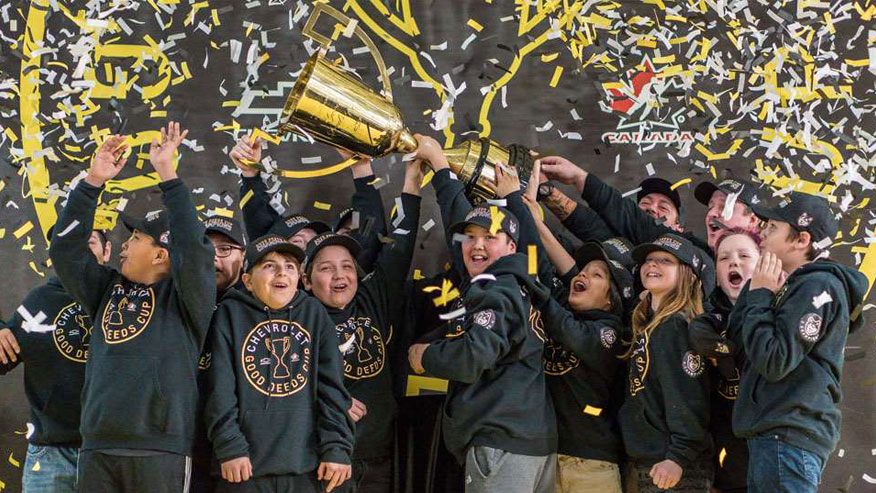 The Chevrolet Hockey program seeks to inspire young Canadians to be better people by promoting the positive values learned through hockey, and acting on them by performing Good Deeds in their community.
Good Deeds Cup
The Chevrolet Good Deeds Cup program was launched for the 2016-17 site. Since then, hundreds of Good Deeds have been completed by teams in communities big and small. Through the Chevrolet Good Deeds Cup, makes donations to causes on behalf of Peewee Hockey teams across the country.
The Good Deeds Cup Champions receive:
A feature profiling the team on a nationally broadcast hockey game
Winners ceremony in the team's home town with hockey ambassadors and the Good Deeds Cup
A monetary donation from Chevrolet on behalf of the winning team to the charity of their choice
A Good Deeds Cup Championship banner to hang in the team's home arena
The team's name engraved on the Good Deeds Cup
Some examples of Good Deeds:
Visit an animal shelter
Spend time as a team at a retirement home
Raise money for charity collecting bottles and cans
Visit sick kids at a hospital
Volunteer at a food bank
Shovel neighborhood driveways or rake leaves
Come up with your own good deed
Chevrolet Good Deeds Cup Team Kit
If you are a Hockey Canada registered Peewee coach and you have signed up your team to compete in the Good Deeds Cup, this is the kit you will be receiving, completely free! Every kit is a premium coach's hockey bag that comes with a Good Deeds Cup guidebook, 10 practice pucks, 24 lace bracelets, 20 emblem stickers and 20 vehicle decals.
These tools are provided to develop your players on the ice and create awareness of their participation off the ice, all while reaffirming important values learned through hockey. Every time you have a game or practice, they'll be reminded of what it takes to perform on and off the ice.
Team Kit FAQs
What is a Good Deeds Cup Team Kit?
The kit is a premium coach's hockey bag filled with items to help your team perform on the ice, while introducing them to the values learned through hockey that will help both on and off the ice.
Inside each team kit there are 24 skate lace bracelets, 20 vehicle decals, 20 helmet decals, 10 pucks and a Good Deeds Cup guidebook.
Is there any cost associated with signing up for the program?
No. Everything is being given to your team courtesy of Chevrolet, as part of their ongoing support of minor hockey in Canada and their goal of helping kids have the best possible on and off ice experiences.
What is in the Good Deeds Cup guidebook?
The Good Deeds Cup guidebook includes tips on how to compete for the Good Deeds Cup, descriptions of the kit contents, program highlights and blank pages to take notes.
Can I order another kit if we run out of the materials?
Unfortunately not. Chevrolet is keeping orders to one kit per Peewee team to allow the maximum number of teams across Canada to participate in the program.
Can anyone order the team kit?
Ideally, the Peewee coach should order the team kit as each order gets verified by Hockey Canada to ensure the team operates under their umbrella. However, someone other than the coach can input the registration on behalf of the coach as long as the application contains the information for the team's registered coach.
How long does it take for the kit to arrive after I order it?
It takes up to 5 days to verify that you're a Peewee coach under Hockey Canada and can take an additional 3-4 weeks for your kit to arrive.
What if I coach two teams?
If you're a coach of two teams, you'll be able to order for each as long as both teams are registered in the Peewee age group for Hockey Canada.
How can I get in touch with the program coordinators?