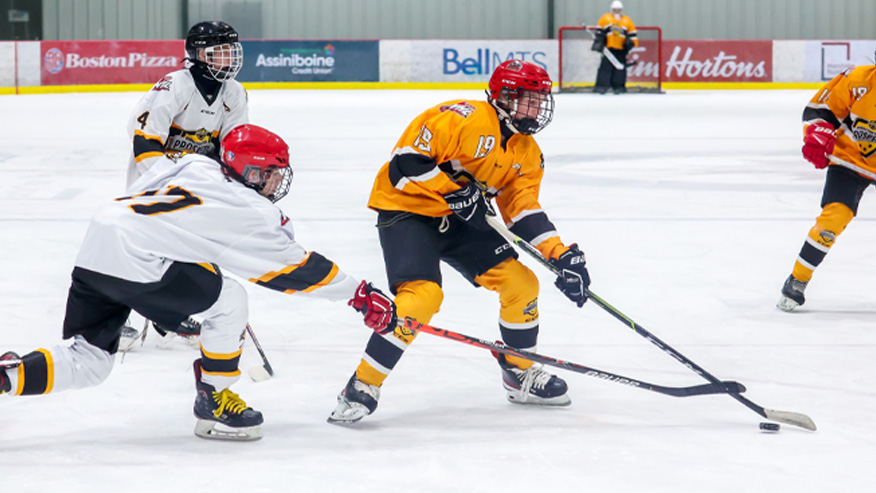 Hockey Manitoba is proud to offer the Director's Cup Prospects program which is a standardized skills development program that will focus on key concepts and skills applicable to the "Train to Train" athlete development stage and will serve as an important precursor to the Program of Excellence.
The prospects program focuses on off-ice skills and off-ice training by emphasizing quality instruction and age-appropriate instruction. The program will culminate with the Director's Cup Prospects Tournament.
Open to 2008 born male athletes.
Registration and tryouts conducted through individual regions with each region allotted a full roster of 12 Forwards, 6 Defense and 2 Goaltenders. Winnipeg allotted three full rosters.
Program operates over two weekends with the Regional Development Weekend (March 25-27,2022) and DC Prospects Tournament Weekend (May 6-May 8, 2022 at Bell MTS Iceplex in Winnipeg)
Each weekend includes on-ice skill development lead by Hockey Manitoba on-ice instructors and exhibition games.
Program branded CCM Custom Uniforms.
Tentative cost set at $300/athlete
Registration takes place within your home region (contact your regional minor hockey office).
Players are identified through a regional tryout process (dates determined by your home region).
Players selected for the DC Prospects in their region will then register with Hockey Manitoba via a central registration portal where all applicable program fees are paid.
Program Contacts
Bernie Reichardt
Director, Hockey Development – Hockey Manitoba
Program Supported By