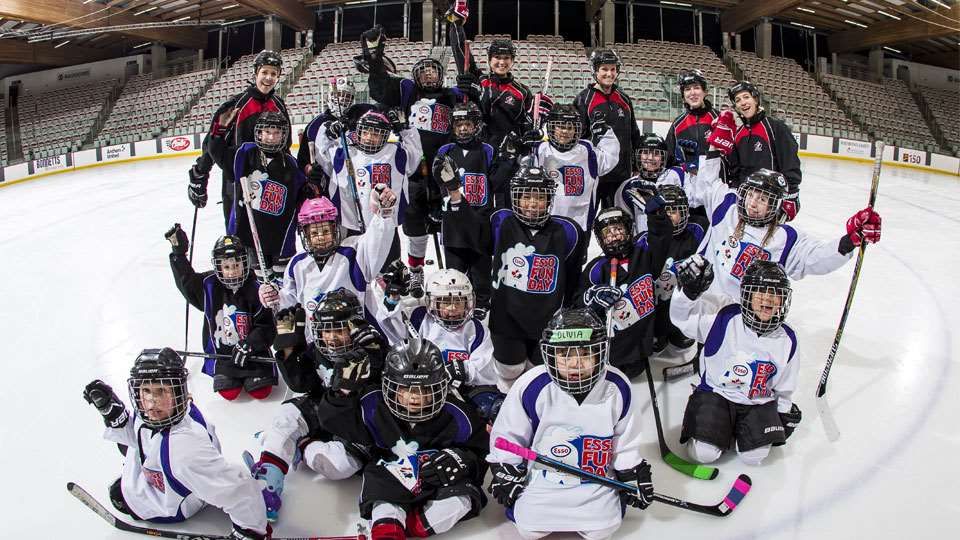 The aim of the Esso Fun Days program is to truly make hockey for everyone by providing a free, safe, inclusive and fun environment for new players to learn the basic skills and rules of the game, and for girls and women to gain the skills and confidence to register in a hockey program.  Esso Fun Days are a great introduction to the game of hockey and include both on-ice and off-ice instructional programs.
The Esso Fun Days program has been operational for over 20 years and continues to grow.  The 2019-20 season saw over 80 events with more than 2,000 participants nationwide.  In Manitoba, there were 9 events last season and hockey was introduced to hundreds of keen girls and women!  Esso Fun Days continue to grow in exposure and receive positive feedback from hosts and participants.
What are Esso Fun Days?
In Manitoba, Minor Hockey Associations can apply to host either a one-day or six-week program.  The programs are designed to familiarize beginners to hockey with basic skills at no cost to the first-time participant.
There are two program options available:
Esso Fun Day (one-day event):
One on-ice session with a focus on basic skills and hockey concepts (60-90 minutes), led by certified instructors
One off-ice session with a focus on team building, icebreakers and an introduction to the basic rules and terminology of hockey
Esso Fun Days (six-week program):
An introductory first day, as outlined above, followed by five additional weekly on-ice sessions
Six-week programs create greater on-ice confidence, increasing the likelihood of continued participation.
This program consists of:
Participants experiencing skill development and success over the six weeks
Providing information for participants to learn how register in their local Minor Hockey Association
Six on-ice sessions focused on basic hockey skills (60-90 minutes each)
One off-ice session on the first day (60-90 minutes); additional sessions are optional
Celebrating the participants and the team environment with jerseys* (maximum 40 supplied by Hockey Canada).
Funding for the Esso Fun Days is covered through a Hockey Canada subsidy program.  The funds are provided back to the Minor Hockey Association following the completion of all six sessions, and the submission of follow-up documents, including the registration and invoices.
Reimbursement amounts (maximum $800):
Ice rental (up to $600)
Facility rental (up to $100)
Food and beverages (up to $50)
Advertising (up to $50)
* For insurance purposes and jersey inventory, all players must be registered on the Hockey Canada online registry, which will be sent to the Esso Fun Day host once the event has been approved by their member branch.
Hosts must be affiliated with a local hockey association in good standing with Hockey Manitoba.  Hosts should fill out the online application at least four weeks prior to their proposed event date.  All programs must be run in compliance with local/public health authority, facility, member and Hockey Canada / Hockey Manitoba safety protocols and guidelines.
All applications are reviewed and approved by Hockey Canada.  Please allow for 10 business days for notification of approval.
Hosts are responsible for securing:
Ice time
Off-ice venues
On-ice instructors and planning the activities for their program
Hosts may apply for a subsidy to fund their Esso Fun Day program upon completion of the event and submission of follow-up information, including player registrations and invoices.
For a one-day program the reimbursement amounts to a maximum of $400 and covers the following items:
Ice rental (up to $200)
Facility rental (up to $100)
Food and beverages (up to $50)
Advertising (up to $50)
For a six-week program the reimbursement amounts to a maximum of $800 and covers the following items:
Ice rental (up to $600)
Facility rental (up to $100)
Food and beverages (up to $50)
Advertising (up to $50)
Any costs above these items will be the responsibility of the host organization.
Planning a successful Esso Fun Day
What do you need to do?
Establish a plan and provide leadership for the program (resources for exercises and drills can be found on the Hockey Canada Network App or on Hockey Manitoba's website)
Book the ice time(s)
Identify and recruit volunteers (lead on-ice/off-ice instructors, safety person, registration, etc.). Hockey Canada recommends a coach ratio of 1:5. Refer to the program manual for more details.
Advertise your event
Collect player, volunteer and coach information and register all participants in the Hockey Canada online registration link provided
Ensure players have full equipment (as per guidelines in the program manual)
Contact Hockey Canada for jerseys.
Have fun!
Responsibilities of a host community
Following approval, Hockey Canada will send the host an email outlining the next steps, a program manual and the objectives and expectations of the program.
The host will also receive an online registration link to register all new-to-hockey participants.  For insurance purposes, every participant, on-ice volunteer and coach must be entered into the registration system at least ten days before the players get on the ice.
NOTE: The registration link is not for the host to distribute; every participant must be manually entered to keep track of numbers and ensure players are new-to-hockey participants.
The week prior to the event, upon completion of the player registration, the host will be sent an Esso Fun Day host package which includes:
an Esso Fun Day jersey and puck for every new-to-hockey player
Esso gift card(s) for event prizes
To ensure all programs across the nation have access to jerseys over the season, there is a maximum of 30 jerseys allowed per event.  Jerseys are limited to new-to-hockey players only, not currently registered players, on-ice instructors and coaches.
Ten business days prior to the event, the host community must request approximate sizes and number of jerseys by emailing essofunday@hockeycanada.ca. Please provide the best shipping address (no P.O. boxes), phone number and approximate number of jerseys needed.
The host community is responsible to send in the program wrap-up form, along with receipts within 30 days of the first on-ice session. Wrap-up forms can be sent by email to essofunday@hockeycanada.ca.
or by mail:
Hockey Canada
Attn: Grow the Game - Female
201-151 Canada Olympic Road SW
Calgary, AB
T3B 6B7
If the host community intends to use photos for web, social media or to send back to Hockey Canada, all parents/guardians must fill out the provided video/photo release form.  Photos are not a mandatory requirement of a host.  Photos and release forms can be emailed to essofunday@hockeycanada.ca.
Hosts can access drills and games by utilizing the Hockey Canada Network app or the Drill Hub section of the website. Download the app by searching Hockey Canada Network in the App Store or Google Play Store. Create an account on the app, then head to the Female Hockey section found within Programs for Esso Fun Day essentials.
Hosts can also visit the Timbits U7  Program section in the app or at the Drill Hub section of the website at to find more drills for new-to-hockey players in the Timbits U7 section.
Promotional resources: Hosts can print the event poster to promote their Esso Fun Days.
Esso Fun Days 2020 – 2021