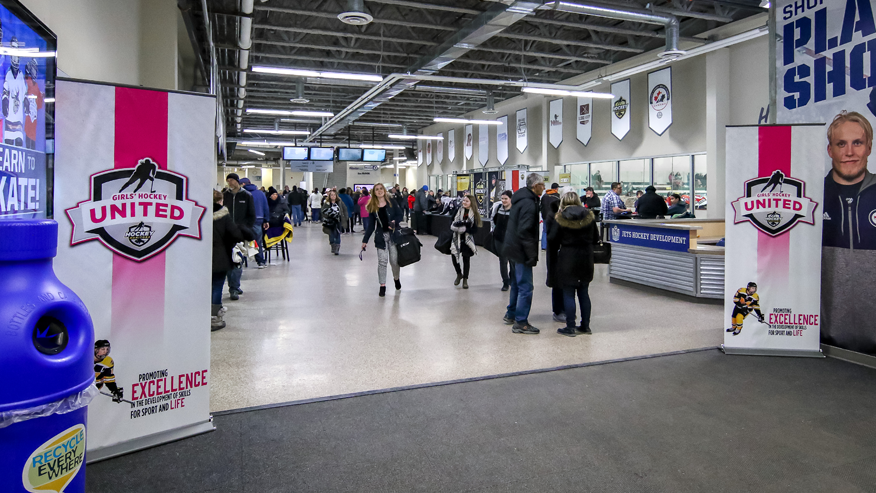 Girls' Hockey United is a special weekend that brings together hundreds of girls and young women from across the province in celebration of the tremendous growth and development of female hockey.  The weekend features a variety of exhibition/showcase games, skills camps and development clinics, and marks the largest annual female h

ockey event hosted in Manitoba, and one of the largest in Canada.  All told almost 100 hours of female hockey at all ages and skill levels will take place!
The program is also a movement created by Hockey Manitoba designed to promote the sport of hockey to young females, and celebrate the growth and continuing opportunities for girls to get into our great game!  Currently, Hockey Manitoba is proud to have over 4,500 female players registered in the province.
Female Under-15 AAA Showcase
This is a high performance female program open to Under-15 female teams (ages 13-14) from AA and AAA leagues in the province.  The Female Under-15 AAA Showcase provides a setting for high performance teams to play each other while exhibiting the skill present in our female athletes in Manitoba.  13 teams from across the province competed in last year's Showcase as well as a variety of skills development sessions.
Female Under-18 AAA Challenge
Female Under-18 AAA and Sport School teams from Manitoba will showcase their skills through competitive exhibition games during the weekend. This is the fourth year for the event, and Hockey Manitoba is committed to creating one of the most competitive exhibitions of female talent at the U18 age level in the country!