Beginning in the 2017 – 2018 season, players in the Novice age category (7-8 yrs) will play on a modified ice surface –slightly over half the size of a normal hockey rink – until December 31st each season.  Games after December 31st within each hockey season may be played on full-ice.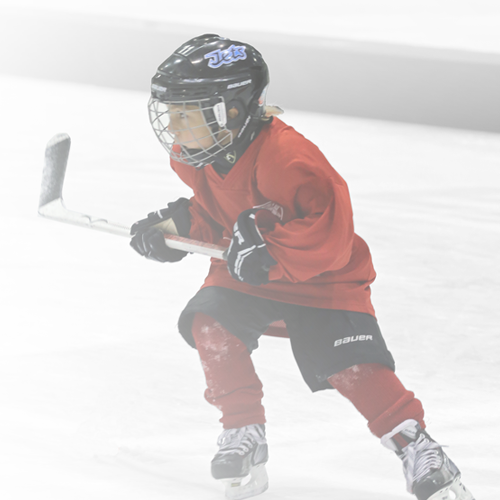 This new format continues age appropriate modifications into the Novice Program with the Long Term Player Development model and philosophy as the fundamental basis for change. Players at the Novice level require a continued focus on physical literacy while also beginning to develop some of the more advanced individual skills inherent in the game. By moving from cross-ice at Initiation to half-ice at Novice, we increase the size of the ice surface in accordance with the increase in the size of player. This modified ice will continue to provide players with an environment that is more inclusive, competitive and conducive to skill development through puck touches and puck control, shots, passes completed, transitions, decision making, puck support, overall involvement...and FUN!  In addition, with the creation of the new Development Zone, kids will have up to 40% more ice time during games!
Hockey Manitoba is excited to be on the leading edge of this change. We believe these modifications will benefit every player as they grow in our game and we will do everything we can to support players, coaches and administrators with a well structured, consistent program.  We ask members, parents and hockey fans alike to approach this new progressive concept with an open mind to allow our young players to learn, develop and enjoy the game.
NOVICE HALF-ICE PROGRAM SUMMARY (FROM MADE IN MANITOBA DEVELOPMENT MODEL)
Hockey Manitoba released its Made in Manitoba Development Model booklet in 2016-2017, and below is the newly updated Novice section, outlining some of the key summary points of the new Half-Ice program.
NOVICE HALF-ICE PROGRAM SUMMARY
NOVICE HALF-ICE DEMO VIDEO
Hockey Manitoba ran a demo of the new Novice Half-Ice program, which was extremely successful and well received.  Below is the link to a video with some of the footage from the demo, which provides a good visual of the program for our members.
NOVICE HALF-ICE GUIDELINES DOCUMENT
Hockey Manitoba has developed a comprehensive Novice Half-Ice document to assist our Minor Hockey Associations and Community Clubs in the preparation, implementation and execution of half-ice hockey in the Novice age category.  This will ensure a consistent, organized delivery model across the province, and addresses many of the questions or concerns that our membership may have expressed.  Please note the purpose of this document is to provide a clear understanding of the program for volunteers, convenors and coaches.
NOVICE HALF-ICE OFFICIATING PROCEDURES
To ensure both Minor Hockey Associations and our officials are prepared for the new half-ice game structure, Hockey Manitoba has created an officiating procedures document.  This information will be reviewed in detail at all Hockey Manitoba Level 1 officiating clinics each season.
NOVICE HALF-ICE OFFICIATING PROCEDURES
OTHER SUPPORTING MODIFIED ICE/AGE APPROPRIATE INFORMATION
We encourage everyone to view the videos, documents and information below that provide additional support for the changes Hockey Manitoba has implemented into its Initiation and Novice programs.  Hockey Manitoba will update this section over the weeks/months to come.
HOCKEY CANADA "SCALING DOWN THE GAME"
HOCKEY CANADA LONG TERM PLAYER DEVELOPMENT
DR. STEPHEN NORRIS - GROWTH & DEVELOPMENT OF WORLD LEADING HOCKEY PROGRAMS
SMALLER ICE SURFACE & SKATING DEVELOPMENT - HOCKEY ALBERTA STUDY