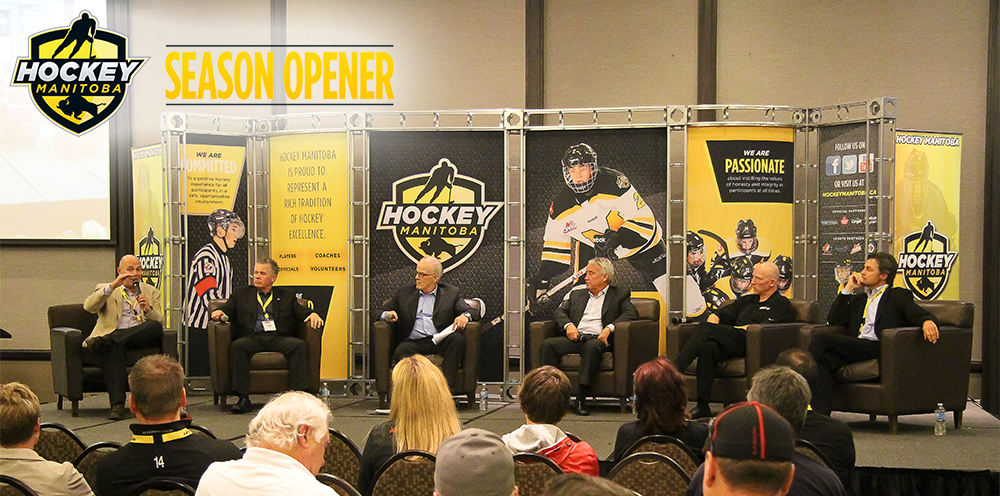 All stakeholders in the game are encouraged to attend and take an active role in creating a model for minor hockey development in Manitoba at this year's Season Opener conference through a variety of short presentations, information sessions and discussions.  A number of Hockey Manitoba & Hockey Canada initiatives coming forward this season will be discussed and training/education for minor hockey volunteers across the province will be a priority once again.  Volunteer recognition and hospitality will be included during the weekend, and Hockey Manitoba will announce some exciting new funding opportunities at the grassroots level for associations.
This year's theme – GROWING THE GAME
Ultimately the goal of the Season Opener is to provide information, resources and specific takeaways for our minor hockey associations and volunteers that can be utilized to improve, grow and develop our game.  We encourage volunteers at all levels to attend, in addition to coaches, officials and parents as there is something for everyone!
Bill Whitehead, President of Hockey Manitoba, comments, "Our branch continues to prioritize the advancement and development of minor hockey, and we are excited to come together at the Season Opener with this common goal in mind."
2017 SEASON OPENER PRESENTATION VIDEOS
Growing the Game Effectively, Glen Andresen
Techniques to Organizational Effectiveness, Mandi Duhamel
Strategies for Conflict Resolution, Todd Anderson
Commitment to Grassroots Hockey, Scott Furman
Sport Governance & Leadership Equals Success, Rick Polutnik
Keys to Supporting Grassroots Officials, Todd Anderson
Tools to Grow Female Hockey, Mandi Duhamel
The Perfect Coach: Myth or Reality?, Don McKee
Hockey Hot Stove – Growing the Game
Age Appropriate Training & Environment, Roger Grillo
Manitoba Male & Female Development Pathways, Kyle Prystupa & Dustin Stewart
Connecting Hockey Manitoba & our MHAs, Bob Caldwell
2017 SEASON OPENER
September 29-30, 2017
Canad Inns Polo Park
Winnipeg, MB
SPECIAL GUESTS & PRESENTERS
Hockey Manitoba is once again pleased to have an outstanding collection of presenters for the Season Opener which includes:
Don McKee (Former Professional/College Coach and Educator)
Todd Anderson (Senior Manager – Officiating, Hockey Canada)
Mandi Duhamel (Manager – Female Development, Hockey Canada)
Roger Grillo (Regional Manager, USA Hockey ADM)
Rick Polutnik (President, Team Works Canada)
Glen Andresen (Executive Director, Minnesota Hockey)
Bob Caldwell (National Coach Mentorship Program, Hockey Canada/Hockey Manitoba)
Hockey Manitoba Staff (Hockey Manitoba)