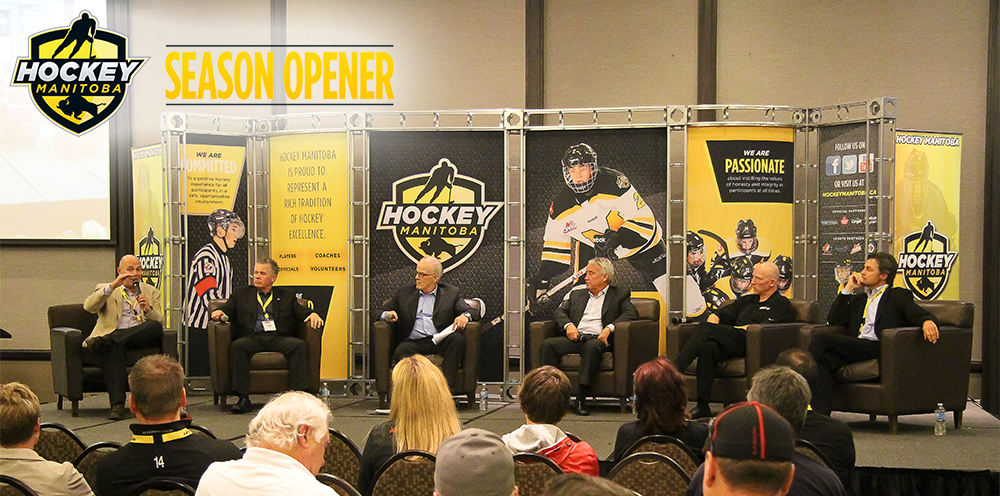 All stakeholders in the game are encouraged to attend and take an active role in creating a model for minor hockey development in Manitoba at this year's Season Opener conference through a variety of short presentations, information sessions and workshops.  A number of Hockey Manitoba & Hockey Canada initiatives coming forward this season will be discussed and training/education for minor hockey volunteers across the province will be a priority once again.
Bill Whitehead, President of Hockey Manitoba, exclaimed, "Our branch continues to prioritize the advancement and development of minor hockey, and we are excited to come together at the Season Opener with this common goal in mind."
2016 SEASON OPENER
September 30 - October 1, 2016
Canad Inns Polo Park
Winnipeg, MB
Please click here for complete weekend schedule
SPECIAL GUESTS
Please click on names below for video presentations from 2016 Hockey Manitoba Season Opener:
Mel Davidson (National Women's Team, Hockey Canada)
Corey McNabb (Director, Hockey Development Programs, Hockey Canada)
Ryan Galloway (NHL Linesemen, Manitoba Alumnus)
Bruce Wood (Support Line, Sport Manitoba & Change of Seasons Consulting)
Bob Caldwell (Coach Mentor, Hockey Manitoba/Hockey Canada)
Linton Sellen (President, Training Plus Inc.)
Ian Heather (Past Referee-in-Chief, Hockey Manitoba)
Orlando Buduhan (Winnipeg Police Service)
Hockey Manitoba Development Staff (Hockey Manitoba)
REGISTRATION INFORMATION
Includes access to all interviews, presentations and workshops
Includes free beverage and hors d'oeuvres on Friday evening & free lunch on Saturday
Individual Pass  - Registration Fee: $40 plus GST
Multiple Pass - BEST DEAL! - Registration Fee: $100 plus GST for up to five (5) individuals
ACCOMMODATIONS
Individuals requiring accommodations at Canad Inns Polo Park are asked to make reservations by September 16th to guarantee their rooms, and receive our special Hockey Manitoba rate.  Please contact Canad Inns reservations at 1-888-332-2623 and indicate you are booking under the "Hockey Manitoba Season Opener" room block.