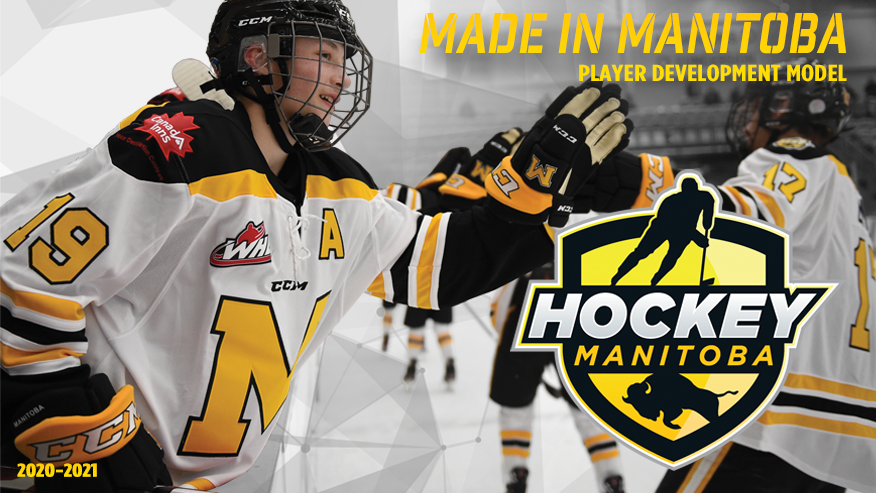 Made In Manitoba Player Development Model
Hockey Manitoba is excited to provide members with a streamlined player development guide outlining key development strategies throughout minor hockey. Guidelines within the model will allow Associations, coaches, and parents across the province to provide optimal development pathways for their young players as they age through the minor hockey system and the Hockey Canada Long-Term Player Development model.
Action Items for Associations:
Lead and coordinate skill development planning that is effectively conducted by all teams and coaches.  Ensure seasonal scheduling aligns with player development principles such as development phasing, tryouts, game play, practice ratio, season end.
Action Items for Coaches:
Follow through day-to-day objectives of long-term player development highly focusing on fundamental skills, skill progression, and individual tactics. Provide players a solid structure of learning and fun. No matter how experienced as a "hockey person", utilize the vast resources available to constantly offer your players the best coaching possible.
Action Items for Parents:
Live by the values of fun, fair play, respect, integrity and teamwork. Balance perspective of expectations and don't define success with wins & losses but rather patience within the long-term development process. Support your player, support your coach, support your association.
Under-11 Player Pathway Model:
The Under-11 Pathway is a progressive, learn-to-play teaching curriculum. This pathway is an important component in the transition from the Under-9 Pathway and serves as preparation into the Under-13 Pathway.
Learn more about the Under-11 Player Pathway here: Under-11 Player Pathway Model.