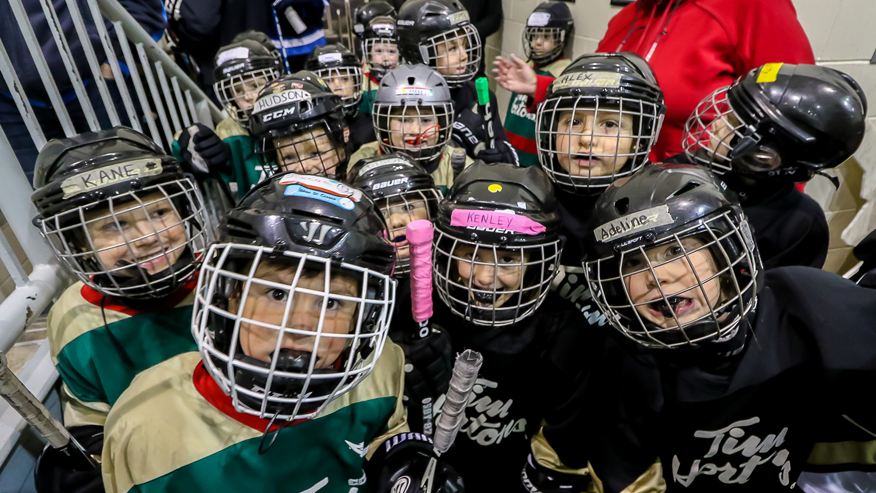 MHA RESOURCE GUIDE:
OPTIMAL ORGANIZATION OF YOUR TIMBITS UNDER-7 (U7) PROGRAM (FORMERLY TIMBITS INITIATION)
It is an exciting time for players of all ages to participate in the greatest game in the world! What follows is information pertinent to the entry level of hockey, The Timbits Under-7 (U7) Program, for all players aged 5-6 year olds. Included is information on organizing and coordinating the U7 Program such as examples of program outlines, resources to run effective programs, examples of ice station breakdowns and helpful online links to drills and the Initiation skills manual.
SECTION O: SPECIAL REGULATION 8
All games and practices at the Under-7 (U7) level shall use modified ice surfaces consisting of cross-ice sections as of the 2015-16 season.
Hockey Manitoba is proud to acknowledge the importance of the long-term development and retention benefits by using the cross-ice format for future advanced and/or recreational players alike.  All Under-7 (U7) sessions and games throughout each season are to use cross-ice format, for a detailed guide on how to effectively operate an optimal Under-7 (U7) Program please view the resource guide linked above.
RATIONALE FOR CHANGE
Manitoba was ahead of the curve in implementing cross-ice hockey, doing so for the 2015-16 season. Nationwide, Hockey Canada mandated its adoption in the 2017-18 season. With its two season head start, our U7 Program has become the model by which other provinces follow, and it has allowed our instructors an additional two years of development and understanding.
Long term player development research shows us that reducing the size of the playing surface relative to the size of the player offers more opportunity for skill development and greater participation from all players. It leads to more opportunities to engage with the sport including: better decision making, quicker reaction time, finding open space (enhances skating ability), reading the play (helps with strategy and critical thinking), offensive/defensive body position, puck pressure, containment, etc. which all lead to an improved understanding of the game.
More puck touches, more passes, more shots, and more fun is the intention here, and young players will hopefully be more confident in their abilities both on and off the ice, leading to player retention.
Improved Physical Literacy + Improved Skills + Improved Decision Making + Improved Engagement = Development and Fun for All Players.
HOCKEY MANITOBA TIMBITS UNDER-7 FAQ
HOCKEY CANADA UNDER-7 PROGRAM RESOURCES