OUR ULTIMATE TEAM FUNDRAISER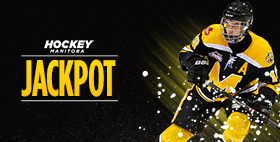 Raise money for tournaments, travel or ice-time with the easiest fundraising program we've seen!
Hockey Manitoba's Online Progressive Jackpot Raffle is now open to every team in the province. Each team is assigned a unique link that can be shared online to sell tickets, with all sales tracked back to your team. Monthly sales get split-up into cash prizes, proceeds for your team and Hockey Manitoba. With every team selling we're expecting the pot to get HUGE!


Your team will earn 40% of all tickets sold through your team's link. The more your team shares the link and sells, the more money you earn.
FIND YOUR TEAM AND SIGN UP NOW!
In minutes any selected parent, coach or manager can visit hmb.raffle.link to register their team and get their link. While there, order your FREE In Game Kit (handouts with your team's unique link on it) to increase sales, customize your team name to ensure it is accurate and add a custom message to encourage purchasers to buy and support you.
Again, simply go to hmb.raffle.link  or click the button below now to sign up your team and get started!
With a progressive pot raffle, monthly sales are split between prizes (40%) and proceeds (60%). Prizes go to winners of the monthly mini-pot and jackpot draws and proceeds go to Hockey Manitoba and teams. Half of each month's sales goes to the monthly mini-pot and the other half goes into the jackpot.


BUY TICKETS NOW!
Hockey Manitoba's Jackpot raffle has launched! Simply click on the button below to buy tickets, support your team and have a chance at some big cash prizes!
How does your team receive its funds?
Every team that sells a minimum of $200 in tickets will qualify to receive funds. When your team hits the $200 threshold you will be contacted in order to request your team bank account information and funds will be transferred electronically. (Sorry, personal bank accounts will not be accepted).
Any proceeds not claimed by eligible teams will simply stay with Hockey Manitoba and will be contributed to its Grassroots Hockey Grant program, as will all monies raised under the $200 threshold.
Step by Step Guide for Success using the Program
CLICK HERE  for a step by step guide! (pdf file)
Hockey Manitoba Jackpot Program Information
CLICK HERE for Program Information (pdf file)
Why have we initiated this program?
We work hard to keep hockey fees at a minimum, yet we know the cost of playing hockey can be high for many families because of ice time, equipment and related costs. In our partnership with Funding Change our aim is to help teams fundraise easily, effectively and legally! Running a province-wide jackpot provides large pot sizes that are an enticing draw when asking friends and family members for support.
The online aspect of it makes it simple! With the proliferation of smartphones – buying a raffle ticket is simple as is sharing the URL with others by texting them, emailing or over social media with a personal message asking for them to purchase in support of the team! That's pretty easy fundraising if you ask us.
Another important aspect is that every raffle that is conducted by hockey teams in Manitoba are to be licensed (by the Liquor & Gaming Authority of Manitoba or a municipality). Obtaining licenses for raffles can be time consuming and tough, so we do the hard work for you. We're providing an effective raffle solution to help teams fundraise and are hoping to eliminate unlicensed raffles while allowing teams to raise funds easier and faster.