|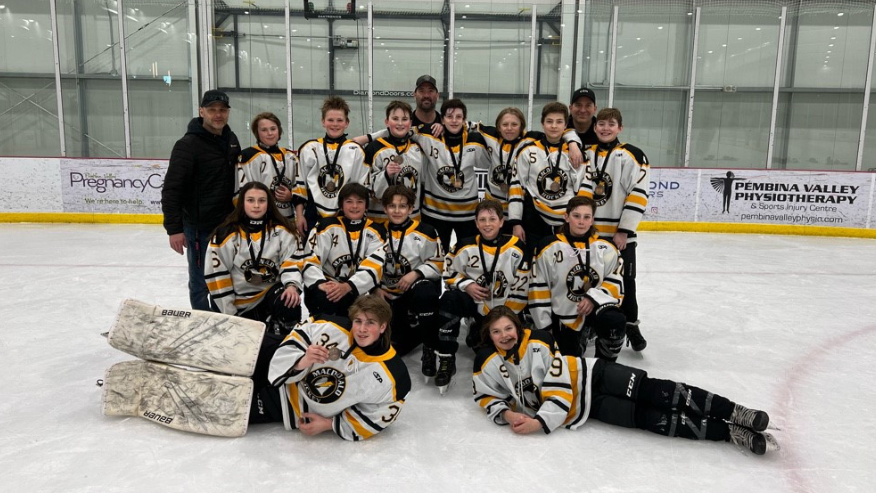 Steve McFarlane's dedication and passion for hockey is inspiring the next generation of leaders in the RM of Macdonald.
McFarlane, 45, grew up in Winnipeg's Westdale neighbourhood but moved to Oak Bluff with his wife Kari and their young family in 2014. He has been coaching in Oak Bluff since 2015 and is currently the Player Development Director for the RM of Macdonald.
This past season, McFarlane coached his oldest son Maverick's U13 Macdonald Lightning Gold team, winning a Bronze medal at the 2023 Hockey Manitoba Provincials in early March. Last year, McFarlane coached both of his son's teams but decided to focus on one team this year (his youngest son Rocky played this past season for the U11 Macdonald Lightning Silver).
McFarlane has run Oak Bluff's Breakfast Club for the past five seasons. The Breakfast Club takes place on Wednesday mornings during the hockey season for kids ranging in age from five to 16 years old. The club provides additional skill development for players prior to their school day with participants taking part in an on-ice development session followed by breakfast.
"I'm a believer that time on ice is always beneficial for the kids as far as their skill development. The other thing that kids take out of this is there's such an array of ages as well as skill levels that some of the kids that are beginners get to look up to these older kids and these older kids get to become mentors. They're out there not only to perfect their own craft, but they're making it a fun and enjoyable experience for the younger kids." McFarlane said.
McFarlane's passion for coaching and skill development comes from his lifelong involvement in the game. McFarlane grew up playing minor hockey in the Assiniboine Park Hockey Association (APHA), going from house league to AA hockey to eventually playing for the Oak Park Raiders in the Winnipeg High School Hockey League. MacFarlane capped off his hockey career by playing four seasons for the Charleswood Hawks in the Manitoba Major Junior Hockey League.
'I have always loved hockey and I have always really enjoyed working with kids," McFarlane said. "Watching my kids and all the kids develop relationships that they carry forward outside the rink is really a lot of fun to see. I love the fact that when I walk down the street in my community, I see kids playing and I can say hi and I know their names and they know me. They know me as Coach Steve and it's fantastic."
In 2018, MacFarlane founded the Oak Bluff Pre-Season Skills Development Camp for players of all ages to help them work on their skills and get them ready for their upcoming seasons. The two-week camps take place in the Fall at Oak Bluff Recreation Club and act as a fundraiser for the club, who donates the ice time each season.
McFarlane recently ran a Spring Break Camp for the first time at Oak Bluff Recreation Club to provide a full day child care option focused on keeping kids active, having fun, and building new/strengthening old friendships. Camp participants enjoyed on- ice sessions, gym sessions, and a classroom session each morning and afternoon.
The camp was put together by McFarlane, his wife Kari and his good friend and next door neighbour Adam Lister, who served as Board Treasurer for the Macdonald Minor Hockey Association for five years. McFarlane and Lister hired seven high school aged kids who have all gone through McFarlane's camps to be camp leaders and on-ice instructors, providing work experience and leadership opportunities for youth in the community.
"Steve's impact is really immeasurable in our community. He really is in it for the right reasons which is just big smiles from kids, developing hockey players, and developing good people and building community relationships with everybody," said Adam Lister, who is also the Principal of George Waters Middle School in Winnipeg. "He is on the ice more often than not, with kids, whether they are his kids or other kids from the community and everything is just top notch from Steve."
As if McFarlane's involvement in hockey wasn't already enough, he and Kari have been billet parents for Winnipeg ICE players since 2019, providing housing and nourishment. This year, two ICE players are living with the McFarlane family.
"The best part of it is developing relationships with the players. Having somebody in the house for our kids to look up to and an example for our kids of what they can achieve if they stay focused. We've even gotten to know our billet kids families and when they come in, we spend time with them. It's really been a great experience." McFarlane said.
Looking ahead a bit in the future, McFarlane plans on continuing to coach his sons in hockey but knows that as they continue to move up in age group and caliber, he will eventually have to step aside as other coaches take over.
"I would like to get my Development 1 this coming year and then look into the High Performance program and see if I can achieve those. I do attend to continue coaching even after my kids move on. I would like to stay involved in the community. I would like to continue serving on the hockey board. It's kind of weird to not be a parent and a coach so I'm not sure where I'll fit in. I guess time will tell." McFarlane said.
—-
Hockey Manitoba wants to hear your good news stories of coaches, parents, players, officials, and volunteers who are having a positive impact in your communities!
We are asking our members to help us tell these heartwarming stories by reaching out to us. You can submit your community stories by emailing Ezra Ginsburg, Hockey Manitoba Coordinator, Communications (eginsburg@hockeymanitoba.ca).
Share