September 20, 2021 2:00 pm

|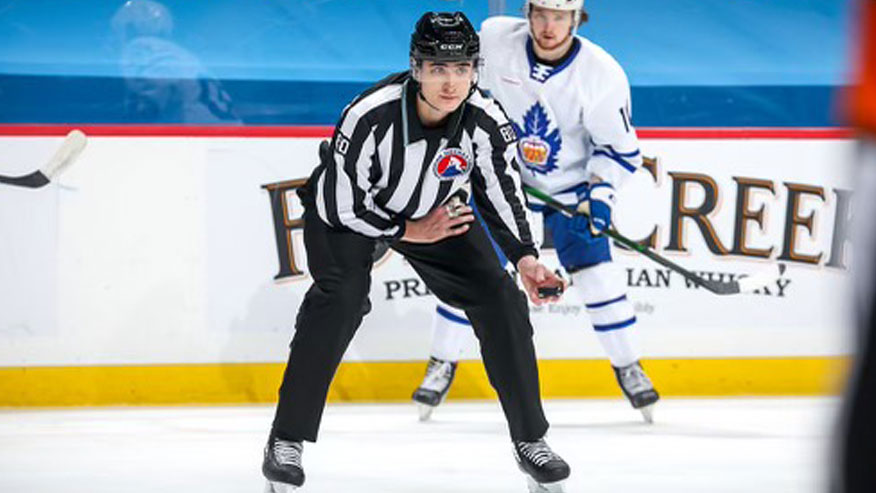 Linesman Justin Johnson (Winnipeg) will make his National Hockey League officiating debut this Sunday, September 26th in Winnipeg at Canada Life Centre when the Jets host the Ottawa Senators in their pre-season home opener.
The 23-year-old signed an entry-level minor league contract after attending the 2021 NHL Exposure Combine in Buffalo in late August. Johnson will work six NHL preseason games before he splits the 2021 – 2022 regular season between the American Hockey League and the NHL. He may work as many as 40 regular season NHL games this coming season, along with 40 AHL contests.
"It's just a dream come true," Johnson said. "As a kid you don't ever think you're going to go to the NHL and then when you really get into the high performance hockey, you think hey I want to take a shot at this and it's just surreal that it has happened."
Johnson grew up in Winnipeg's Riverbend neighbourhood and began officiating at 13 years old in the Seven Oaks Minor Hockey Association. He played high school hockey for the Garden City Collegiate Gophers as he made his way through the officiating ranks and by the age of 21 years old, he was working his first Western Hockey League game (Tuesday, December 10th, 2019). Johnson lined AHL games in Winnipeg last season after splitting the 2019 – 2020 season between the WHL and AHL.
Johnson is the first Hockey Manitoba official to be hired by the NHL since Winnipeg's Ryan Galloway in 2002. Galloway will be the other linesman working alongside Johnson this Sunday when he makes his NHL debut, which is going to make the game that much more special.
Even though Johnson has worked extremely hard throughout his officiating career, he credits Seven Oaks Minor Hockey Association's Referee-in-Chief Kelsey Mahoney for helping him get to where he is now.
"Kelsey is the guy that I attribute my success to. There's obviously people like my parents that have played a role along the way but he is the reason for my success." Johnson said. "When I was 15, he came into Seven Oaks Minor Hockey Association as the Referee-in-Chief and I think I was that annoying kid who always asked him questions and I think he picked up on that and was like wow this kid really likes reffing."
After Johnson finished playing high school hockey with Garden City Collegiate, Mahoney encouraged Johnson to begin officiating higher level hockey and connected him with the right people to help him progress through the officiating ranks.
Before Johnson left for the Exposure Combine in Buffalo in late August, Mahoney was on the ice with him at Gateway Recreation Centre, doing power skating drills and pushing the young referee to his limits.
"All the phone calls that I've had with him, all the time spent with him. I worked my first WHL game with him. I can't say enough about the guy. I think everybody in Winnipeg knows that it was a dream of Kelsey's to make it to the NHL but it just didn't work out." Johnson said. "For somebody to have that dream that doesn't work out for them but then help some other kid attain that dream and be just as happy says a lot about him. He's just a class act guy and he is one of my real good friends now and will be for the rest of my life."
Johnson returned to Buffalo from September 10 – 15 for NHL Officials training camp and now that he is back home in Winnipeg, he is focused on preparing for his NHL officiating debut and the long season ahead.
"I think although I've worked really hard to achieve this goal, I think I have to work even harder now. It's such a fast game in nature now and you have so many good officials. There's not one official who isn't fit so it's your job to constantly be in shape, constantly be on top of the rules. You're eating, sleeping and breathing hockey so you have to focus on the game. Every time you're on the ice, you have to give 100%. You can't take a shift off."
Johnson will have his friends and family in the crowd for this Sunday's Jets/Senators game, including Kelsey Mahoney.
Share