November 8, 2019 10:30 am

|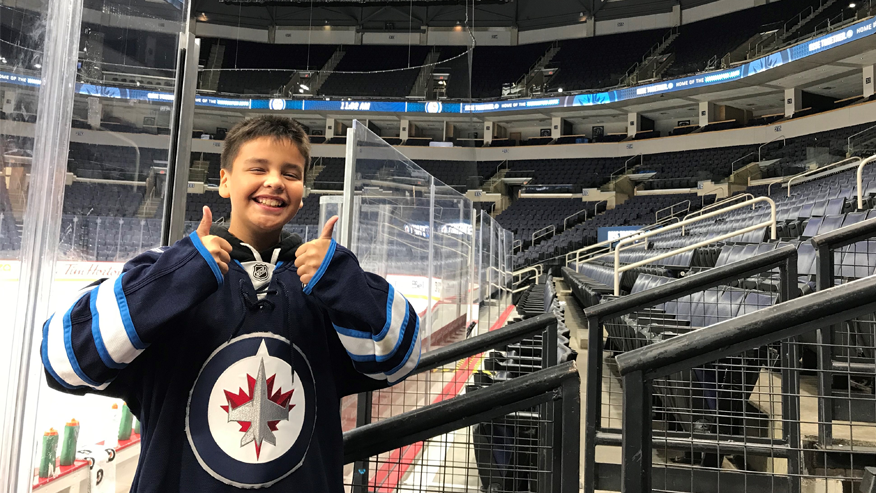 WINNIPEG, MB – 10-year-old Drayton Perreault has inspired others in his community and today he will be rewarded with an experience of a lifetime.
Drayton was recently recognized by Air Canada and the Air Canada Foundation as Winnipeg's 'Mark Maker' (people making a mark in their communities across Canada) and tonight he will attend the Winnipeg Jets game against the Vancouver Canucks as part of a full day Air Canada Fan Flight experience.
Drayton was nominated for the Mark Maker program this past summer by Sheila Chippastance, volunteer and Learning Always Coordinator for Rossbrook House, a neighborhood drop in centre where Drayton participates in a variety of programming, including the Rossbrook hockey program, pow wow clubs and the leadership program.
"Drayton has a big family and they have gone through a lot and somehow through all of this he remains positive. He's a leader with his friends and siblings." said Melanie Stoute, Air Canada Foundation spokesperson.
Drayton's day will start this morning with Jets game day skate at Bell MTS Place where he will get to meet Head Coach Paul Maurice. Drayton will then receive a private arena tour. Tonight, Drayton will attend the Jets/Canucks game in special seats along with his parents, Shannon and Elvis and his five brothers. Drayton will also be featured in a video presentation during one of the stoppages in play.
Despite the fact that Drayton has been playing hockey for five years (he currently plays for the St. James Canucks 10 A2 team), this will be the first Jets game he has attended. According to Drayton's mother Shannon, he is so passionate about hockey that he only misses programming at Rossbrook House when he has a hockey game.
Drayton said that he didn't know how to originally react when he found out that he won the Air Canada Fan Flight Experience back in October and that he has been looking forward to it all week leading up to tonight's game.
"When I was in school this week I was telling my teacher look at the clock the minutes are counting down." Drayton said.
Drayton should have quite the story to tell his classmates when he's back at school next week.
According to Air Canada's website, The Fan Flight program is "a season-long program that rewards deserving fans with a VIP game experience, including the opportunity to see their team play either at home or on the road".
Share