|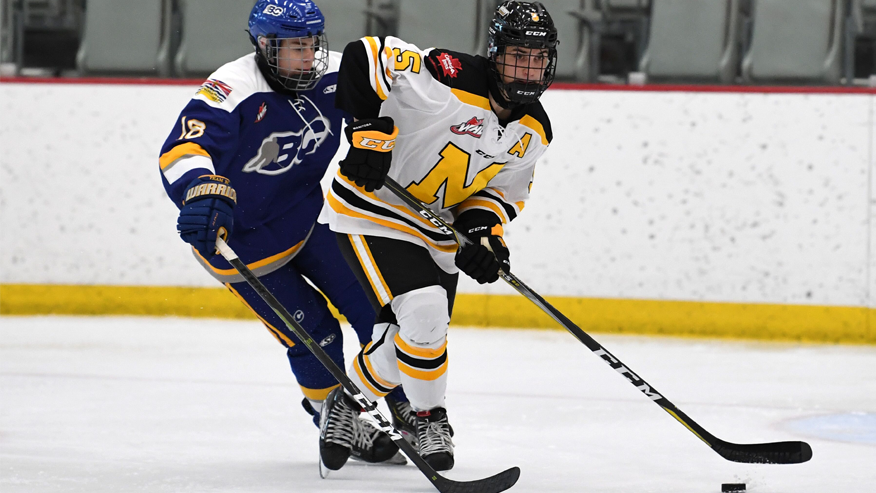 The following article was originally written for Game on Magazine (Year 8, 2020 Playoff Edition)
To say that Denton Mateychuk is having a big year would be a massive understatement. The 15-year-old defenceman from Dominion City won a silver medal with Team Manitoba at the 2019 Western Hockey League Cup in October, he scored his first career Western Hockey League goal in December and he won a bronze medal with Team Canada at the 2020 Winter Youth Olympics this past January. 
"It's been pretty awesome. I try not to think about it too much," Mateychuk said modestly. "I just try to use it as motivation and try to get better and keep pushing myself to set new goals and new expectations and just try focusing on what's ahead." 
The road ahead for Mateychuk is simple – to play a full season with the WHL's Moose Jaw Warriors. Moose Jaw selected him in the first round (11th overall) of last year's WHL Bantam draft which featured another pair of top 2004-born Manitoba players – Conor Geekie (who went second overall to the Winnipeg ICE) and Tyson Zimmer (who went sixth overall to the Brandon Wheat Kings). Both Geekie and Zimmer were Mateychuk's teammates on Team Manitoba at the WHL Cup.
"Denton is the type of player that a coach can build a team around," said Jeff Sveinson, who was Team Manitoba's head coach at the WHL Cup. "Denton's puck possession is remarkable and combined with his ability to simply outwork his opponent, makes him a force to be dealt with every time he is on the ice. Denton does not require any motivating or over-coaching. He is a natural athlete, leader and competitor who makes everyone around him better." 
Mateychuk has played the majority of this season with the Eastman Selects in the Manitoba Midget AAA Hockey League, but he has also suited up in seven regular season games for Moose Jaw, which included playing in his first career WHL game on December 13 in his home province against the Brandon Wheat Kings.
The way Denton found out he would be playing in his first WHL game was slightly different than most players: his principal at Roseau Valley High School (who also happens to be his father, Jason Mateychuk) called him into his office.
"He actually called me while I was in class and I missed the call," Denton recalled. "Then he called me down to the office and just told me that I was going to play with Moose Jaw in Brandon. It was just a surreal moment."
Jason was in attendance for Denton's first WHL game, along with other members of the family, and then he continued on to Moose Jaw where Denton scored his first career WHL goal in his second career game against the Kelowna Rockets (he was also named first star of the game).
"In some ways you dream of it, but when that moment comes you're still not prepared for it," Jason said. "You want to scream, but I didn't scream. It was just a great feeling."
For anybody who knows the Mateychuk family, Denton's success comes as no surprise when you consider his family pedigree. Jason was an exceptional baseball player who played four years at Mayville State in North Dakota and is an honoured member of the Manitoba Baseball Hall of Fame. Maddux Mateychuk, Denton's 17-year-old brother, is a highly regarded baseball prospect who has received interest from several Major League Baseball teams.
In fact, Maddux is an excellent hockey player himself. He scored 40 goals in 36 games playing for the Eastman Selects City Midgets and was drafted by the Neepawa Natives in the MJHL Draft. Maddux hasn't played hockey for the last two years, however, as he has been focusing exclusively on baseball while playing at Alberta's Vauxhall Academy.
Denton's mother, Keela, who he says "only misses my games if she is going to one of my brothers' or sister's games," won the Manitoba Women's Half Marathon in 2003, 11 months after Maddux was born. Denton's younger brothers, Kasen (who is in Grade 7,) and Crosby (who is in Grade 4), as well as his younger sister, Brylee (who is in Grade 2) all play hockey as well.
"For me, sports were always my thing so it was just natural as we had kids to try to get them involved in sports and get them active," Jason said. "Some of my friends give me a hard time and say that's all our kids do, but we have a piano downstairs and Denton showed some interest in the electric guitar and we tried that as well, but sports are what sticks with them."
From the time Denton first laced up skates as a youngster to now, Jason's influence on Denton's hockey career has been immeasurable.
"When I was younger, he would take me to skate whenever I wanted to," Denton said. "Being in a small town, he had access to the rink so I could go there whenever I wanted to. He always made sure I had the best experiences and best opportunities. He drove me everywhere and gave me everything I needed. He's just been such a big part of my life."
Jason remembers taking his son to the rink as a young kid and seeing how, even back then, he wanted to be the best.
"He was playing shinny when he was around six or seven years old and he was kind of frustrated because all of the kids were cherry picking and he said 'Dad, how should I play shinny?' So I told him, 'You should play shinny like you play a game,'" Jason recalled. "'Go out there, skate your heart out for a minute and then go take a break,' and he did that and all these older kids couldn't catch him and you could see it was because Denton was working on doing things the right way."
With a bright future ahead of him including a full season in the WHL, Denton is staying focused and not getting too far ahead of himself.
"I just try to work on the short-term goals that lead to the long-term goals," Denton said. "Normally, I play baseball in the summer, but I think I'm going to take a little break from that and just maybe play a little bit less. I'll just try to get into the gym as much as I can and skate a little bit more than I normally would and try to just prepare for main (Moose Jaw Warriors) camp this summer."
It's hard to imagine, but 2020 might just be a bigger year for Denton Mateychuk than 2019 was. If that's even possible.
Share