|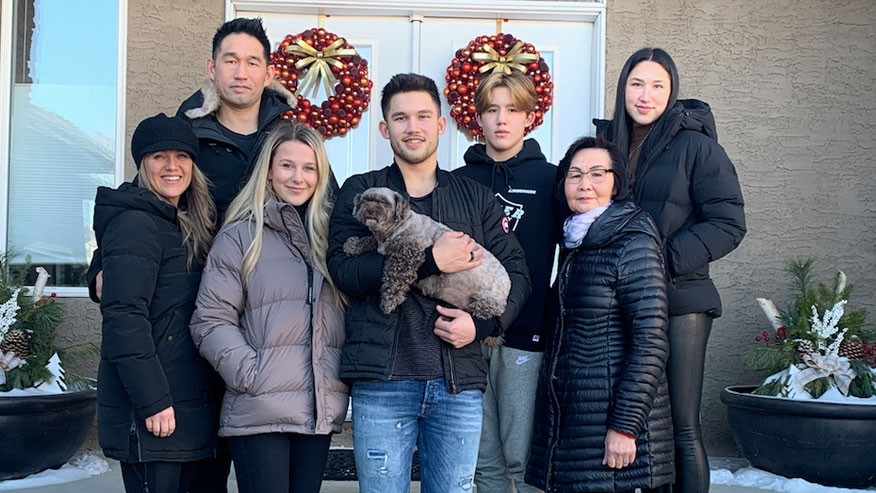 Winnipeg's Jett Woo is a top prospect with the NHL's Vancouver Canucks and he is also providing inspiration to the next generation of hockey players of Asian descent.
Woo, 20, recently completed his first pro season with the American Hockey League's Utica Comets, the minor league affiliate of the Canucks, registering three goals and two assists in 28 games.
Even though the 2020 – 2021 season was shortened due to the COVID-19 pandemic,  it was an important development year for the young right-shot defenceman.
"I think the things that I wanted to accomplish this year with my own game I think I've been able to do," Woo said. "It's been great to see what it takes to play the pro game and getting to know the guys and to be part of the organization even more so I think it's a great step in the right direction for me."
Woo was drafted by the Canucks in 2018 (2nd round, 37th overall), becoming the second-highest pick of Chinese descent in NHL draft history. Woo's dad Larry, a former WHL player with the Victoria Cougars and Swift Current Broncos who runs the Laker Hockey Academy in Winnipeg, is of Chinese descent while his mom Dolly is of German ancestry.
"In the beginning I didn't realize how big of a deal it was until after I was drafted to Vancouver and then I was flooded with comments and tweets and that's when I think it really hit me how important it was," recalled Woo. "Looking back at it, it means a lot to me and my family and my grandparents and so how I am going to carry myself now is going to be a lot different than what I originally thought it meant to me."
Woo's paternal grandfather Randy, who passed away in 2010, was born in Kwangtung province in China and moved to Canada in 1967 along with Larry's grandmother, starting out in North Battleford, Saskatchewan, where they worked in the restaurant business for Randy's brother Wally.
Randy moved to Winnipeg one year later where he met his future wife Sally, who was also born in China. Randy and Sally were happily married for 40 years, working side-by-side for the Marigold restaurant chain, which the family still owns and operates to this day.
Jett Woo has fond memories of spending time at the family restaurant with his grandparents.
"When I was really young I was always kind of with with my grandma or grandpa. Same with my siblings. Whether that be them at the house or them taking me to the restaurant and just hanging out there, they were a big part of my childhood." Woo said.
Through their restaurants, Woo's grandparents were prominent in the Winnipeg Chinese Community. In 1999, Randy was given the Golden Dragon Award, recognized as Citizen of the Year. Woo's grandparents were instrumental in teaching Jett and his two younger siblings, Jaxi, 19 and Jonas, 15, about traditional Chinese values and traditions, including the importance of family.
"The biggest thing was just how important family was. Every time you go and eat or whatever it is, it's always family first." Woo said. "You're giving money to family, you're wishing luck on family, taking care of family always. I think just having that way of life and growing up in the restaurants with family was a big deal for me."
Even though Woo is a proud Manitoban and a proud Canadian, he has embraced being a role model for young people in the Asian community.
"It's just a great opportunity and a real blessing for me to be able to help the young kids that want to walk in my shoes, and especially for my little brother and my little sister I think I've always been able to lead them so I think It's going to be the same with everything else now." Woo said.
Larry Woo knows that as his son continues to play professional hockey and reach his goals that he will be viewed as a trailblazer for young athletes of Asian descent, but at the end of the day, he wants his son to be a good person and role model to all other kids, whether they're of Asian descent or not.
"For us as parents, we want him to understand how much he's been blessed, how much he's been given and just to be kind and empathetic and loving to others, " Larry Woo said. "We think he's going to make a difference in this world whether it's through his normal life or whether it's a role playing professional hockey."
Based on his career to this point, Jett Woo is already making a difference in this world.
—
Hockey Manitoba is proud to celebrate Asian Heritage Month in May and is honouring the many achievements and contributions of Manitobans of Asian descent in the game of hockey.
Share