|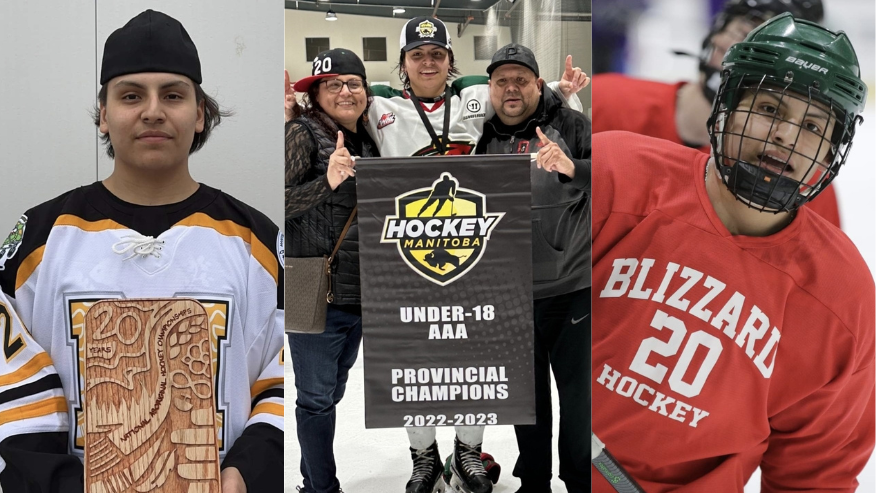 To say that it has been a good year for Marlen Edwards would be a massive understatement.
The 16-year-old St. James Collegiate student won the 2022 – 2023 Under-18 AAA Provincial Championship with the Winnipeg Wild in early April and followed that up by winning a gold medal with Team Manitoba at the 2023 National Aboriginal Hockey Championships (NAHC) in Winnipeg in early May. Edwards was named Top Forward of the tournament.
"It was a special week, doing it on our homeland. It was a wonderful experience." Edwards said. "It was an honor being named top forward."
Edwards started off the 2023 NAHC with a five-goal performance against Team Eastern Door and the North (EDN) and never looked back from there, registering an impressive 17 points (nine goals and eight assists) in seven games.
"I haven't scored five goals in a game before. It was my day that day. The puck kept coming to me when I had great opportunities and I just buried them." Edwards said.
Male Team Manitoba's Head Coach this year was former NHLer Michael Ferland (Swan River) who played 335 career regular season games for the Carolina Hurricanes, Calgary Flames, and Vancouver Canucks. Ferland, 31, had his NHL career cut short due to injuries and has now transitioned to coaching.
"Michael Ferland is one of the best coaches I've had. He breaks down the game and he explains it in an easier way so you get it. He's just a great coach and a great guy." Edwards said.
Born and raised in Winnipeg, Edwards is status to Lake Manitoba First Nation, where his dad Tim was born. His mom Emma is from Sandy Bay First Nation. Edwards is a proud Ojibwe and practices his culture regularly. He attends sweats, smudges, and does a prayer every time he goes out on the ice.
"They don't teach it in schools so we have to teach him here. He does know some of the language. We share that with him as well, " Emma Edwards said. "We get a lot of support from his First Nation. They're really strongly involved and they're always looking out for him. (Marlen) goes to a lot of Indigenous tournaments and that's where he gets to visit with his friends and his family because he's very busy here in the city so we don't get to see family as often. That's where he gets to make those connections. Those indigenous tournaments are the best times because he gets to reconnect with his own people."
Over the years, Edwards has overcome a lot of obstacles, including being treated differently because he is Indigenous and he has used that as motivation to work hard in pursuit of his goals.
The hard work has been paying off for Edwards, who had an excellent first season with the Wild, posting 47 points in 41 regular season games (25 goals, 22 assists), adding 16 points (8 goals, 8 assists) in 12 playoff games en route to a Provincial Championship.
Edwards could play for the Winnipeg Wild again next season but he could also play for the Opaskwayak Cree Nation (OCN) Blizzard, who drafted him in the third round (30th overall) of the 2022 Manitoba Junior Hockey League Draft. Edwards attended OCN's training camp last Fall and will do so again in a few months.
"My future goal is to either play WHL or just go to the MJ." Edwards said. "I just want to get stronger and improve my game to get to the next level.
Inspired by NHL players such as 2023 Stanley Cup Champion Zach Whitecloud (Sioux Valley Dakota Nation), Florida Panthers defenceman Brandon Montour as well as his dad and cousin Connor Roulette (Dallas Stars draft pick), Edwards aspires to play professionally one day.
"Those guys are role models that I look up to. It gives me the hope that one day I can make it to the NHL." Edwards said. "My big role model since I started playing hockey was my dad. He does everything for me and I just really appreciate him for everything he's done."
As Edwards continues along on his hockey journey, his faith, family and Indigenous teachings will guide him along the way as he looks to follow in the footsteps of so many great Indigenous hockey players from Manitoba.
"We instill a lot of culture in our family and we always acknowledge that peace within ourselves, who we are as Indigenous people," Tim Edwards said. "We are proud of who we are. We're proud people and we're a happy people. It's just the way we present ourselves to the world and if they want to be a part of that, we'll gladly accept them as our friends and family and move forward with that."
Share