November 13, 2020 10:30 am

|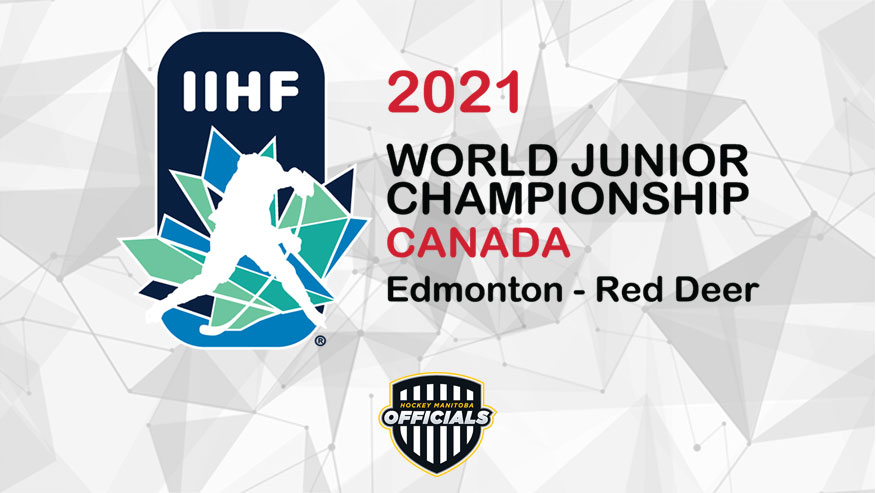 WINNIPEG – Manitobans Kelsey Mahoney (linesman) and Brett Roeland (referee) have been selected to officiate the 2021 IIHF World Junior Hockey Championship which is being hosted in Edmonton, Alberta between December 25th, 2020 – January 5th, 2021.
This is the first time that both Mahoney, 33 and Roeland, 27, have been selected to officiate at the prestigious tournament, which is a showcase of some of the best Under-20 players in the world.  This year's World Junior Championship will be held without spectators in a single-venue in Edmonton as a result of the COVID-19 pandemic.
"It's obviously something I've really worked for the last 10 years to try to get this assignment so it's very rewarding. It's going to be a little different living in a bubble but I'm looking forward to it. It's just going to be a lot of fun and I'm excited for it." said Mahoney, the Director of Officiating for the Manitoba U18 AAA League.
Mahoney has been a linesman in the American Hockey League since 2015 and has also been a linesman in the Western Hockey League since 2010, and his WHL experience includes working the lines in four-straight WHL Championship Series between 2015-2018.  Mahoney's previous IIHF experience includes being assigned to the 2018 IIHF Ice Hockey U20 World Championship Division II, Group B in Belgrade, Serbia and the 2017 IIHF Ice Hockey U18 World Championship Division III Group B in Mexico, Mexico City.
"It's going to be completely a different atmosphere with no fans. There are going to be a lot of quality hockey players there with the NHL shutdown and there is a really good group of officials going," Mahoney said. "Obviously Brett has worked really hard over the last couple of years with his fitness and his drive to make it to the NHL as a referee and it's just going to be exciting to share this experience with another Manitoba guy."
Brett Roeland spent last season refereeing in the American Hockey League and East Coast Hockey League (click here for Hockey Manitoba's feature story on Roeland) and his previous IIHF experience includes officiating at the 2018 Hlinka Gretzky Cup in Edmonton and the World Under-17 Challenge in Fort St. John, British Columbia.
"I'm just looking forward to getting back on the ice at a high level especially after the way last season ended," said Roeland. "Combined with the uniqueness of a bubble, I'm excited for the experience and know it will be something that I draw upon for the rest of my life. It's a tournament that I've watched over the holidays ever since I can remember and I'm humbled and honoured to be able to represent the branch, everyone I grew up officiating with, and also my friends and family."
Mahoney and Roeland will fly out to Edmonton on December 13th and will start working pre-season games on December 20th. The regular competition begins on Christmas Day.
Manitobans Seth Jarvis (Winnipeg, Carolina Hurricanes draft pick) and Daemon Hunt (Brandon, Minnesota Wild draft pick) have been invited to attend Hockey Canada's National Junior Team Selection Camp in Red Deer, slated to begin on Monday November 16, 2020.
For more information on the 2021 IIHF World Junior Hockey Championship, please visit HockeyCanada.ca, or follow along via social media on Facebook or Twitter.
Share