|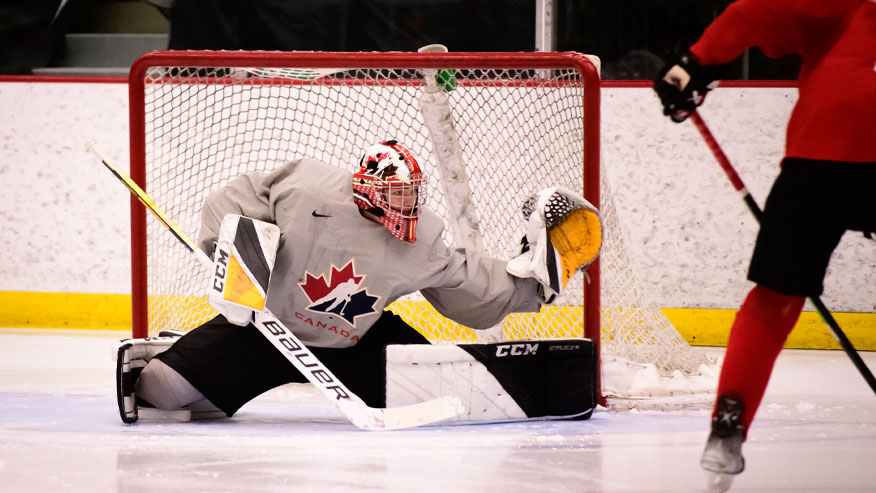 CALGARY, Alta. – Twenty-three of the nation's top young players have earned the opportunity to represent their country on home ice as part of Canada's National Men's Summer Under-18 Team at the 2022 Hlinka Gretzky Cup, July 31-Aug. 6 at the Peavey Mart Centrium in Red Deer, Alta.
Three goaltenders, seven defencemen and 13 forwards were selected by Alan Millar (Tottenham, Ont.), director of player personnel and Peter Anholt (Naicam, Sask./Lethbridge, WHL), the U18 lead for the Program of Excellence management group, with support from Scott Salmond (Creston, B.C.), senior vice-president of hockey operations, and Tyler Dietrich (West Vancouver, B.C.), senior manager of hockey operations. Head coach Stéphane Julien (Shawinigan, Que./Sherbrooke, QMJHL) and assistant coaches Al Letang (Renfrew, Ont./Sarnia, OHL) and Kris Mallette (Kelowna, B.C./Kelowna, WHL) also provided input.
Among the 23 players are two who represented Canada at the 2022 IIHF U18 World Championship (Tanner Howe and Matthew Wood), as well as 21 that suited up for Team Canada Black, Team Canada Red and Team Canada White at the 2021 Capital City Challenge.
"After a very competitive camp, we are excited to announce the 23 players who have earned a spot on Team Canada at the Hlinka Gretzky Cup," Millar said. "The skill and intensity showed by all 42 players at camp made our decisions difficult, but we know our players and staff will embrace the opportunity to wear the Maple Leaf as we look to compete for a gold medal on home ice."
Canada's National Men's Summer Under-18 Team finalized its roster following a five-day selection camp in Calgary that saw 42 players participate in on- and off-ice sessions, including two intrasquad games.
Canada will face off against Finland in pre-tournament action on Friday, July 29 before opening the 2022 Hlinka Gretzky Cup against Switzerland on Sunday, July 31 at 9 p.m. ET/6 p.m. PT. TSN and RDS, Hockey Canada's official broadcast partners, will broadcast all Team Canada tournament games; please check local listings for details.Canada has won 22 gold medals in 30 years of summer under-18 competition, along with three silver medals and one bronze.
The Hlinka Gretzky Cup returns to Canadian ice for the first time since 2018 when Edmonton and Red Deer played host to the annual event. Canada won gold that year, defeating Sweden 6-2 in the gold medal game thanks to two-goal efforts from Alexis Lafrenière and Sasha Mutala.
Ticket packages for the 2022 Hlinka Gretzky Cup can be purchased for as low as $149 for youth and $249 for adults (not including fees) at HlinkaGretzkyCup.ca/Tickets. Single-game tickets are also available for purchase online starting as low as $10 for youth and $12 for adults (not including fees).
For more information on Canada's National Men's Summer Under-18 Team, please visit HockeyCanada.ca, or follow along via social media on Facebook, Twitter and Instagram.
Share