|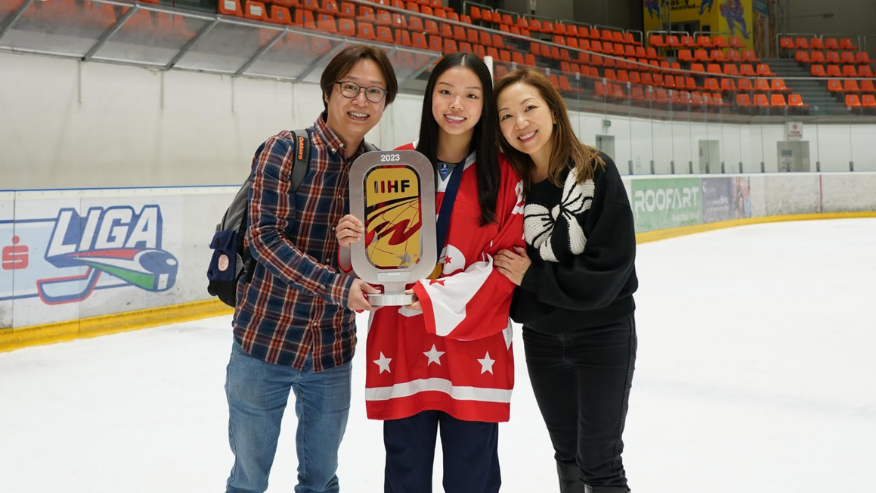 Charleen Wong played this past season for the Female U18 AAA Interlake Lightning but she made headlines for a different team thousands of kilometres away from the keystone province.
This past April, the 17-year-old Vincent Massey Collegiate student won a gold medal representing Team Hong Kong at the 2023 IIHF Women's World Championship Division IIIA in Brasov, Romania, fulfilling a lifelong dream and inspiring a new generation of players in the process.
"It was an amazing experience," Wong recalled. "I reconnected with some of my friends that I had not seen in years because they were in different countries or because of COVID. I had the opportunity to play alongside some players that I have looked up to since I was young. The hockey community in Hong Kong is small so everyone knows each other. I've known some players for a long time since I was around six years old, and they said it's really amazing to see this little child that they knew is playing on the same team with them."
The historic gold medal win for Team Hong Kong at the 2023 IIHF Women's World Championship Division IIIA in Romania coupled with its men's national team finishing third to win its first medal in Sarajevo, Bosnia & Herzegovina in March is huge for the city of approximately seven and a half million people but Wong says that winning the gold medal came as a pleasant surprise, especially given the remarkable speed and talent showcased by other teams.
"I feel like playing AAA in Canada really helped prepare me for the physicality and body contact at the tournament. It was my first time and the Hong Kong Women's Team had never won a gold medal at the World Championship before so I was really surprised when we won," Wong said. "We actually won by one point because it was a round robin. We lost our fourth game to Lithuania in a shootout and then proceeded to win the fifth game. We watched the Ukraine/Lithuania game that would determine whether we won or not. If Ukraine won that game that would mean we were the champions."
Wong scored her first career international goal in the penultimate game against Lithuania.
"It was amazing to score my first goal in such a crucial game in the tournament. During the first game of the tournament, I was really nervous to play on the international level for the first time but I was still able to help my teammates and assist a couple of goals."
Describing herself as a playmaker and a defensive forward who reads the game well, Wong scored two goals and added four assists in five games at the Women's World Championship Division IIIA.
Wong's hockey journey began at the age of four in Hong Kong, when she first started skating. At that time, there was only one full-sized ice rink in the city. Two years ago, at the age of 15 (and now with three more full sized-ice rinks in the city), she was selected to play for Hong Kong's national team as soon as she was age-eligible. She was unable to represent her city in 2021 however as two international tournaments were cancelled due to the COVID-19 pandemic.
Prior to moving to Winnipeg in August of 2021 with her parents, Wong was playing in the Hong Kong Women's Ice Hockey League at 14 years old with national team players even though she wasn't old enough to play on the national team. She also played on a U16 boys team before moving to Winnipeg. When she first started playing hockey, she primarily played on boys teams but when she reached 12 years old, she played on separate girls teams.
"One of the common questions I was asked is what my favorite sport was. I said hockey and most people assumed I meant field hockey because ice hockey is not that popular in Hong Kong. The ice hockey community in Hong Kong is still growing, introducing young players and new athletes to the sport." Wong said.
Like many young children, Wong participated in multiple sports and activities, including gymnastics, tennis, swimming, netball and dancing but it became evident to Wong's family around the time she was 11 or 12 years old that hockey was her true passion.
"She was lucky. Ever since she started learning hockey, she has been thoroughly enjoying this sport. Not only did my husband and I develop a fondness for watching hockey, but she was also fortunate to receive guidance from exceptional coaches and become part of esteemed teams from a young age. As a result, she formed a close-knit circle of supportive friends who share her passion for hockey," said Clara Lau, Charleen's mom. "Due to the relatively small hockey community in Hong Kong, we quickly became acquainted with many players of the same age and their parents as we embarked on our hockey journey. The frequent encounters at the rink fostered a deep passion for this sport within our entire family."
One of the coaches that Wong credits as having a huge impact on her hockey career is Adam Maglio, who is from Nelson, British Columbia. Maglio, 36, played and coached professionally in Hong Kong from 2012 – 2014 and is now an Associate Coach with the WHL's Vancouver Giants. Maglio coached Wong for a couple of seasons when he was living in Hong Kong.
"He taught me a lot of valuable lessons on and off the ice which allowed me to develop good habits in my hockey skills and I was able to thrive in my hockey journey because of him. There is a long list of great coaches whom I cannot list out now, but I am very appreciative for all the time and hard work they spent making the player I am now. " Wong said.
Wong would welcome the opportunity to play for Team Hong Kong in the future at the international as well as playing a second season for the Interlake Lightning U18 AAA beginning next Fall.
"We were promoted to Division II B and I hope to represent (Hong Kong) next year in the World Championship. This year, I hope to develop my skills and become stronger and faster as an individual and as a team player so that I can help out my team the best here in Winnipeg and for next year at the World Championship." Wong said.
As Wong takes the next step into her hockey career, she is very aware of the importance of being a role model for young players as well as a leader in the hockey community. Growing up in Hong Kong, she has seen hockey grow and is proud of her heritage.
"Generally speaking, Canada is a country of diversity and Asian Heritage Month is a time to reflect and recognize the contributions of Asians to Canada over the years. I feel like Asian Heritage Month also encourages people from different cultures to live together in one country. I think it's a true blessing to be able to inspire the next generation of young hockey players of Asian descent."
—
Hockey Manitoba is proud to celebrate Asian Heritage Month in May and is honouring the many achievements and contributions of Manitobans of Asian descent in the game of hockey.
Share