|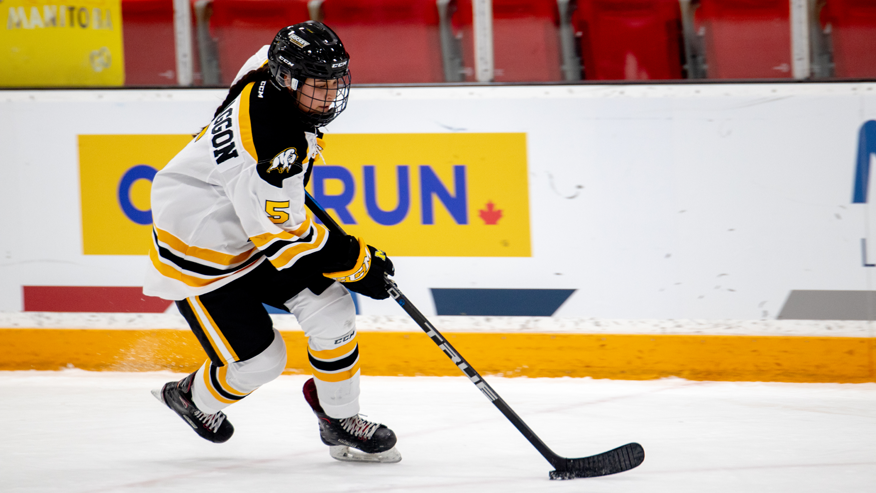 WINNIPEG, Man. –  Cross Lake has been called a hockey hotbed and with more talented players continuing to come out of the small community, it doesn't appear that is going to change.
Located about 530 kilometres north of Winnipeg, Cross Lake First Nation, also known as Pimicikamak, has a population of approximately 7,000 people. Cross Lake has experienced a number of tragedies over the years, declaring a state of emergency in March 2016 after the town saw six suicides and over 100 suicide attempts in the span of just a few months.
Although Cross Lake continues to face social and economic challenges, hockey has provided hope and optimism for many people in the community, highlighted by Brady Keeper making his NHL debut for the Florida Panthers on March 23, 2019. Keeper is the first person from Pimicikamak Cree Nation to make it to the NHL and his hockey journey from Cross Lake to the University of Maine to the NHL is truly inspiring and was featured in a TSN original documentary titled The Kid From Nowhere.
"Brady has impacted our kids quite a bit in the minor hockey system. He has opened a lot of doors for us. I have today four Division 3 schools and one Division 1 school looking for players out of Cross Lake," said Vaughn Blacksmith, General Manager of the Cross Lake Islanders Junior B team of the Keystone Junior Hockey League. "In the minor hockey system, kids now say 'I don't have to leave Cross Lake. I don't have to go play in Winnipeg. If you're good enough they'll find you here'."
The Islanders returned to the KJHL in 2015 after a five-year hiatus. The junior team regularly packed the 1,200-seat Cross Lake Arena before the COVID-19 pandemic shut down the 2019 -2020 season. The Islanders finished 4th in the five-team league during the regular season and were scheduled to play the 1st place NCN (Nelson House) Flames in a Best-of-Seven playoff series before the season was abruptly cancelled.
"The hockey team brings the community together. When it was gone there was nothing to come to. There was nothing to bring the community together," Blacksmith said. "They did have a midget league but that was struggling as well. It's also imporant for kids that do not make AAA or Junior A. They have somewhere to play at home and they can continue to strive to make that next level."
Speaking of that next level, three young female hockey players from Cross Lake completed their first year of women's college hockey this past season. Kennesha Miswaggon, 19, a defenceman, recently finished her freshman season at the University of British Columbia while Carrigan Umpherville, 18 (forward) and Saige McKay, 18 (defenceman) recently finished their freshman seasons at Long Island University, a NCAA Division 1 program. Miswaggon, Umpherville and McKay were featured in a NHL.com story in December 2019.
"I love Cross Lake. It's a beautiful place. It's very friendly. I pretty much know everyone and everyone knows you." said Kennesha Miswaggon, a former member of Hockey Manitoba's Female Under-18 Program of Excellence team. "Hockey is a big part of our town and now that we have our Junior B team back, it's just growing. When I was younger, there wasn't even a girls hockey team and now there's five or six girls teams."
Miswaggon and Umpherville, who are lifelong friends, played on boys teams from the age of five to Peewee and were coached by Carrigan's dad Stefan Umpherville before they moved on to play for the Norman Wild Bantam AAA hockey team in The Pas. Miswaggon, Umpherville and McKay represented Manitoba at the National Aboriginal Hockey Championships, bringing home Gold in 2017 and 2018 and a Silver medal in 2019.
For Miswaggon, even though she's just 19 years old, she is fully aware that she is a role model for the youth of Cross Lake.
"There's definitely a bunch of younger kids looking up to you so I try to watch what I'm doing, especially when I'm at home. I try to stay out of trouble. I just try to do my best when I'm away from home because I definitely want to make them proud." Miswaggon said. "I'm just proud to be Aboriginal honestly. I definitely want to embrace that and especially when I'm away playing games at UBC, I wear braids which represents my culture and yeah I'm just proud to be Indigenous."
Every December around the Christmas break, Brady Keeper, Justin Nachbaur (who recently played his last season for the Prince Albert Raiders in the WHL), Miswaggon, Umpherville, McKay and other players from Cross Lake who have moved away to play hockey at various levels come back to help with a three-day hockey school at Cross Lake Arena.  The "All-Stars" as Blacksmith calls them play the Junior B Islanders for charity in an event that is the highlight of the Christmas break for many people in Cross Lake.
"What they're showing our young kids is that you're not stuck here. If you keep on the right path and keep away from the bad stuff you can reach these goals and they're living proof of it," Blacksmith said. "So now you're seeing our kids in Bantam and Peewee really learning from Brady. The impact these players are having is showing that these goals are reachable and if you give it your all you can do it and if you don't at least you went out and tried."
Share