|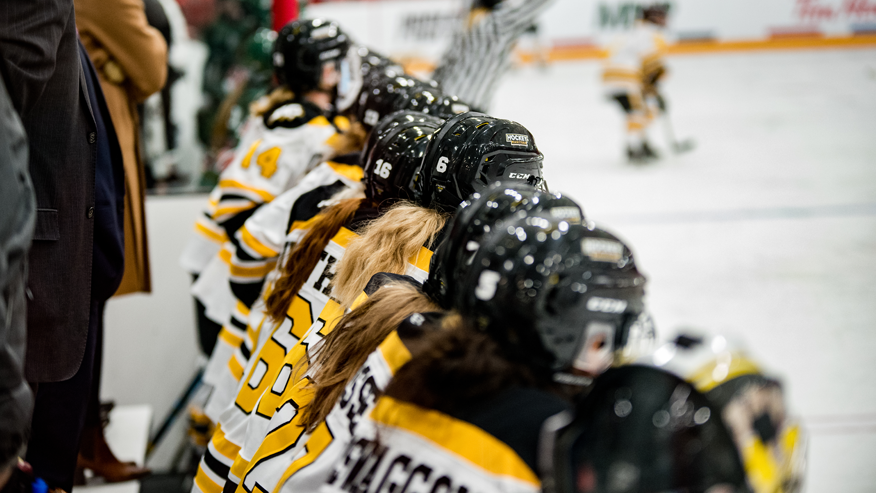 Today is International Women's Day. It is an opportunity to reflect on the progress made towards achieving gender equality and celebrate the acts of courage and determination by individuals who have played an extraordinary role in advancing gender equality in their communities. The theme for this year is "#BecauseOfYou", which sheds light on gender equality trailblazers and their incredible efforts to push the envelope and make our society a more equitable space.
There are so many great female trailblazers that have done terrific work in our communities and have made our sport better. We have strong female mentors in our hockey community that act as an inspiration for younger generations. Whether it's running development camps, being at events in their home communities, coaching, or participating in advocacy programs, it all matters greatly and goes a long way in growing our sport.
We want to honor those who drive positive change at the source and will continue to invest time and resources into developing female hockey and equal participation. We have seen an increase in female hockey registration and participation, and we have had several female players represent our province on the national stage at various age groups. From grassroots programs to elite participation to business and program coordination, women are the driving force of our organization and sport and will continue to be moving forward.
Join us in celebrating the inspiring and diverse trailblazers across Canada who are sparking grassroots movements and driving change in their communities.
"Make sure you are always having fun, be patient with yourself and always believe in you! You are much more capable than you think!" – Bailey Bram, Olympic Silver Medallist and World Champion (Ste. Anne, MB).
"When I first started it was really unacceptable for girls to play hockey and now I walk into a rink and see so many young girls enjoying the game, learning about themselves and learning about the people around them. " – Sami Jo Small, Winnipegger and three-time Olympian with Team Canada.
"Gender equality in hockey matters because players should have the same opportunities to learn, develop, and be involved in our sport regardless of gender," said Jessica Horton, Manager, Operations with Hockey Manitoba. "More women being involved in hockey would mean that more young girls will have the opportunities to learn the important life lessons that hockey teaches including, teamwork, leadership, communication, and confidence and create positive relationships with teammates, coaches, and officials."
"At the highest levels having more women playing the game will increase the level of play and competition. The female game has already improved so much over the past few years as players continue to get stronger and faster. Having more women playing and involved in hockey will hopefully create more opportunities for women and give young girls strong female role models to look up to" Horton said.
"I started playing the game with friends and I quickly fell in love with the sport!  My parents always knew it was a special sport for me because they said they could see my smile through my cage every time I went on the ice to play! It's hard work, but I have made life long friendships at every stage of playing the game. Hockey has given me so many tremendous life experiences and I would encourage any young athlete to get involved in the sport. Gender equality in hockey matters because women deserve every opportunity. They should have the choice to be involved and to make a career in the sport.  They should have these choices as athletes and / or professionals pursuing a career connected to the sport." – Jennifer Botterill, Three-time Olympic Gold Medalist.
Share